Calmodulin Regulates Human Ether à Go-Go 1 (hEAG1) Potassium Channels through Interactions of the Eag Domain with the Cyclic Nucleotide Binding Homology Domain *
ABSTRACT
---
The ether à go-go family of voltage-gated potassium channels is structurally distinct. The N terminus contains an eag domain (eagD) that contains a Per-Arnt-Sim (PAS) domain that is preceded by a conserved sequence of 25–27 amino acids known as the PAS-cap. The C terminus contains a region with homology to cyclic nucleotide binding domains (cNBHD), which is directly linked to the channel pore. The human EAG1 (hEAG1) channel is remarkably sensitive to inhibition by intracellular calcium (Ca2+i) through binding of Ca2+-calmodulin to three sites adjacent to the eagD and cNBHD. Here, we show that the eagD and cNBHD interact to modulate Ca2+-calmodulin as well as voltage-dependent gating. Sustained elevation of Ca2+i resulted in an initial profound inhibition of hEAG1 currents, which was followed by a phase when current amplitudes partially recovered, but activation gating was slowed and shifted to depolarized potentials. Deletion of either the eagD or cNBHD abolished the inhibition by Ca2+i. However, deletion of just the PAS-cap resulted in a >15-fold potentiation in response to elevated Ca2+i. Mutations of residues at the interface between the eagD and cNBHD have been linked to human cancer. Glu-600 on the cNBHD, when substituted with residues with a larger volume, resulted in hEAG1 currents that were profoundly potentiated by Ca2+i in a manner similar to the ΔPAS-cap mutant. These findings provide the first evidence that eagD and cNBHD interactions are regulating Ca2+-dependent gating and indicate that the binding of the PAS-cap with the cNBHD is required for the closure of the channels upon CaM binding.
No MeSH data available.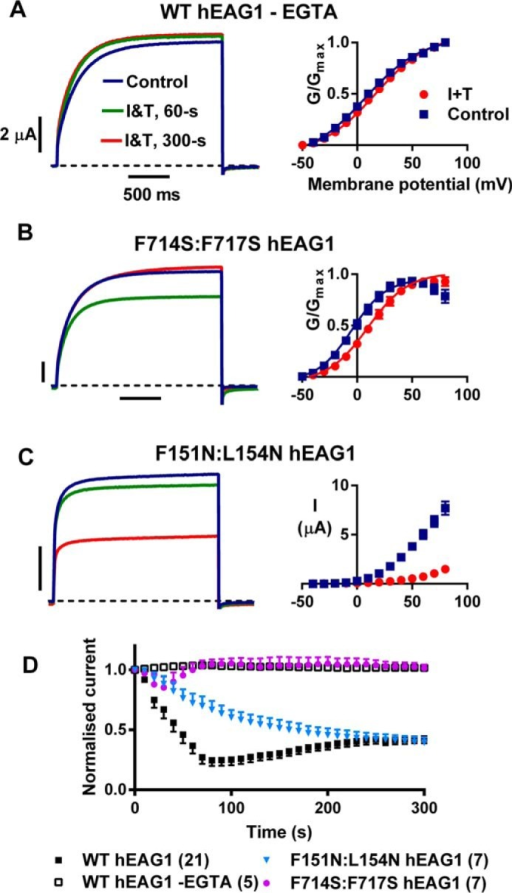 © Copyright Policy - open-access
License
getmorefigures.php?uid=PMC5016179&req=5
Mentions: Additional experiments were performed to confirm that the observed responses to I and T were Ca2+-CaM mediated. First, we examined the effect of buffering Ca2+i with 5 mm EGTA. Currents were first recorded under control conditions and then, while the oocyte was still voltage-clamped, EGTA was injected into the cell via a micropipette, and the response to I and T was recorded. With EGTA present, the current amplitudes were slightly increased rather than being inhibited by I and T, and there were no significant changes in the V0.5 and slope values for the voltage dependence of activation (p > 0.05, n = 5). To investigate whether the inhibition of WT hEAG1 was dependent on CaM binding to the channels, we tested the effect of I and T on mutants that reduce the binding affinity of CaM to either BD-N or BD-C2 (13, 31), the high affinity CaM-binding sites. The BD-C1 site binds CaM in the micromolar range and was not included. The F714S/F717S BD-C2 mutant displayed similar gating to WT hEAG1 under control conditions but showed considerably attenuated responses to I and T (Fig. 4B). There was an initial small inhibition (Fig. 4D and Table 1), but the current then quickly rebounded to control amplitudes, and the effect on t10–80% activation at +60 mV (271 ± 74, n = 6) was significantly reduced (p < 0.005) compared with WT hEAG (820 ± 77, n = 8). The shift in isochronal activation was +13 mV, which was significantly smaller than for WT hEAG1 (p < 0.005). Interestingly, the F151N/L154N BD-N mutations had quite a different effect compared with BD-C2 mutations. The voltage dependence of activation was +47 mV more positive than WT hEAG1 in control solution, suggesting that CaM binding at this site influences channel function at basal/resting Ca2+i levels. The t10–80% activation at +60 mV was also faster than WT hEAG (see Table 2). The time course of the response to I and T was also profoundly different. There was no initial fast component of inhibition as observed in WT hEAG1, and instead inhibition developed slowly and progressively (Fig. 4D), without there being any marked slowing of time-dependent activation kinetics. The voltage dependence of activation was shifted too positive to quantify V0.5 during I and T, but the threshold for activation was 50 mV more depolarized than under control conditions (Fig. 4C). Collectively, these results indicate that I and T exert their effects through a Ca2+-CaM-mediated process and that CaM is probably influencing channel gating under resting Ca2+i conditions. They also indicate that there is a complex interplay between the CaM binding domains, with BD-N and BD-C2 each regulating different aspects of channel inhibition in response to Ca2+-CaM.