Gadd45a Protein Promotes Skeletal Muscle Atrophy by Forming a Complex with the Protein Kinase MEKK4 * ♦
ABSTRACT
---
Skeletal muscle atrophy is a serious and highly prevalent condition that remains poorly understood at the molecular level. Previous work found that skeletal muscle atrophy involves an increase in skeletal muscle Gadd45a expression, which is necessary and sufficient for skeletal muscle fiber atrophy. However, the direct mechanism by which Gadd45a promotes skeletal muscle atrophy was unknown. To address this question, we biochemically isolated skeletal muscle proteins that associate with Gadd45a as it induces atrophy in mouse skeletal muscle fibers in vivo. We found that Gadd45a interacts with multiple proteins in skeletal muscle fibers, including, most prominently, MEKK4, a mitogen-activated protein kinase kinase kinase that was not previously known to play a role in skeletal muscle atrophy. Furthermore, we found that, by forming a complex with MEKK4 in skeletal muscle fibers, Gadd45a increases MEKK4 protein kinase activity, which is both sufficient to induce skeletal muscle fiber atrophy and required for Gadd45a-mediated skeletal muscle fiber atrophy. Together, these results identify a direct biochemical mechanism by which Gadd45a induces skeletal muscle atrophy and provide new insight into the way that skeletal muscle atrophy occurs at the molecular level.
No MeSH data available.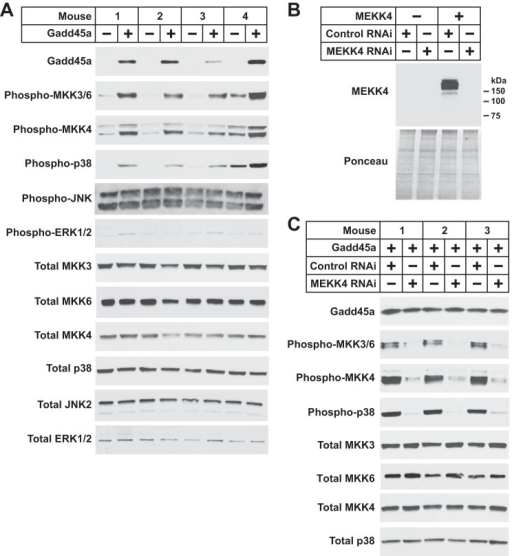 © Copyright Policy - open-access
License
getmorefigures.php?uid=PMC5016147&req=5
Mentions: To further investigate whether Gadd45a activates MEKK4 in skeletal muscle, we performed an independent experiment in which we transfected mouse TA muscle fibers in vivo with empty plasmid (one TA) or plasmid encoding Gadd45a (contralateral TA). Seven days after transfection, we assessed phosphorylation (i.e. activation) of the MEKK4 targets MKK3, MKK6, and MKK4. Of note, the antibody used to detect phosphorylation of MKK3 and MKK6 did not distinguish between MKK3 and MKK6, and we could not assess MEKK4 or MKK7 by immunoblot analysis due to a lack of quality antibodies. Under control conditions, MKK3/6 and MKK4 were minimally phosphorylated (Fig. 4A). However, in the presence of Gadd45a, MKK3/6 and MKK4 phosphorylation was markedly increased (Fig. 4A). Moreover, Gadd45a-mediated activation of MKK3/6 and MKK4 was accompanied by increased phosphorylation (i.e. activation) of p38, a MAP kinase that lies directly downstream of MKK3, MKK4, and MKK6 (Fig. 4A). Gadd45a did not affect total levels of MKK3, MKK6, MKK4, or p38, and we did not detect any effects of Gadd45a on the phosphorylation status of JNK and ERK MAP kinases (Fig. 4A). Thus, in skeletal muscle, Gadd45a activated certain protein kinases that are known to lie downstream of the Gadd45a-MEKK4 complex, namely MKK3/6, MKK4, and p38.