Mammalian Glucose Transporter Activity Is Dependent upon Anionic and Conical Phospholipids *
ABSTRACT
---
The regulated movement of glucose across mammalian cell membranes is mediated by facilitative glucose transporters (GLUTs) embedded in lipid bilayers. Despite the known importance of phospholipids in regulating protein structure and activity, the lipid-induced effects on the GLUTs remain poorly understood. We systematically examined the effects of physiologically relevant phospholipids on glucose transport in liposomes containing purified GLUT4 and GLUT3. The anionic phospholipids, phosphatidic acid, phosphatidylserine, phosphatidylglycerol, and phosphatidylinositol, were found to be essential for transporter function by activating it and stabilizing its structure. Conical lipids, phosphatidylethanolamine and diacylglycerol, enhanced transporter activity up to 3-fold in the presence of anionic phospholipids but did not stabilize protein structure. Kinetic analyses revealed that both lipids increase the kcat of transport without changing the Km values. These results allowed us to elucidate the activation of GLUT by plasma membrane phospholipids and to extend the field of membrane protein-lipid interactions to the family of structurally and functionally related human solute carriers.
No MeSH data available.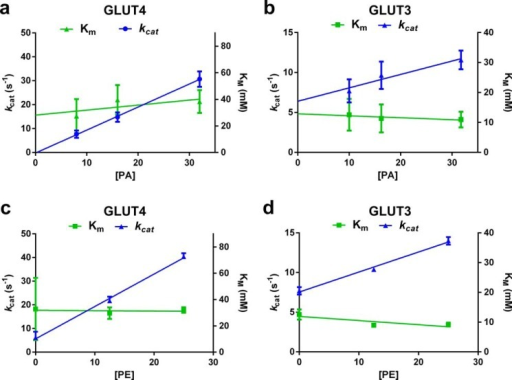 © Copyright Policy - open-access
License
getmorefigures.php?uid=PMC5016126&req=5
Mentions: We used kinetic analysis to determine the mechanism of lipid-induced changes of glucose transporter function. The rate of zero-trans uptake of radiolabeled d-glucose into transporter-containing liposomes corrected for nonspecific uptake and normalized for the amount of transporter per assay was determined at increasing substrate concentrations with different amounts of POPA added to PC liposomes (Fig. 7, a and b) or different amounts of POPE added to PC liposomes that also contain 10% POPA (Fig. 7, c and d). From these data, we calculated the Michaelis constant Km and the turnover number kcat using non-linear regression analysis (GraphPad Prism 6.0). For both GLUT3 and GLUT4, increasing concentrations of anionic or conical lipid increased the turnover number linearly but had no measurable effect on the Michaelis constant (Fig. 8). These data support a mechanism in which anionic and conical lipids increase the transporter interconversion rate and/or the fraction of active transporters without changing substrate binding affinity. Therefore, at saturating substrate concentration, anionic and conical lipids alter the rate-determining step in facilitative glucose transport. Similar to previous studies (34), the reconstituted transporter GLUT3 showed higher affinity for d-glucose than GLUT4, although it transported its substrate with a lower turnover number than GLUT4. The Km value for GLUT3 (11.9 ± 1.6 mm) and GLUT4 (33.3 ± 5.1 mm) reconstituted in liposomes was higher than reported when expressed in cells, which is consistent with previously published studies comparing transporter kinetics in cells versus reconstituted into liposomes (35–39). The Km (30.5 ± 2.1 mm) and kcat (19.5 ± 0.57 s−1) values measured for GLUT4 in liposomes containing PC, PE, PI, PS, and PA (68.3, 16.7, 1.6, 10.6, and 2.8 mol %, respectively) were similar to those shown in Fig. 8. Measuring transporter kinetics of GLUT4 expressed in HEK293 cells prior to purification and reconstitution, we observed a lower Km of 7.1 ± 1.1 mm (Fig. 9), similar to previously published studies (34, 40). These results indicate that additional cellular components, not present in the purified four-component liposome system, might play a role in altering the transporter's Km. Although we cannot fully exclude the possibility that there are biophysical effects from membrane curvature in liposomes compared with conditions present in plasma membranes, we did not observe any differences in transport activity when measured in liposomes obtained from 200 nm versus 400 nm extrusion (data not shown).