Mammalian Glucose Transporter Activity Is Dependent upon Anionic and Conical Phospholipids *
ABSTRACT
---
The regulated movement of glucose across mammalian cell membranes is mediated by facilitative glucose transporters (GLUTs) embedded in lipid bilayers. Despite the known importance of phospholipids in regulating protein structure and activity, the lipid-induced effects on the GLUTs remain poorly understood. We systematically examined the effects of physiologically relevant phospholipids on glucose transport in liposomes containing purified GLUT4 and GLUT3. The anionic phospholipids, phosphatidic acid, phosphatidylserine, phosphatidylglycerol, and phosphatidylinositol, were found to be essential for transporter function by activating it and stabilizing its structure. Conical lipids, phosphatidylethanolamine and diacylglycerol, enhanced transporter activity up to 3-fold in the presence of anionic phospholipids but did not stabilize protein structure. Kinetic analyses revealed that both lipids increase the kcat of transport without changing the Km values. These results allowed us to elucidate the activation of GLUT by plasma membrane phospholipids and to extend the field of membrane protein-lipid interactions to the family of structurally and functionally related human solute carriers.
No MeSH data available.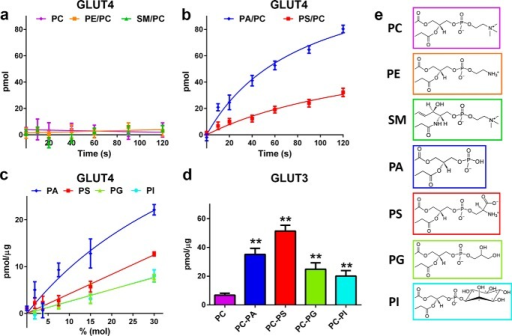 © Copyright Policy - open-access
License
getmorefigures.php?uid=PMC5016126&req=5
Mentions: The observation that only anionic phospholipids stabilize the transporter structure prompts the question as to whether these lipids also modulate the function of GLUT4. We assessed the activity of the transporter in liposomes containing 100% egg PC or egg PC liposomes containing a second lipid at an 85:15, molar ratio. All glucose uptake data described in this study are presented as specific d-glucose uptake, calculated by subtracting nonspecific l-[3H]glucose from d-[3H]glucose uptake, to take into account the possibility of membrane leakage. No specific GLUT4-mediated uptake was observed in the zwitterionic phospholipids PC, PE, or sphingomyelin (SM) (Fig. 4a). In contrast, the addition of the anionic phospholipids, PA or phosphatidylserine (PS), activated the transporter and resulted in specific d-glucose uptake (Fig. 4b). These results indicate a requirement for anionic phospholipids for transport activity and confirm our SEC results. To study the effect of the major naturally occurring anionic phospholipids in eukaryotic membranes in detail, we titrated palmitoyloleoyl phosphatidic acid (POPA), palmitoyloleoyl phosphatidylserine, palmitoyloleoyl phosphatidylglycerol, and phosphatidylinositol (PI) into PC liposomes and measured GLUT4-mediated uptake of d-glucose (Fig. 4c). All four anionic phospholipids led to a dose-dependent activation of GLUT4 with PA exhibiting the strongest effect, PS the second, followed by PI and phosphatidylglycerol. Anionic phospholipids also activated GLUT3 but with important differences (Fig. 4d). Unlike GLUT4, GLUT3 possessed measurable, albeit low, transport activity in the absence of anionic phospholipids. The addition of anionic phospholipids greatly enhanced GLUT3 activity, with PS having the most potent effect, followed by PA, and then phosphatidylglycerol and PI. The SEC and transport results suggest that anionic phospholipids interact directly with the transporter to stabilize its structure and are required for optimal GLUT4 and GLUT3 activity.