Physical Association of Saccharomyces cerevisiae Polo-like Kinase Cdc5 with Chromosomal Cohesin Facilitates DNA Damage Response *
ABSTRACT
---
At the onset of anaphase, a protease called separase breaks the link between sister chromatids by cleaving the cohesin subunit Scc1. This irreversible step in the cell cycle is promoted by degradation of the separase inhibitor, securin, and polo-like kinase (Plk) 1-dependent phosphorylation of the Scc1 subunit. Plk could recognize substrates through interaction between its phosphopeptide interaction domain, the polo-box domain, and a phosphorylated priming site in the substrate, which has been generated by a priming kinase beforehand. However, the physiological relevance of this targeting mechanism remains to be addressed for many of the Plk1 substrates. Here, we show that budding yeast Plk1, Cdc5, is pre-deposited onto cohesin engaged in cohesion on chromosome arms in G2/M phase cells. The Cdc5-cohesin association is mediated by direct interaction between the polo-box domain of Cdc5 and Scc1 phosphorylated at multiple sites in its middle region. Alanine substitutions of the possible priming phosphorylation sites (scc1-15A) impair Cdc5 association with chromosomal cohesin, but they make only a moderate impact on mitotic cell growth even in securin-deleted cells (pds1Δ), where Scc1 phosphorylation by Cdc5 is indispensable. The same scc1-15A pds1Δ double mutant, however, exhibits marked sensitivity to the DNA-damaging agent phleomycin, suggesting that the priming phosphorylation of Scc1 poses an additional layer of regulation that enables yeast cells to adapt to genotoxic environments.
No MeSH data available.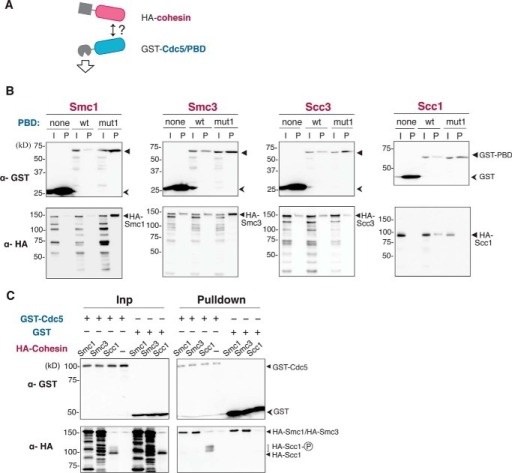 © Copyright Policy - open-access
License
getmorefigures.php?uid=PMC5016123&req=5
Mentions: Because it is now evident that Cdc5 recruitment to chromatin-bound cohesin is dependent on its PBD, we sought for which cohesin subunit mediates the interaction with PBD. For this purpose, either of the cohesin subunits (Smc1, Smc3, Scc1, or Scc3) fused with the HA epitope was overexpressed simultaneously with GST-fused PBD in yeast cells. GST-PBD was affinity-purified from the cell lysate by glutathione (GSH)-Sepharose beads, and co-purified cohesin subunits were visualized by Western blotting detecting HA epitope (Fig. 3A). As shown in Fig. 3B, the Scc1 subunit was co-purified with GST-PBD. Importantly, co-precipitation was not seen in control assays, where GST tag only (unfused GST) or GST-PBD with the mut1 mutation was expressed instead of the wild-type GST-PBD. Although the expression level of wild-type and mutant GST-PBD in yeast cells was almost identical, the wild-type GST-PBD was consistently recovered with less efficiency than the mutant one, due to an unknown reason. Nevertheless, significantly more HA-Scc1 was co-purified with the wild-type GST-PBD than with the mutant, indicating high affinity of Scc1 for functional PBD. In contrast to the Scc1 subunit, Smc1, Smc3 and Scc3 showed no co-purification specific to wild-type PBD. For Smc1 and Smc3, a significant amount of protein was co-purified with the mutant GST-PBD, implying that the observed co-precipitation was independent of the integrity of PBD and was presumably due to nonspecific interactions. The specific interaction between Scc1 and functional PBD was verified in the experiment where the full-length Cdc5 fused with GST was overexpressed instead of GST-PBD. In this experiment, slowly migrating forms of Scc1 appeared upon expression of GST-Cdc5, and remarkably, these presumably hyper-phosphorylated Scc1 species showed higher affinity to Cdc5 (Fig. 3C), which is consistent with the notion that PBD binds to a phosphorylated protein.