Physical Association of Saccharomyces cerevisiae Polo-like Kinase Cdc5 with Chromosomal Cohesin Facilitates DNA Damage Response *
ABSTRACT
---
At the onset of anaphase, a protease called separase breaks the link between sister chromatids by cleaving the cohesin subunit Scc1. This irreversible step in the cell cycle is promoted by degradation of the separase inhibitor, securin, and polo-like kinase (Plk) 1-dependent phosphorylation of the Scc1 subunit. Plk could recognize substrates through interaction between its phosphopeptide interaction domain, the polo-box domain, and a phosphorylated priming site in the substrate, which has been generated by a priming kinase beforehand. However, the physiological relevance of this targeting mechanism remains to be addressed for many of the Plk1 substrates. Here, we show that budding yeast Plk1, Cdc5, is pre-deposited onto cohesin engaged in cohesion on chromosome arms in G2/M phase cells. The Cdc5-cohesin association is mediated by direct interaction between the polo-box domain of Cdc5 and Scc1 phosphorylated at multiple sites in its middle region. Alanine substitutions of the possible priming phosphorylation sites (scc1-15A) impair Cdc5 association with chromosomal cohesin, but they make only a moderate impact on mitotic cell growth even in securin-deleted cells (pds1Δ), where Scc1 phosphorylation by Cdc5 is indispensable. The same scc1-15A pds1Δ double mutant, however, exhibits marked sensitivity to the DNA-damaging agent phleomycin, suggesting that the priming phosphorylation of Scc1 poses an additional layer of regulation that enables yeast cells to adapt to genotoxic environments.
No MeSH data available.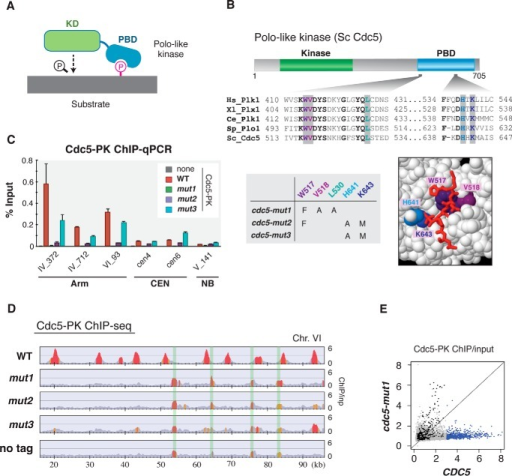 © Copyright Policy - open-access
License
getmorefigures.php?uid=PMC5016123&req=5
Mentions: We next addressed how Cdc5 recognizes the chromatin-bound cohesin complex. Polo-like kinase is characterized by the presence of the polo-box domain (PBD), which functions as a phosphoserine/threonine-binding domain and promotes substrate targeting of polo-like kinase (Fig. 2A) (8). Structural and biochemical studies indicate that highly conserved Trp-517, His-641, and Lys-643 (the numbering is for budding yeast Cdc5) in PBD have a crucial role in interacting with a phosphopeptide substrate (9, 10). To determine whether chromatin binding of Cdc5 relies on its PBD function, we introduced mutations to several sites in PBD, including these essential residues (Fig. 2B). A Cdc5 PBD mutant consisting of three point mutations, W517F, V518A, and L530A (called cdc5-mut1 hereafter) was shown to abolish the ability of Cdc5 to localize at subcellular targets and to support yeast cell growth (31). Other mutants, cdc5-mut2 and cdc5-mut3, share substitutions at the "pincer" residues His-641 and Lys-643 of PBD, and in humans the corresponding substitutions impaired the capacity of Plk1 PBD to bind to phosphorylated ligands in vitro (9). Yeast cells expressing PK-tagged Cdc5-mut1, Cdc5-mut2, or Cdc5-mut3 proteins from the CDC5 native promoter were arrested at G2/M phase and subjected to anti-PK ChIP-qPCR analysis. The Cdc5-mut1 and -mut2 proteins showed almost complete reduction in binding to the chromosomal cohesin association sites (Fig. 2C). The other mutant protein, Cdc5-mut3 also revealed decreased binding, although the degree of decrease is about 30–50%. ChIP-seq analysis of Cdc5-mut1, -mut2, and -mut3 proteins indicated that the dissociation of the PBD-deficient Cdc5 proteins was universally observed throughout the entire genome (Fig. 2, D and E). Almost all the genome sites with which wild-type Cdc5 is associated (shown as blue dots in Fig. 2E) exhibited greatly reduced binding of Cdc5-mut1 mutant protein. In conclusion, these data demonstrate that Cdc5 employs PBD to associate with the chromosome-bound cohesin complex.