Super-resolution Microscopy Reveals Compartmentalization of Peroxisomal Membrane Proteins *
ABSTRACT
---
Membrane-associated events during peroxisomal protein import processes play an essential role in peroxisome functionality. Many details of these processes are not known due to missing spatial resolution of technologies capable of investigating peroxisomes directly in the cell. Here, we present the use of super-resolution optical stimulated emission depletion microscopy to investigate with sub-60-nm resolution the heterogeneous spatial organization of the peroxisomal proteins PEX5, PEX14, and PEX11 around actively importing peroxisomes, showing distinct differences between these peroxins. Moreover, imported protein sterol carrier protein 2 (SCP2) occupies only a subregion of larger peroxisomes, highlighting the heterogeneous distribution of proteins even within the peroxisome. Finally, our data reveal subpopulations of peroxisomes showing only weak colocalization between PEX14 and PEX5 or PEX11 but at the same time a clear compartmentalized organization. This compartmentalization, which was less evident in cases of strong colocalization, indicates dynamic protein reorganization linked to changes occurring in the peroxisomes. Through the use of multicolor stimulated emission depletion microscopy, we have been able to characterize peroxisomes and their constituents to a yet unseen level of detail while maintaining a highly statistical approach, paving the way for equally complex biological studies in the future.
No MeSH data available.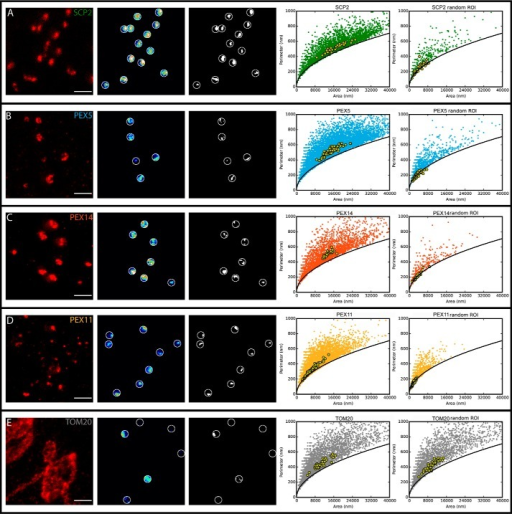 © Copyright Policy - open-access
License
getmorefigures.php?uid=PMC5016101&req=5
Mentions: Qualitative visual assessment of the STED images of protein distributions at the peroxisomes revealed a great diversity in appearance. As highlighted before, PEX11 is organized in smaller, more roundish features, whereas the staining patterns for PEX5 and PEX14 are more heterogeneous, ranging from small circular blobs to bigger ringlike or elliptical structures. To quantify this diversity, a morphology analysis was performed on the STED images (Fig. 4, left panels) taken for immunolabeled PEX5, PEX11, PEX14, and TOM20 as well as for SCP2 (nanobooster). As before, circular regions around each individual peroxisome were identified by the GFP-SCP2 signal. Each selected circular patch (Fig. 4, second panels from left) was thresholded, and the resulting binary mask (or structural features; Fig. 4, middle panels) was evaluated for its morphological properties. A suitable metric for evaluation of these structures was the comparison of perimeter and area. This approach allows the broad heterogeneity of cluster shapes to be visualized in a relatively low dimensional space in the form of a scatter plot of paired values (perimeter and area) where each dot represents one peroxisome within the population of cells (i.e. depicting variability over all peroxisomes) and the larger green circles represent values averaged over all peroxisomes within one cell (i.e. cell-to-cell variability) (Fig. 4, right panels). The black line in the scatter plots provides orientation and represents the perimeter-area dependence that a perfectly circular structure would show at the different scales. Spherical structures are expected to lie close to this line, whereas tubular and ringlike structures possess much greater perimeter values than expected for a circular area; i.e. the scatter point lies above the black line. The spread in the value pairs statistically confirms the wide range of sizes and shapes in protein organization at the peroxisomes. However, the morphology analysis now allows us to characterize differences between the proteins that become most evident on the cell-averaged values (larger green circles). Both PEX5 and PEX14 show a broad distribution in size; however, the morphology diverges from a circular shape (i.e. the value pairs divert from the black line representing circular shape). A detailed analysis indicates that the morphology of PEX5 varies more strongly than does that PEX14 and that PEX5 clusters are slightly (p < 0.001) larger on average than PEX14 clusters. This becomes obvious when comparing the population average and S.D. for the morphological parameters for both proteins (average cluster area, 14.9 ± 3.1 (PEX5) and 13.0 ± 1.7 nm2 (PEX14); perimeter length, 510 ± 65 (PEX5) and 485 ± 50 nm (PEX14)). In contrast, PEX11 is slightly less heterogeneously distributed around a peroxisome, displaying smaller, more circular shapes with an average area of 5.4 ± 2.3 nm2 and perimeter of 265 ± 80 nm (p < 0.001 versus PEX5 and PEX14). Conversely, randomly chosen regions away from the peroxisomes show morphologies characterized by very small and circular patterns (Fig. 4, far right panels), indicating that the organization of the proteins is distinct at the peroxisomes. SCP2 staining shows a broad distribution in size, however, mainly of round shaped features, indicated by the positioning of the value pairs close to the black line. The average area of the SCP2 staining patterns is 18.2 ± 4.1 nm2 and the perimeter is 530 ± 60 nm, indicating that on average the SCP2 patterns are larger and more roundish than those of PEX5 and PEX14 but similarly heterogeneous in size. The spatial patterning of TOM20 is very similar at peroxisomal and in randomly selected regions but forms slightly larger structures (9.0 ± 2.8 versus 6.3 ± 2.0 nm2) with perimeters (370 ± 80 versus 270 ± 60 nm) at the peroxisomes, which confirms the weak correlation of the mitochondrial protein with peroxisomal positions.