Stochastic multi-scale models of competition within heterogeneous cellular populations: Simulation methods and mean-field analysis
ABSTRACT
---
We propose a modelling framework to analyse the stochastic behaviour of heterogeneous, multi-scale cellular populations. We illustrate our methodology with a particular example in which we study a population with an oxygen-regulated proliferation rate. Our formulation is based on an age-dependent stochastic process. Cells within the population are characterised by their age (i.e. time elapsed since they were born). The age-dependent (oxygen-regulated) birth rate is given by a stochastic model of oxygen-dependent cell cycle progression. Once the birth rate is determined, we formulate an age-dependent birth-and-death process, which dictates the time evolution of the cell population. The population is under a feedback loop which controls its steady state size (carrying capacity): cells consume oxygen which in turn fuels cell proliferation. We show that our stochastic model of cell cycle progression allows for heterogeneity within the cell population induced by stochastic effects. Such heterogeneous behaviour is reflected in variations in the proliferation rate. Within this set-up, we have established three main results. First, we have shown that the age to the G1/S transition, which essentially determines the birth rate, exhibits a remarkably simple scaling behaviour. Besides the fact that this simple behaviour emerges from a rather complex model, this allows for a huge simplification of our numerical methodology. A further result is the observation that heterogeneous populations undergo an internal process of quasi-neutral competition. Finally, we investigated the effects of cell-cycle-phase dependent therapies (such as radiation therapy) on heterogeneous populations. In particular, we have studied the case in which the population contains a quiescent sub-population. Our mean-field analysis and numerical simulations confirm that, if the survival fraction of the therapy is too high, rescue of the quiescent population occurs. This gives rise to emergence of resistance to therapy since the rescued population is less sensitive to therapy.
No MeSH data available.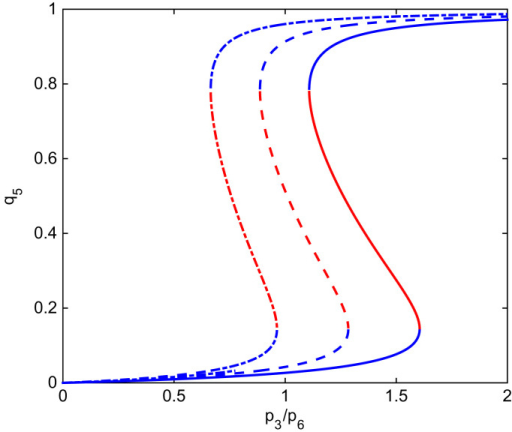 © Copyright Policy - CC BY
License
getmorefigures.php?uid=PMC5016039&req=5
Mentions: In view of the results of Section 3.5.1, we have proceeded to a more thorough analysis of the effect of varying the ratio , which we recall that, within the SCQSSA, is equal to the ratio between the abundance of SCF-activating and inactivating enzymes, on the behaviour of the SCQSSA system Eqs. (4), (B.36), (B.37), (7), (8), (9), (10), (11), (12). In particular, we have investigated the bifurcation diagram of Eqs. (4), (B.36), (B.37), (7), (8), (9), (10), (11), (12) with as the control parameter. Our results are shown in Fig. 6. We observe that, regardless of the value of m, there exists a range of values of the control parameter for which the saddle-node bifurcation, which gives rise to the G1/S transition, does not occur (i.e. only the G1-fixed point is stable). This result implies that depletion of SCF-activating enzyme, or, equivalently, over-expression of SCF-inactivating enzyme can stop cell-cycle progression by locking cells into the so-called G0 state, i.e. quiescence.