Tadalafil Treatment Delays the Onset of Cardiomyopathy in Dystrophin ‐ Deficient Hearts
ABSTRACT
---
Background: Cardiomyopathy is a leading cause of mortality among Duchenne muscular dystrophy patients and lacks effective therapies. Phosphodiesterase type 5 is implicated in dystrophic pathology, and the phosphodiesterase type 5 inhibitor tadalafil has recently been studied in a clinical trial for Duchenne muscular dystrophy.
Methods and results: Tadalafil was evaluated for the prevention of cardiomyopathy in the mdx mouse and golden retriever muscular dystrophy dog models of Duchenne muscular dystrophy. Tadalafil blunted the adrenergic response in mdx hearts during a 30‐minute dobutamine challenge, which coincided with cardioprotective signaling, reduced induction of μ‐calpain levels, and decreased sarcomeric protein proteolysis. Dogs with golden retriever muscular dystrophy began daily tadalafil treatment prior to detectable cardiomyopathy and demonstrated preserved cardiac function, as assessed by echocardiography and magnetic resonance imaging at ages 18, 21, and 25 months. Tadalafil treatment improved golden retriever muscular dystrophy histopathological features, decreased levels of the cation channel TRPC6, increased total threonine phosphorylation status of TRPC6, decreased m‐calpain levels and indicators of calpain target proteolysis, and elevated levels of utrophin. In addition, we showed that Duchenne muscular dystrophy patient myocardium exhibited increased TRPC6, m‐calpain, and calpain cleavage products compared with control human myocardium.
Conclusions: Prophylactic use of tadalafil delays the onset of dystrophic cardiomyopathy, which is likely attributed to modulation of TRPC6 levels and permeability and inhibition of protease content and activity. Consequently, phosphodiesterase type 5 inhibition is a candidate therapy for slowing the development of cardiomyopathy in Duchenne muscular dystrophy patients.
No MeSH data available.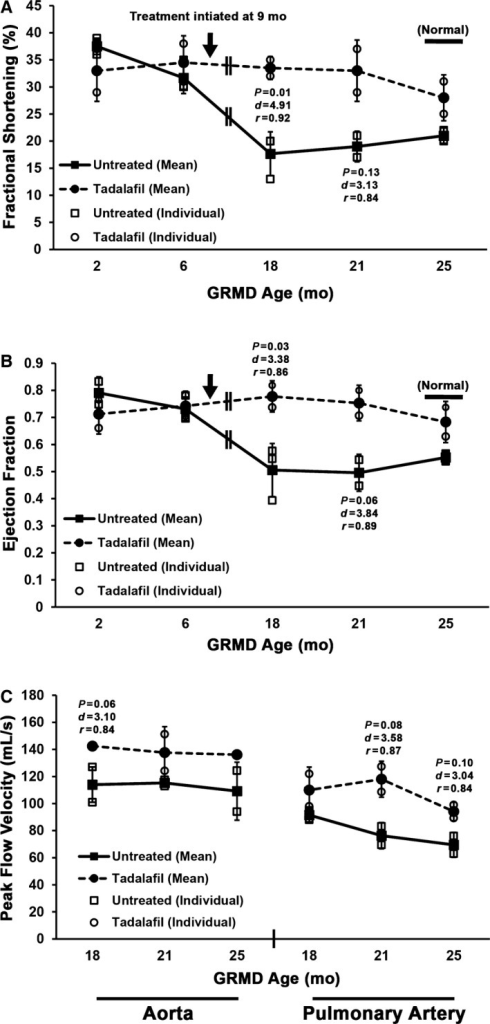 © Copyright Policy - creativeCommonsBy-nc
License
getmorefigures.php?uid=PMC5015305&req=5
Mentions: Although the previous experiment revealed that tadalafil can protect dystrophic cardiomyocytes from stress‐induced dysfunction, we sought to investigate whether prophylactic tadalafil administration can truly delay the onset of dystrophic cardiomyopathy. Because mdx mice display mild, late‐onset, and non–lifespan‐limiting cardiac pathology, we chose to test this hypothesis in GRMD dogs, which exhibit DMD‐like cardiomyopathy that is usually detectable by age 1 year and is often the cause of mortality. Dogs began daily tadalafil treatment at age 9 months and were evaluated by echocardiography at ages 18, 21, and 25 months. Prior to treatment, there were no functional differences between the untreated and tadalafil‐treated groups; however, tadalafil preserved LV systolic function at an age when untreated animals began to lose function in terms of fractional shortening (Figure 3A) and ejection fraction (Figure 3B). Although both measures demonstrated significant effects in the treated versus untreated dogs at 18 and 21 months, the 25‐month measurement appears to show only modest improvement. The treated cohort began exhibiting functional decline at this time point, whereas the apparent decrease in effect was largely due to the sudden death of an untreated dog with substantial cardiomyopathy at age 20 months, potentially from cardiac arrhythmias (but not documented). The difference between the treated and untreated groups at both the 21‐ and 25‐month time points would likely have been greater if not for this death. In addition, aortic peak flow velocity (Figure 3C) was improved compared with untreated controls at 18 months, with strong trends at 21 and 25 months. Importantly, RV systolic function was also preserved with tadalafil; pulmonary arterial peak flow velocity was higher than values for untreated controls at 21 and 25 months (Figure 3C). This finding suggests that a possible additive benefit of PDE5 inhibition is reduced pulmonary hypertension, a cause of RV dysfunction. LV diastolic function (Figure 4A through 4C) was also better preserved with tadalafil treatment, as shown by a better preserved ratio of early passive filling velocity of the LV to the atrial‐dependent active filling velocity (significant at 25 months; Figure 4A). This measure indicates diastolic function by comparing the early passive filling velocity of the LV and the atrial‐dependent active filling velocity, whereas decreased early passive filling velocity can indicate reduced LV compliance. Tadalafil improved early passive filling velocity at 21 and 25 months rather than reduced atrial‐dependent active filling (Figure 4B). Isovolumetric relaxation time (Figure 4C) was also less than that for untreated controls at 21 months; however, it is not likely to entirely account for the improvements in early passive filling velocity. Tadalafil had no effect on body weight, LV wall, or chamber dimensions. Together, these data demonstrate strong positive effects on the maintenance of GRMD cardiac function by tadalafil.