In ‐ Hospital Vital Status and Heart Transplants After Intervention for Congenital Heart Disease in the Pediatric Cardiac Care Consortium: Completeness of Ascertainment Using the National Death Index and United Network for Organ Sharing Datasets
ABSTRACT
---
Background: The long‐term outcomes of patients undergoing interventions for congenital heart disease (CHD) remain largely unknown. We linked the Pediatric Cardiac Care Consortium (PCCC) with the National Death Index (NDI) and the United Network for Organ Sharing Dataset (UNOS) registries to study mortality and transplant occurring up to 32 years postintervention. The objective of the current analysis was to determine the sensitivity of this linkage in identifying patients who are known to have died or undergone heart transplant.
Methods and results: We used direct identifiers from 59 324 subjects registered in the PCCC between 1982 and 2003 to test for completeness of case ascertainment of subjects with known vital and heart transplant status by linkage with the NDI and UNOS registries. Of the 4612 in‐hospital deaths, 3873 were identified by the NDI as "true" matches for a sensitivity of 84.0% (95% CI, 82.9–85.0). There was no difference in sensitivity across 25 congenital cardiovascular conditions after adjustment for age, sex, race, presence of first name, death year, and residence at death. Of 455 known heart transplants in the PCCC, there were 408 matches in the UNOS registry, for a sensitivity of 89.7% (95% CI, 86.9–92.3). An additional 4851 deaths and 363 transplants that occurred outside the PCCC were identified through 2014.
Conclusions: The linkage of the PCCC with the NDI and UNOS national registries is feasible with a satisfactory sensitivity. This linkage provides a conservative estimate of the long‐term death and heart transplant events in this cohort.
No MeSH data available.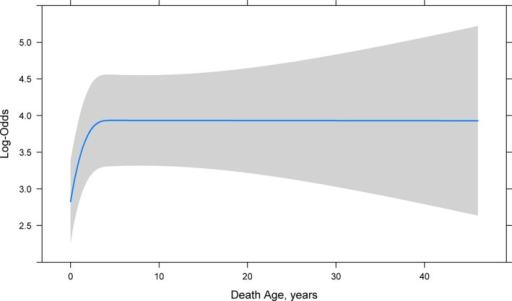 © Copyright Policy - creativeCommonsBy-nc
License
getmorefigures.php?uid=PMC5015299&req=5
Mentions: Individual year of death from 1982 to 2002 was compared to 2003; whereas all ORs were between 0.10 and 0.60, indicating lower odds of match than in 2003, those for 1983, 1984, 1989, 1991–1994, 1998, 2000, and 2002 were significant. To present estimates of the odds of matching by age at death, 3 ages were compared to 1 year of age at death (18 years, 9 years, and 28 days, respectively) that are commonly used for categorization of age in CHD patients. Higher odds of matching were observed for 18 versus 1 year (OR=1.68; 95% CI,, 1.11–2.54) and 9 versus 1 year (OR=1.68; 1.38–20.04), and lower odds of matching were observed for 28 days versus 1 year (OR=0.59; 95% CI, 0.48–0.71). Because the relationship between age at death and matching was nonlinear, we also present these results graphically in Figure 3; matching probability was sharply decreased for deaths under 3 years of age and especially poor for infants. We compared matching odds to that in Minnesota, the most frequent state of residence at death. Significantly lower odds of match were observed for deaths occurring in Southern states (Florida, Georgia, Kentucky, Louisiana, South Carolina, and Virginia), Oregon, and Texas. Compared to white patients, black patients (OR=0.53; 95% CI, 0.39–0.72), patients with other race (OR=0.35; 95% CI, 0.20–0.63), and patients with missing race (OR=0.57; 95% CI, 0.45–0.73), each had lower odds of an NDI match. The odds of matching were very low if first name was unavailable, because only 4 of 220 such patients matched with an NDI record. There was no overall association between diagnostic group and the odds of an NDI match.