Diagnosis and Management of Cardiovascular Disease in Advanced and End ‐ Stage Renal Disease
A baseline transthoracic echocardiogram performed at dry weight is also important because it can help identify impaired LVEF and wall motion abnormalities, which may be signs of prognostically significant CAD. 26 A normal cardiac stress test has a high negative predictive value for cardiovascular events27, 28 in the perioperative and follow‐up periods, as shown in a study of renal transplant candidates undergoing preoperative SPECT. 29 A hybrid SPECT/computed tomography scan assesses for ischemia and coronary artery calcification, which is highly prevalent in patients with ESRD. 30 Coronary artery calcium score, however, does not independently provide significant incremental prognostic value in predicting mortality or nonfatal myocardial infarction in ESRD. 30 These findings may be explained by the differences in distribution of calcium within the coronary artery in ESRD, as shown by intravascular imaging. 31 Patients with ESRD have a higher prevalence of intimal calcium without greater lipid arc or thin‐cap fibroatheroma, which are markers of vulnerable plaque. 31 Presence of inducible ischemia on dobutamine stress echocardiogram (DSE) has been shown to be predictive of future cardiac events and all‐cause mortality. 27, 32 Although the accuracy of dobutamine stress echocardiogram and SPECT in detecting obstructive CAD (≥70% stenosis) in renal transplantation candidates was not statistically different in a meta‐analysis,33 the presence of concentric and eccentric LVH, common in ESRD, may affect the accuracy of dobutamine stress echocardiogram. 34 PET imaging assesses not only myocardial blood flow but also coronary flow reserve, which can provide additional insights into early stages of atherosclerosis and microvascular dysfunction. 35, 36 Recently, coronary flow reserve assessed by cardiac PET has been shown to provide incremental risk stratification for cardiovascular and all‐cause mortality in patients on dialysis, even in the absence of overt cardiovascular disease. 36 For the highest risk patients, PET may be advantageous because it has superior sensitivity for detecting CAD. 35, 36 In addition, PET exposes patients to far less radiation than SPECT, an important consideration given the potential need for repeated stress testing during the recipient waiting period... Observational studies in patients with ESRD who undergo revascularization with percutaneous coronary intervention (PCI) or coronary artery bypass grafting (CABG) surgery have shown similar long‐term outcomes. 45, 46, 47, 48, 49 A recent retrospective analysis of >13 000 patients with CKD treated with CABG or PCI revealed that in the first 3 months after surgery, patients who underwent CABG had a higher risk of progression to ESRD and a higher mortality rate compared with those who underwent PCI. 50 This study used more contemporary interventional approaches such as drug‐eluting stents (DESs) as opposed to older generation bare metal stents (BMSs) which helped improve postprocedural cardiovascular outcomes. 50 After the first 6 months, however, CABG portended improved survival... An observational study evaluating >21 000 patients with CKD and multivessel CAD undergoing PCI or CABG revealed improved 5‐year survival rates in patients who received CABG51; however, these results do not apply to patients with single‐ or double‐vessel CAD... Nevertheless, the risk of restenosis with a DES in patients with ESRD compared with patients with normal renal function is still higher. 51, 53, 57, 58, 59 A randomized multicenter study evaluating the efficacy of everolimus‐eluting stents versus BMSs of identical size and implanted in the same patient showed a reduction in ischemia‐driven target vessel revascularization in patients with CKD who received DESs. 60 Nevertheless, it is important to note that a BMS may be preferred in patients in whom renal transplantation is planned within 6 to 12 months, such as those planned to receive living donor transplants, to limit the duration of dual antiplatelet therapy (DAPT)... More novel stents that are polymer‐ and carrier‐free but are drug‐coated have been shown to be superior to BMSs with respect to requiring target vessel revascularization on only 1 month of DAPT. 61 This type of stent confers the benefit of a DES with an improved safety profile over a BMS, with the additional advantage of a short course of DAPT, which may be ideal for patients with ESRD. 61 Aggressive medical therapy is also an option, given the high restenosis rates in patients with CKD and ESRD. 62, 63, 64 These risks must be weighed against the observed improved survival rate after PCI versus medical therapy alone in patients with ESRD. 65 Data from a few recent clinical series show similar outcomes of renal transplantation performed on DAPT soon after DES implantation... Patients on DAPT or aspirin alone compared with patients not receiving antiplatelet therapy did not have a statistically significant increase in bleeding risk, requirement for blood transfusion, or reoperation. 71, 72 These studies should be interpreted with caution because the long‐term effects of increased periprocedural bleeding and the need for transfusion on graft survival are lacking... Renal transplantation decreases the incidence of acute coronary syndrome compared with maintenance dialysis. 73, 74, 75 Renal transplantation is also independently associated with a lower risk of acute coronary syndrome in patients with ESRD secondary to diabetes mellitus compared with patients maintained on hemodialysis. 74 Furthermore, transplantation is associated with a 17% lower adjusted risk of acute coronary syndrome compared with patients remaining on the waiting list for transplantation regardless of the etiology of ESRD. 74 In the posttransplantation period, the risk of ischemic heart disease persists, albeit attenuated, compared with maintenance dialysis; acute graft failure, LVH, and traditional cardiovascular risk factors are the major predictors of ischemic events. 23 Furthermore, immunosuppressive therapy with calcineurin inhibitors and steroids required in transplanted patients can induce diabetes mellitus and worsen glycemic control, hypertension, and dyslipidemia. 1 Consequently, it is important to continue with aggressive risk modification to maintain the cardiovascular benefit of the normalized renal function after renal transplantation... S‐ICDs are approved by the US Food and Drug Administration, do not require transvenous leads, and were recently studied in patients with ESRD on dialysis for both primary and secondary prevention... A retrospective study found that patients on chronic dialysis who received an S‐ICD had no device‐related infections over a mean follow‐up of 7 months. 87 Moreover, a reduced risk of central venous stenosis and hematogenous and endocardial bacterial infections was noted in a recent case series. 89 This result was later confirmed in other studies. 90 The incidence of appropriate shocks delivered by S‐ICD was significantly higher in the dialysis cohort compared with the nondialysis group, with a low risk of inappropriate shocks. 87 Given the high prevalence of CHF in the dialysis population, S‐ICD appears to be an appropriate alternative to transvenous ICD for primary and secondary prevention... Recent studies, however, have indicated that not only is the risk of perioperative death low, but improvement in LV systolic function is also frequently observed. 7, 87, 91 In a study of >100 patients with ESRD and mean LVEF values of 31.6±6.7 undergoing renal transplantation, LV function improved in 86% of the patients, increasing to a mean of 47.2±10.7 at 6 months, with continued improvement to 52.2±12.0 at 12 months after transplantation. 7 New York Heart Association (NYHA) functional class also improved... The 3‐year survival rate of patients on dialysis after diagnosis of CHF is reported as only 17%. 77, 92 Moreover, the median survival of patients with systolic dysfunction is 38 months compared with 66 months in patients with normal systolic function. 92 In a study of nearly 3700 patients with ESRD, LVEF was the best predictor of mortality, with a 2.7% morality increase for each 1% decrease in LVEF for patients awaiting renal transplantation. 93 Similarly, a study of >60 000 patients with renal transplantation found that although there was a modest risk of cardiovascular mortality early in the postoperative period, the cardiac death rate dropped significantly 3 months after transplantation compared with patients who remained on the waiting list. 73 In patients with diabetes mellitus, LV end‐systolic diameter and indexes of fiber shortening on echocardiography were predictors of survival, with LV end‐systolic diameter >4.0 cm associated with 30% survival at 3 years versus 69% in those with normal LV end‐systolic diameter... It is essential to dialyze patients to their dry weights to prevent chronic volume overload and reduce the risk of development of PH, which is frequently observed in this patient population. 120, 121 Compression of AVF for 1 minute has been shown to decrease cardiac output and pulmonary arterial pressure and may be a useful diagnostic maneuver to determine the reversibility of PH. 122 Given the massive capacitance of the pulmonary vasculature, increased cardiac output alone might not be the only driving force for the development of PH in patients on dialysis. 120 Endothelial dysfunction caused by decreased nitric oxide production may also play a role122... It has been shown that patients with PH on dialysis have reduced serum levels of nitric oxide both before and after hemodialysis compared with patients on dialysis without PH. 122 This suggests that the uremic environment may reduce the capacitance of the pulmonary vasculature, predisposing patients on dialysis with high cardiac outputs to the development of PH. 119, 122
No MeSH data available.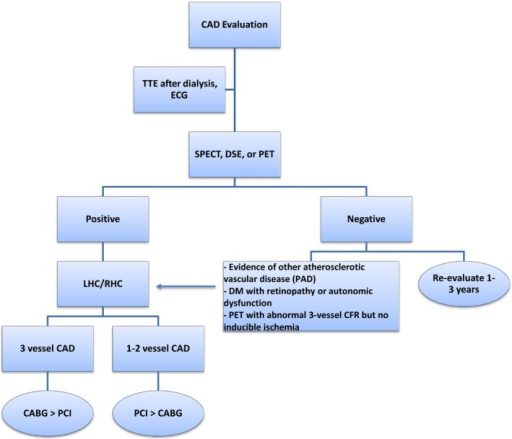 © Copyright Policy - creativeCommonsBy-nc-nd
License
getmorefigures.php?uid=PMC5015288&req=5
Mentions: Given the importance of preexistent CAD for outcomes after renal transplantation, transplantation candidates should have a thorough evaluation for CAD prior to inclusion on the waiting list, as outlined in Figure 1. Careful clinical history and baseline ECG should be performed in all patients. We perform echocardiography to assess ventricular dimensions and function, recognizing that no studies have specifically addressed appropriateness and cost‐effectiveness of this universal approach in transplant candidates. Moreover, given the presence of multiple risk factors for CAD in this patient population, noninvasive testing with dobutamine stress echocardiogram or, preferably, nuclear stress imaging with SPECT or PET are the initial tests that we use to screen for the presence of CAD. Negative results should be interpreted in the context of the pretest probability in individual patients, especially in patients with diabetes mellitus with autonomic dysfunction and microvascular complications.37, 42, 43, 44 Patients with multiple risk factors for CAD (≥3 risk factors: diabetes mellitus, prior cardiovascular disease, >1 year on dialysis, LVH, peripheral arterial disease, age >60 years, smoking, hypertension, dyslipidemia) should be considered for further imaging or cardiac catheterization despite a negative stress test in some instances. In such patients, noninvasive imaging with PET is a prudent second‐line investigation if coronary angiography is to be avoided because of advanced CKD and risk of progression to RRT. A normal PET stress test with abnormal multivessel coronary flow reserve is also a consideration for coronary angiography.36 Repeated evaluation is recommended on an annual basis in patients at high risk, with reevaluation every 3 years for low‐risk patients.