Salivary psoriasin (S100A7) correlates with diffusion capacity of carbon monoxide in a large cohort of systemic sclerosis patients
ABSTRACT
---
Background: Systemic sclerosis (SSc) is an autoimmune disease characterized by progressive fibrosis of the skin and the internal organs. In a previous work we suggested a correlation between levels of salivary psoriasin (S100A7) and pulmonary involvement in SSc patients. The goals of this study are to determine the distribution characteristics of psoriasin in whole saliva (WS) of SSc and healthy donor populations and define its predictive value on diffusion capacity of carbon monoxide (DLCO), along with others clinical parameters.
Methods: Salivary level of psoriasin was determined by ELISA kit in 134 SSc patients, 63 Raynaud syndrome patients, 40 patients affected by other connective diseases (non-case) and 74 healthy control subjects.
Results: A significant increase of salivary psoriasin was observed in SSc patients when compared with other healthy and pathological controls. Moreover, we confirmed the efficacy of salivary psoriasin to correlate with DLCO in a large cohort of SSc patients.
Conclusions: Overall our results suggest a rapid, non invasive and low costing method which can help clinicians in the evaluation of SSc pulmonary involvement.
No MeSH data available.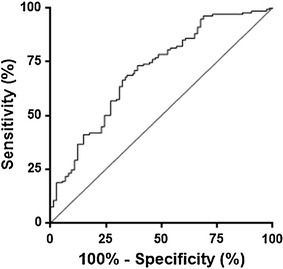 © Copyright Policy - OpenAccess
License 1 - License 2


getmorefigures.php?uid=PMC5015208&req=5

Mentions: In this study, using an ELISA test, a quantification of psoriasin level in WS of SSc patients compared with that of healthy and pathological control subjects was performed. Psoriasin levels were analyzed using SPSS in different groups of subjects and a non normal distribution was observed. The mean values ± SE were 14.1 ± 1.3, 25.5 ± 2.2, 19.0 ± 3.8 and 12.1 ± 3.3 µg/ml for healthy, SSc, Raynaud and noncase groups, respectively. Figure 1 shows the scatter dot plot of psoriasin concentrations in different classes of patients. Highly significant difference (p < 0.0001****) of expression was observed in SSc with respect to all other groups. No significant difference in psoriasin levels were detected between two clinical subtypes [diffuse SSc (dSSc) and limited SSc (lSSc)] (p = 0.73) (Fig. 2). The diagnostic power of psoriasin has been also analyzed. ROC curve was calculated to evaluate the ability of psoriasin to separate healthy and SSc groups (Fig. 3). The sensitivity and specificity of psoriasin were 68 and 66 %, respectively and the derived area under curve (AUC) was 0.71. Moderate values of sensitivity and specificity derived from the ROC analysis performed in a large cohort of SSc patients, confirmed our previous observation that psoriasin is not suitable as early diagnostic biomarker of SSc [8]. However, Spearman's analysis showed a direct correlation of psoriasin level with the presence of serological ACA (r = 0.264, p = 0.002**) and with DLCO (r = 0.186, p = 0.045*). No significant correlations were detected for psoriasin with other clinical and serological parameters taken in consideration (Table 2). Although we did not observe a statistically significant correlation of psoriasin levels with HRCT, however the significant correlation with DLCO, a functional pulmonary parameter, suggests that the assay of psoriasin in saliva might be a non invasive tool useful to strengthen the outcome of SSc. The pathogenetic relationship between psoriasin and lung impairment is still far from being completely clarified. As far as psoriasin is concerned different intracellular and extracellular functions have been suggested for this protein, including regulation of calcium homeostasis, cell proliferation, differentiation, apoptosis, cell invasion and motility, cytoskeleton dynamics, protein phosphorylation, regulation of transcriptional factors, immune responses, chemotaxis, antimicrobial, and inflammation [13]. In particular, a role of chemoattractant agents which are able to stimulate the neutrophyl and CD4+ T lymphocyte infiltration has been hypothesized by us to explain the link between psoriasin and lung involvement [8]. At this regard recently, the roles of Th17 and regulatory T (Treg) cells, in the autoimmune disease pathogenesis and in particular in SSc have been investigated [14]. In fact, Jiang and coworkers have shown that elevated Treg (CD4, CD25 and Foxp3 positive) cells are observed in SSc patients with a high interstitial lung disease score and low DLCO value. Moreover, the authors have suggested that Th17 cells participate in both inflammation and fibrosis by secreting IL-17, which is a potent inducer of several antimicrobial peptides and proteins such as psoriasin [14]. Therefore, we reinforce our previous suggestion that the increase of psoriasin level observed in SSc patients could be linked with T cell abnormalities and consequent alteration in the secretion of peculiar cytokines which are leading factors SSc pathogenesis and lung impairment [6, 14].Fig. 1