Biosynthesis and Regulation of Wheat Amylose and Amylopectin from Proteomic and Phosphoproteomic Characterization of Granule-binding Proteins
ABSTRACT
---
Waxy starch has an important influence on the qualities of breads. Generally, grain weight and yield in waxy wheat (Triticum aestivum L.) are significantly lower than in bread wheat. In this study, we performed the first proteomic and phosphoproteomic analyses of starch granule-binding proteins by comparing the waxy wheat cultivar Shannong 119 and the bread wheat cultivar Nongda 5181. These results indicate that reduced amylose content does not affect amylopectin synthesis, but it causes significant reduction of total starch biosynthesis, grain size, weight and grain yield. Two-dimensional differential in-gel electrophoresis identified 40 differentially expressed protein (DEP) spots in waxy and non-waxy wheats, which belonged mainly to starch synthase (SS) I, SS IIa and granule-bound SS I. Most DEPs involved in amylopectin synthesis showed a similar expression pattern during grain development, suggesting relatively independent amylose and amylopectin synthesis pathways. Phosphoproteome analysis of starch granule-binding proteins, using TiO2 microcolumns and LC-MS/MS, showed that the total number of phosphoproteins and their phosphorylation levels in ND5181 were significantly higher than in SN119, but proteins controlling amylopectin synthesis had similar phosphorylation levels. Our results revealed the lack of amylose did not affect the expression and phosphorylation of the starch granule-binding proteins involved in amylopectin biosynthesis.
No MeSH data available.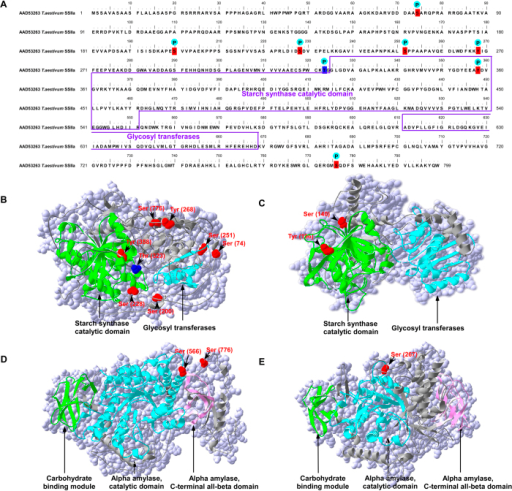 © Copyright Policy - open-access
License
getmorefigures.php?uid=PMC5015113&req=5
Mentions: We further analyzed the phosphorylation sites and 3-D structures of phosphoproteins SS I, SS II-a, SBE I and SBE II-a (Fig. 4). Eight phosphorylated sites were detected in SS II-a: five Ser (Ser74, Ser200, Ser228, Ser251, and Ser776), one threonine (Thr323), and two Tyr (Tyr268 and Tyr358; Fig. 4A,B) sites. Among them, seven phosphorylated sites (Ser74, Ser200, Ser 228, Ser251, Ser776, Tyr268 and Tyr358) were conserved in both cultivars. One Thr (Thr323) site was detected only in SN119 (Fig. 4B). Two conserved phosphorylated sites (Ser140, Tyr196) in SS I were detected in both ND5181 and SN119 (Fig. 4C), and two Ser (Ser566, Ser776) in SBE I and one serine (Ser267) in SBE IIa were found to be phosphorylated in both cultivars (Fig. 4D,E).