A Non-catalytic Deep Desulphurization Process using Hydrodynamic Cavitation
ABSTRACT
---
A novel approach is developed for desulphurization of fuels or organics without use of catalyst. In this process, organic and aqueous phases are mixed in a predefined manner under ambient conditions and passed through a cavitating device. Vapor cavities formed in the cavitating device are then collapsed which generate (in-situ) oxidizing species which react with the sulphur moiety resulting in the removal of sulphur from the organic phase. In this work, vortex diode was used as a cavitating device. Three organic solvents (n-octane, toluene and n-octanol) containing known amount of a model sulphur compound (thiophene) up to initial concentrations of 500 ppm were used to verify the proposed method. A very high removal of sulphur content to the extent of 100% was demonstrated. The nature of organic phase and the ratio of aqueous to organic phase were found to be the most important process parameters. The results were also verified and substantiated using commercial diesel as a solvent. The developed process has great potential for deep of various organics, in general, and for transportation fuels, in particular.
No MeSH data available.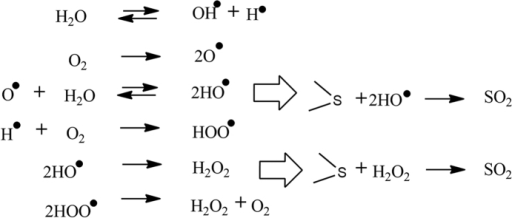 © Copyright Policy - open-access
License
getmorefigures.php?uid=PMC5015108&req=5
Mentions: Details of mechanisms have been reported in the case of oxidative desulphurization in presence of various catalysts such as hydrogen peroxide and other acid catalysts2627. The conventional approach involves reaction of hydrogen peroxide with the acid resulting into formation of acid peroxide which subsequently reacts with the organic sulphur resulting into formation of sulfone or sulfoxide. Otsuki et al.27 reported formation of sulfones in the organic phase during oxidative desulphurization using IR spectra analysis. The sulfone/sulfoxide, thus formed, can be extracted in different phase. It is important to note that the authors indicated difficulty in oxidising thiophene at 50 °C due to low electron density though benzothiophene or dibenzothiophene could be easily oxidised using hydrogen peroxide and formic acid mixture as catalyst. Thus, in the developed method, removal of organic sulphur is possible by both mineralization as well as oxidation mechanism (Fig. 6). However, since the process here does not employ acid catalyst, the contribution of later mechanism may not be significant. In principle, the cavities of organic, water or both (mixture) can form, the contribution of which would depend on the nature, vapour pressure of the organic solvent and composition. In the present work, the solvents, including water have vapour pressure in the range of 0.2–38 mm Hg at 30 °C; e.g. octanol (0.21), octane (17.65), toluene (37.7) and water (32) while thiophene has vapour pressure close to 92.6 mm Hg at 30 °C. However, in view of very low mol fraction of thiophene, its partial vapour pressure in the aqueous-organic two phase mixture of this study is significantly low. The probability of cavity formation for any phase is expected to increase with increase in its relative volume percent. However, even if organics cavities are more in number on the basis of low vapour pressure of the solvent, the degradation of sulphur species is believed to be difficult, if oxidative reaction by hydroxyl radical is assumed. The mechanism here is certainly much more complex and needs to be investigated in detail. In this context also, it is instructive to evaluate inception of the cavitation under different conditions/solvents and this can be done using the data of Fig. 3 for water alone and using different solvents for the two solvent ratios. The data on inception of cavities with addition of different solvents and with different ratios did not reveal significant difference from that of water alone, indicating that the role of solvent can be viewed predominantly as facilitator in oxidative interfacial reactions through effective transfer of sulphur moiety in cavities that provide predominantly oxidising species. However, this again needs further detailed investigation.