Secreted primary human malignant mesothelioma exosome signature reflects oncogenic cargo
ABSTRACT
---
Malignant mesothelioma (MM) is a highly-aggressive heterogeneous malignancy, typically diagnosed at advanced stage. An important area of mesothelioma biology and progression is understanding intercellular communication and the contribution of the secretome. Exosomes are secreted extracellular vesicles shown to shuttle cellular cargo and direct intercellular communication in the tumour microenvironment, facilitate immunoregulation and metastasis. In this study, quantitative proteomics was used to investigate MM-derived exosomes from distinct human models and identify select cargo protein networks associated with angiogenesis, metastasis, and immunoregulation. Utilising bioinformatics pathway/network analyses, and correlation with previous studies on tumour exosomes, we defined a select mesothelioma exosomal signature (mEXOS, 570 proteins) enriched in tumour antigens and various cancer-specific signalling (HPGD/ENO1/OSMR) and secreted modulators (FN1/ITLN1/MAMDC2/PDGFD/GBP1). Notably, such circulating cargo offers unique insights into mesothelioma progression and tumour microenvironment reprogramming. Functionally, we demonstrate that oncogenic exosomes facilitate the migratory capacity of fibroblast/endothelial cells, supporting the systematic model of MM progression associated with vascular remodelling and angiogenesis. We provide biophysical and proteomic characterisation of exosomes, define a unique oncogenic signature (mEXOS), and demonstrate the regulatory capacity of exosomes in cell migration/tube formation assays. These findings contribute to understanding tumour-stromal crosstalk in the context of MM, and potential new diagnostic and therapeutic extracellular targets.
No MeSH data available.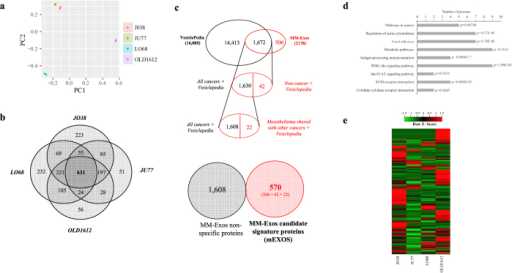 © Copyright Policy - open-access
License
getmorefigures.php?uid=PMC5015102&req=5
Mentions: Quantitative proteomic profiling identified a total of 2,178 proteins in exosomes from different human-derived MM cells (biological duplicate) (Supplementary Dataset). We evaluated the spatial separation for these proteins in the studied groups using principal component analysis (PCA). The result of PCA demonstrated good separation between MM models (Fig. 3a). Distribution of identified proteins between each MM-derived exosome type is shown, revealing a common subset of 631 exosomal proteins identified between all models (Fig. 3b). The 631 common exosomal proteins included proteins involved in exosome biogenesis (including TSG101, VPS26A, VPS29, VPS35, and Alix58) and intracellular vesicle trafficking (including tetraspanins CD63 and CD9, CD81/CD82, and small Rab GTPases596061) (Table S1). The majority of the common mesothelioma exosome proteins (508/631 (80%)) have previously been observed in exosomes released from diverse cell types (see EV database compendium Vesiclepedia containing 93,980 protein/mRNA entries (16,085 human proteins/mRNAs)62). Similarly, several key proteins associated with exosome biogenesis (ESCRT-associated, tetraspanins), sorting/trafficking (including Rab GTPases, ADP-ribosylation factors, clathrin and coatomer subunits, lipid raft flotillins), and vesicle release (including synaptotagmin 1/2, dynamin 1/2, synaptogyrin, VAMP3 and VAT1) (Table S2) were identified, though were not common to all cells. Nearly a quarter of the total number of exosomal proteins identified from JO38, JU77, OLD1612, and LO68 cells (506/2,178 (23%)) have not been previously reported in the EV database, Vesiclepedia (Supplementary Dataset). Besides common proteins associated with vesicle biogenesis and trafficking and the fact that only a single other proteomic study associated with mesothelioma and EVs is reported in Vesiclepedia63, this indicates the selectivity of unique oncogenic cargo within MM-derived exosomes, in addition to improvements in proteomics technologies and mass spectrometry.