Discovery of Fe 7 O 9 : a new iron oxide with a complex monoclinic structure
ABSTRACT
---
Iron oxides are fundamentally important compounds for basic and applied sciences as well as in numerous industrial applications. In this work we report the synthesis and investigation of a new binary iron oxide with the hitherto unknown stoichiometry of Fe7O9. This new oxide was synthesized at high-pressure high-temperature (HP-HT) conditions, and its black single crystals were successfully recovered at ambient conditions. By means of single crystal X-ray diffraction we determined that Fe7O9 adopts a monoclinic C2/m lattice with the most distorted crystal structure among the binary iron oxides known to date. The synthesis of Fe7O9 opens a new portal to exotic iron-rich (M,Fe)7O9 oxides with unusual stoichiometry and distorted crystal structures. Moreover, the crystal structure and phase relations of such new iron oxide groups may provide new insight into the cycling of volatiles in the Earth's interior.
No MeSH data available.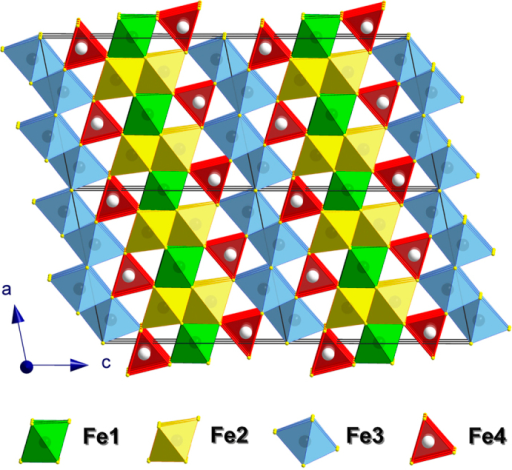 © Copyright Policy - open-access
License
getmorefigures.php?uid=PMC5015080&req=5
Mentions: By means of single crystal X-ray diffraction on the crystals (Fig. 1 and Supplementary Figure 1) we solved and refined the crystal structures of Fe7O9 and (Mg,Fe2+)3Fe3+4O9 at ambient conditions and confirmed their stoichiometry. Crystals of Fe7O9 and (Mg, Fe2+)3Fe3+4O9 had no pronounced asymmetry in their shape, but were rather small (0.03 × 0.02 × 0.01 and 0.03 × 0.02 × 0.02 mm3), so it was not possible to perform an analytical absorption correction based on crystal shape. Crystals of Fe7O9 appeared to be twinned, and due to the high degree of peak overlap (>50%), we had to integrate both twin domains simultaneously to perform a refinement of the crystal structure against HKLF5 data (BASF value was about 49.8%). The twinning could also influence the quality of determination of the anisotropic parameters. For consistency, we also refined the structure in an isotropic approximation and demonstrated a negligible influence on the atomic positions (CIF-files in the Supplementary Materials). Technical details of the structure determinations are summarized in Tables S1 and S2 in the Supplementary Materials. We established that both compounds adopt the same monoclinic structure of the C2/m space group. The unit cell parameters in Fe7O9 are as follows: a = 9.696(2) Å, b = 2.8947(6) Å, c = 11.428(3) Å, β = 101.69(2)°, V = 314.10(12) Å3, and Z = 2 (Fig. 2, and Tables S1 and S2 and CIF-files in the Supplementary Materials). The crystal structure of Fe7O9 has four different crystallographic sites for cations, three (Fe1, Fe2, Fe3) are octahedrally–coordinated and connected in a 3D network, while the fourth, Fe4, has a trigonal-prismatic arrangement (Fig. 2 and Table S2 in the Supplementary Materials). By analyzing the Fe-O bond distances in this polymorph using a bond valence sums (BVS) method30, we established the average oxidation state for Fe ions occupying the Fe1, Fe2, Fe3, and Fe4 sites to be +2.74, +2.72, +2.82, and +2.10, respectively. Thus, we conclude that the Fe4 sites are occupied almost exclusively by Fe2+ ions (Fig. 2). The other octahedral sites participate in electronic exchange between Fe2+ and Fe3+ ions through the polaron hopping mechanism, similar to the octahedral network of magnetite20 and other Fe-bearing oxides31. Thus, the BVS method shows the average charge for each of the Fe1-Fe3 sites. We note that various considerations lead to octahedral sites in the recently-discovered Fe4O5 phase having different charges29.