Deep sequencing reveals microbiota dysbiosis of tongue coat in patients with liver carcinoma
ABSTRACT
---
Liver carcinoma (LC) is a common malignancy worldwide, associated with high morbidity and mortality. Characterizing microbiome profiles of tongue coat may provide useful insights and potential diagnostic marker for LC patients. Herein, we are the first time to investigate tongue coat microbiome of LC patients with cirrhosis based on 16S ribosomal RNA (rRNA) gene sequencing. After strict inclusion and exclusion criteria, 35 early LC patients with cirrhosis and 25 matched healthy subjects were enrolled. Microbiome diversity of tongue coat in LC patients was significantly increased shown by Shannon, Simpson and Chao 1 indexes. Microbiome on tongue coat was significantly distinguished LC patients from healthy subjects by principal component analysis. Tongue coat microbial profiles represented 38 operational taxonomic units assigned to 23 different genera, distinguishing LC patients. Linear discriminant analysis (LDA) effect size (LEfSe) reveals significant microbial dysbiosis of tongue coats in LC patients. Strikingly, Oribacterium and Fusobacterium could distinguish LC patients from healthy subjects. LEfSe outputs show microbial gene functions related to categories of nickel/iron_transport, amino_acid_transport, energy produced system and metabolism between LC patients and healthy subjects. These findings firstly identify microbiota dysbiosis of tongue coat in LC patients, may providing novel and non-invasive potential diagnostic biomarker of LC.
No MeSH data available.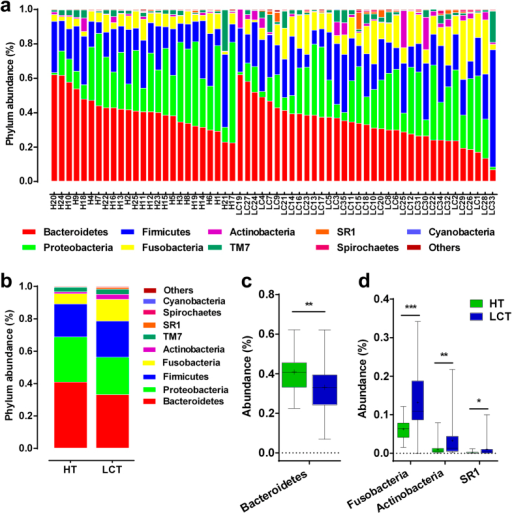 © Copyright Policy - open-access
License
getmorefigures.php?uid=PMC5015078&req=5
Mentions: LCT microbial profiles represented 10 phyla (Fig. 4a), and the four predominant (highly abundant and prevalent) phyla were Bacteroidetes, Proteobacteria, Firmicutes and Fusobacteria, which accounted for 90% and 94% of the reads of the LCT and HT samples, respectively (Fig. 4b). Further, 80% of the genera of each microbiome represented Prevotella, Neisseria, Fusobacterium, Porphyromonas, Veillonella, Streptococcus and Haemophilus (Fig. S3). Of the 38 OTUs that differed significantly between the LCT and HT microbiomes, 17 and 9 represented Firmicutes and Bacteroidetes, respectively, and the relative abundances of Bacteroidetes were significantly lower in LCT microbiome compared with HT microbiome. Conversely, the differences among the diversities of the Fusobacteria, Actinobacteria and the candidate division SR1 were significantly higher in the LCT microbiome compared with those of the HT microbiome (p = 0.006, 0.000, 0.004 and 0.021, respectively) (Fig. 4c,d).