Alterations of mitochondrial dynamics allow retrograde propagation of locally initiated axonal insults
ABSTRACT
---
In chronic neurodegenerative syndromes, neurons progressively die through a generalized retraction pattern triggering retrograde axonal degeneration toward the cell bodies, which molecular mechanisms remain elusive. Recent observations suggest that direct activation of pro-apoptotic signaling in axons triggers local degenerative events associated with early alteration of axonal mitochondrial dynamics. This raises the question of the role of mitochondrial dynamics on both axonal vulnerability stress and their implication in the spreading of damages toward unchallenged parts of the neuron. Here, using microfluidic chambers, we assessed the consequences of interfering with OPA1 and DRP1 proteins on axonal degeneration induced by local application of rotenone. We found that pharmacological inhibition of mitochondrial fission prevented axonal damage induced by rotenone, in low glucose conditions. While alteration of mitochondrial dynamics per se did not lead to spontaneous axonal degeneration, it dramatically enhanced axonal vulnerability to rotenone, which had no effect in normal glucose conditions, and promoted retrograde spreading of axonal degeneration toward the cell body. Altogether, our results suggest a mitochondrial priming effect in axons as a key process of axonal degeneration. In the context of neurodegenerative diseases, like Parkinson's and Alzheimer's, mitochondria fragmentation could hasten neuronal death and initiate spatial dispersion of locally induced degenerative events.
No MeSH data available.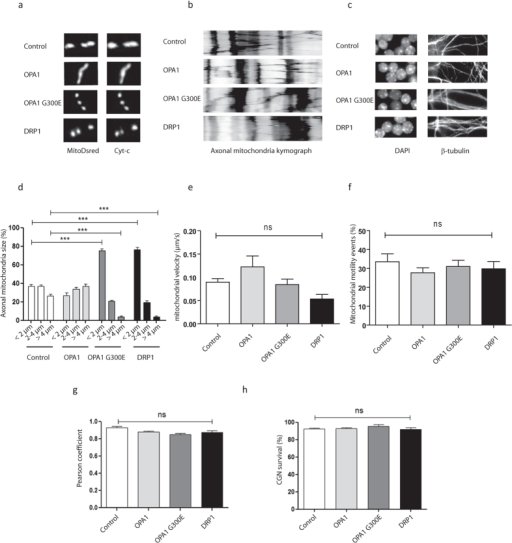 © Copyright Policy - open-access
License
getmorefigures.php?uid=PMC5015069&req=5
Mentions: Mitochondrial fission is an early event preceding axonal tubulin dismantlement after either somatic or axonal insults. In previous studies we showed that axo-protective molecules impaired both mitochondrial fission and axonal degeneration processes1340. Here, in order to assess whether fission could be a cause or a consequence of ongoing axonal degeneration, we investigated the direct role of mitochondrial dynamics on spontaneous axonal degeneration. We used a previously developed model of Cerebellar Granule Neurons (CGN) grown in microfluidic chambers which allowed the compartmentalization of axons and somas in two separate chambers. Because mitochondrial fragmentation can be a result an impaired fusion and/or an increase in fission, we used genetic manipulation of two key proteins that control mitochondrial dynamics: (1) the profusion protein OPA1 and (2) the pro-fission protein DRP1. Prior to seeding in the microfluidic devices, CGN neurons were electroporated with constructs encoding either wild type OPA1, or OPA1G330E, a dominant negative mutant of OPA141, or wild type DRP1. Co-transfection with the MitoDsRed expression vector allowed for direct visualization of mitochondrial morphology35. Quantitative analysis of axonal mitochondrial morphology 10 days after transfection showed that in control condition, small fissionned mitochondria (≤2 μm long), represented approximately 40% of the mitochondrial population, while the remaining ≈60% consisted of filamentous (2–4 μm) and hyper-filamentous (≥4 μm) mitochondria (Fig. 1a,d). Overexpression of OPA1 did not modify these percentages to statistical significance, although slightly displacing the repartition toward longer forms. As expected, forcing fission by inactivation of OPA1 through overexpression of OPA1G300E or by overexpression of the pro-fission protein DRP1 led to a dramatic increase in fragmented mitochondria that accounted for almost 70% of the total mitochondria (Fig. 1a,d). The impact of these mitochondrial dynamics modulations on mitochondrial mobility was then studied through kymograph analysis (Fig. 1b). In the control condition, approximately 80% of mitochondria are immobile and approximately 30% have anterograde or retrograde mobility with an average speed of 0.1 μm.s−1 (Fig. 1e,f). Neither OPA1G300E nor DRP1 overexpression did modify the percentage of motile mitochondria or the average speed of mitochondria (Fig. 1e,f). Accordingly, the repartition of fragmented mitochondria in OPA1G300E or DRP1 conditions was homogeneous in both the somato-dendritic compartment and axonal endings of CGN, and no major change was observed as compared to the control neurons (data not shown). To test whether altered fragmented mitochondria could be engaged in the apoptotic pathway, the distribution of cytochrome c was compared to MitoDsRed, allowing detection of potentially deleterious cytochrome c leaks from mitochondria. As shown in Fig. 1a,g, the MitoDsRed and cytochrome c signals were co-localized, even in fragmented mitochondria following OPA1G300E or DRP1 overexpression, thus indicating that mitochondria were not engaged in a pro-apoptotic process. Furthermore, analysis of CGN morphology showed that none of the conditions impacted neuronal survival as assessed by nuclear condensation in the somatic chamber and axonal beta3-tubulin staining (Fig. 1c,h). In conclusion, our data show that increasing mitochondrial fission through overexpression of OPA1G300E or DRP1, results in an increase to 80% of fragmented mitochondria in both somato-dendritic and axonal compartments, as compared to 40% in control conditions. However this did not significantly impact axonal fate nor lead to spontaneous activation of apoptotic pathways in CGN.