A Modified Theoretical Model of Intrinsic Hardness of Crystalline Solids
ABSTRACT
---
Super-hard materials have been extensively investigated due to their practical importance in numerous industrial applications. To stimulate the design and exploration of new super-hard materials, microscopic models that elucidate the fundamental factors controlling hardness are desirable. The present work modified the theoretical model of intrinsic hardness proposed by Gao. In the modification, we emphasize the critical role of appropriately decomposing a crystal to pseudo-binary crystals, which should be carried out based on the valence electron population of each bond. After modification, the model becomes self-consistent and predicts well the hardness values of many crystals, including crystals composed of complex chemical bonds. The modified model provides fundamental insights into the nature of hardness, which can facilitate the quest for intrinsic super-hard materials.
No MeSH data available.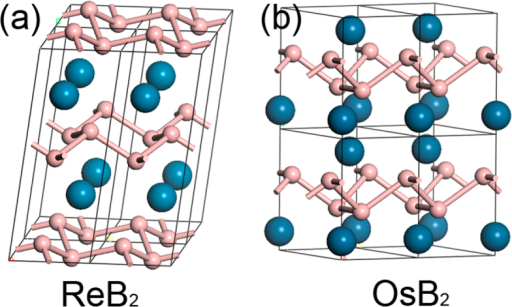 © Copyright Policy - open-access
License
getmorefigures.php?uid=PMC5015068&req=5
Mentions: To further verify the capability of the modified model, it is applied to investigate the hardness of TMB2s (TM = Ti, Zr, Hf, Re and Os). TiB2, ZrB2 and HfB2 have a simple hexagonal structure (space group P6/mmm), where TM and B atoms are respectively occupy 1a(0, 0, 0) and 2d(1/3, 2/3, 1/2) Wyckoff sites, as shown in Fig. 1a. ReB2 has a simple hexagonal structure (space group P63/mmc), where Re and B atoms respectively occupy 2c(1/3, 2/3, 1/4) and 4f(1/3, 2/3, 0.548) Wyckoff sites, as shown in Fig. 3a. OsB2 has an orthorhombic structure (space group Pmmn), where Os and B atoms respectively occupy 2a(1/4, 1/4, 0.154) and 4f(0.058, 1/4, 0.632) Wyckoff sites, as shown in Fig. 3b. Different from crystals in Tables 1, 2 and 3, where chemical bonds are well-defined, decomposing these TMB2 into different kinds of pseudo-binary crystals is not intuitive. Analysis on the decomposition is guided by Pμ. Any pair of atoms with positive Pμ is assumed to be an effective pseudo-binary crystal. Take ReB2 for example. According to Pμ, there are four types of bonds in ReB2 (Table 4), B-B bonds, two types of Re-B bonds and Re-Re bonds. The B-B bonds are typical covalent σ bonds with 2 valence electrons per bond. To specify the electron number of other chemical bonds, it is assumed that valence electrons of Re is equally partitioned to all Re-B bonds and Re-Re bonds surrounding it. Therefore, each bond shares 1/2 electron from each Re atom, which means 1/2 electron per Re-B bond and 1 electron per Re-Re bond. In analogous, B-B bonds in OsB2 are assumed to be typical covalent σ bonds with 2 valence electrons, while Os-B bonds share valence electrons from Os resulting in 1 electron per bond. Decomposition of MB2 (M = Ti, Zr, Hf) has been introduced above during modification of nμ, which will not be repeated. With an appropriate allocation of valence electrons to the chemical bonds, the hardness can be predicted by the modified model. The predictions agree well with experimental measurements for these TMB2s, as shown in Table 4.