Glucose-dependent anaplerosis in cancer cells is required for cellular redox balance in the absence of glutamine
ABSTRACT
---
Cancer cells have altered metabolism compared to normal cells, including dependence on glutamine (GLN) for survival, known as GLN addiction. However, some cancer cell lines do not require GLN for survival and the basis for this discrepancy is not well understood. GLN is a precursor for antioxidants such as glutathione (GSH) and NADPH, and GLN deprivation is therefore predicted to deplete antioxidants and increase reactive oxygen species (ROS). Using diverse human cancer cell lines we show that this occurs only in cells that rely on GLN for survival. Thus, the preference for GLN as a dominant antioxidant source defines GLN addiction. We show that despite increased glucose uptake, GLN addicted cells do not metabolize glucose via the TCA cycle when GLN is depleted, as revealed by 13C-glucose labeling. In contrast, GLN independent cells can compensate by diverting glucose-derived pyruvate into the TCA cycle. GLN addicted cells exhibit reduced PDH activity, increased PDK1 expression, and PDK inhibition partially rescues GLN starvation-induced ROS and cell death. Finally, we show that combining GLN starvation with pro-oxidants selectively kills GLN addicted cells. These data highlight a major role for GLN in maintaining redox balance in cancer cells that lack glucose-dependent anaplerosis.
No MeSH data available.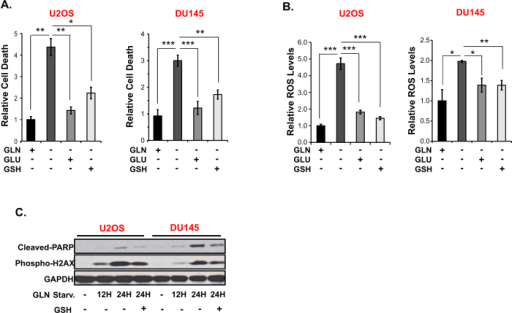 © Copyright Policy - open-access
License
getmorefigures.php?uid=PMC5015067&req=5
Mentions: To determine the contribution of the observed GLN starvation-induced ROS increase to cell death, we tested the ability of GLU or the antioxidant GSH to rescue GLN starvation-induced cell death in two GLN addicted cell lines, U2OS and DU145. GLU is the downstream product of GLN and can be directly used in GSH synthesis; alternatively, after conversion to α-KG, it can enter the TCA cycle to supply NADPH-producing pathways. Both GLU and GSH addition inhibited GLN starvation-induced cell death and ROS increases (Fig. 3A,B) similar to previously reported findings2728. The mechanism by which addition of extracellular GSH to the medium reduces ROS remains unknown, but likely represents breakdown of GSH to glutamate in the medium, which could then be taken up by SLC1A3 as reported2930. However, we cannot rule out direct uptake of intact GSH into cells, as has also been described3132. Addition of the antioxidant NAC also inhibited GLN starvation-induced cell death and ROS in DU145 cells (Fig. S4A). To complement these findings, we assessed GLN starvation-induced cell death and oxidative stress by Western blot analysis of the apoptotic cell death marker, cleaved-PARP33, and, since oxidative stress causes DNA damage that is associated with increased H2AX phosphorylation34, using phospho-H2AX levels. Consistent with the above results, GLN starvation markedly increased cleaved-PARP and phospho-H2AX in the GLN addicted cell lines U2OS and DU145, which were suppressed by addition of GSH (Fig. 3C). In marked contrast, GLN starvation failed to significantly increase either cleaved-PARP or phospho-H2AX levels in the two GLN independent cell lines, PC3 and BPH-1 (Fig. S4B), indicating that GLN starvation causes only minimal oxidative damage in these cells. We used etoposide as a positive control for a functional DNA damage response, as it causes DNA strand breaks and leads to increased H2AX phosphorylation3536. Etoposide treatment increased phospho-H2AX levels in both PC3 and BPH-1 cells, ensuring that there are no defects in H2AX phosphorylation in these cells. Note that in addition to GSH synthesis, GLN is also required for nucleotide synthesis37. However, GLN starvation-induced phospho-H2AX upregulation can be inhibited by addition of both GLU and GSH, which are not known to be precursors for nucleotide synthesis. Together, these results indicate that GLN starvation induces cell death predominantly by increasing cellular ROS and oxidative stress.