Multiple intrinsic factors act in concert with Lhx2 to direct retinal gliogenesis
ABSTRACT
---
Müller glia (MG) are the principal glial cell type in the vertebrate retina. Recent work has identified the LIM homeodomain factor encoding gene Lhx2 as necessary for both Notch signaling and MG differentiation in late-stage retinal progenitor cells (RPCs). However, the extent to which Lhx2 interacts with other intrinsic regulators of MG differentiation is unclear. We investigated this question by investigating the effects of overexpression of multiple transcriptional regulators that are either known or hypothesized to control MG formation, in both wildtype and Lhx2-deficient RPCs. We observe that constitutively elevated Notch signaling, induced by N1ICD electroporation, inhibited gliogenesis in wildtype animals, but rescued MG development in Lhx2-deficient retinas. Electroporation of Nfia promoted the formation of cells with MG-like radial morphology, but did not drive expression of MG molecular markers. Plagl1 and Sox9 did not induce gliogenesis in wildtype animals, but nonetheless activated expression of the Müller marker P27Kip1 in Lhx2-deficient cells. Finally, Sox2, Sox8, and Sox9 promoted amacrine cell formation in Lhx2-deficient cells, but not in wildtype retinas. These findings demonstrate that overexpression of individual gliogenic factors typically regulates only a subset of characteristic MG markers, and that these effects are differentially modulated by Lhx2.
No MeSH data available.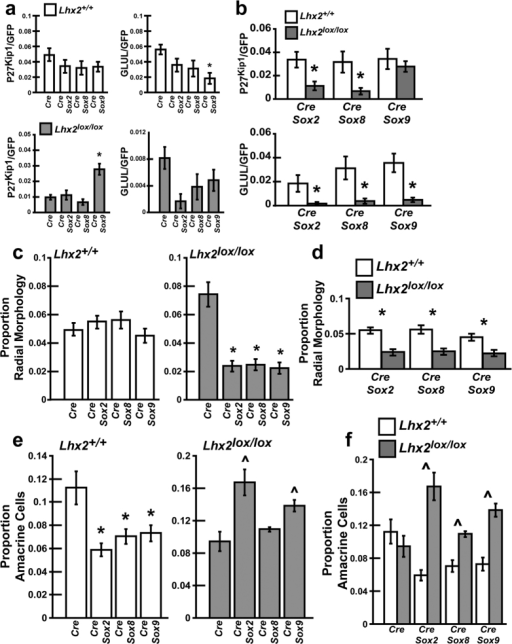 © Copyright Policy - open-access
License
getmorefigures.php?uid=PMC5015061&req=5
Mentions: To test the sufficiency of Sox2, Sox8, and Sox9 to promote MG development we electroporated neonatal WT retinas with pCAG-Sox2/pCAG-Cre/pCALNL-GFP, pCAG-Sox8/pCAG-Cre/pCALNL-GFP, or pCAG-Sox9/pCAG-Cre/pCALNL-GFP, herein referred to as Sox2/Cre, Sox8/Cre, or Sox9/Cre, and assayed for MG. The pCAG-Sox2, -Sox8, -Sox9 plasmids constitutively expresses SOX2, SOX8, and SOX9 respectively. Electroporation of Sox2/Cre or Sox8/Cre did not result in significant changes in the number of MG as determined by marker expression or MG-like radial morphology at P14 (Figs 4a,c,e,g and 5a,c). Electroporation of Sox9/Cre also did not affect expression of P27Kip1 or the proportion of radial cells, but did result in significantly decreased GLUL expression (Figs 4i,k and 5a,c).