HIPSTR and thousands of lncRNAs are heterogeneously expressed in human embryos, primordial germ cells and stable cell lines
ABSTRACT
---
Eukaryotic genomes are transcribed into numerous regulatory long non-coding RNAs (lncRNAs). Compared to mRNAs, lncRNAs display higher developmental stage-, tissue-, and cell-subtype-specificity of expression, and are generally less abundant in a population of cells. Despite the progress in single-cell-focused research, the origins of low population-level expression of lncRNAs in homogeneous populations of cells are poorly understood. Here, we identify HIPSTR (Heterogeneously expressed from the Intronic Plus Strand of the TFAP2A-locus RNA), a novel lncRNA gene in the developmentally regulated TFAP2A locus. HIPSTR has evolutionarily conserved expression patterns, its promoter is most active in undifferentiated cells, and depletion of HIPSTR in HEK293 and in pluripotent H1BP cells predominantly affects the genes involved in early organismal development and cell differentiation. Most importantly, we find that HIPSTR is specifically induced and heterogeneously expressed in the 8-cell-stage human embryos during the major wave of embryonic genome activation. We systematically explore the phenomenon of cell-to-cell variation of gene expression and link it to low population-level expression of lncRNAs, showing that, similar to HIPSTR, the expression of thousands of lncRNAs is more highly heterogeneous than the expression of mRNAs in the individual, otherwise indistinguishable cells of totipotent human embryos, primordial germ cells, and stable cell lines.
No MeSH data available.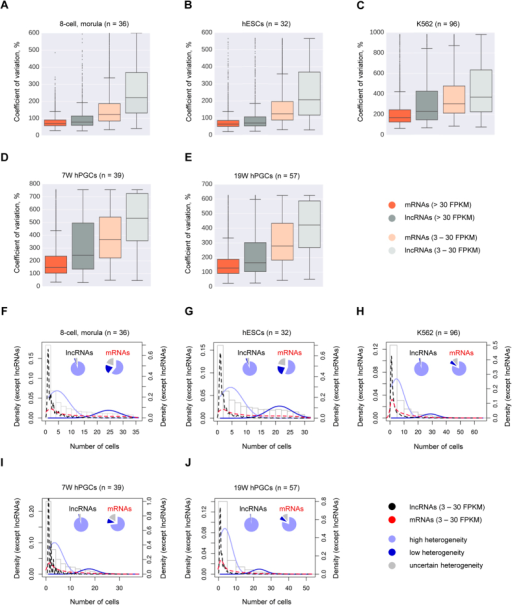 © Copyright Policy - open-access
License
getmorefigures.php?uid=PMC5015059&req=5
Mentions: To resolve this discrepancy between single-molecule RNA-FISH results and observations from single-cell RNA-seq data, we next systematically explored patterns of cell-to-cell expression variability of lncRNAs and mRNAs in human cells. For this, we used five single-cell RNA-seq data sets – from human totipotent blastomeres (36 cells; ref. 7), from pluripotent hESCs (32 cells; ref. 7), from K562 cells (96 cells; ref. 53), and from hPGCs of 7 weeks-old (7W; 39 cells; ref. 54) and of 19 weeks-old (19W; 57 cells, ref. 54) male embryos. We considered all expressed genes, defined here as those having max expression >3 FPKM (30-fold more stringent threshold than in refs 7, 54; see Methods) in at least one individual cell of a given data set, and compared the coefficient of variation of gene expression across the cells between lncRNAs and mRNAs. For genes with max expression within 3–30 FPKM, we saw a greater difference between non-coding and protein-coding transcripts than for those with max expression >30 FPKM (Fig. 5A–E). For the former group, the distribution of the numbers of cells was a mixture distribution. We fitted this mixture distribution with a finite mixture model with two populations, and used this model to classify lncRNAs and mRNAs as having high, low or uncertain heterogeneity of expression (Fig. 5F–J). For lncRNAs of this group (max expression 3–30 FPKM), only a small fraction showed low or uncertain (posterior probability <0.99) heterogeneity of expression −6.5%, 7.0%, 4.2%, 4.8%, and 2.3% in human totipotent blastomeres (Fig. 5F), hESCs (Fig. 5G), K562 cells (Fig. 5H), 7W hPGCs (Fig. 5I), and 19W hPGCs (Fig. 5J), respectively (Table S9). For example, in hESCs the known pluripotency regulator TUNAR (ref. 55) was assigned low heterogeneity flag in our analysis (Table S2). At the same time, HIPSTR was classified as a transcript with high heterogeneity of expression in 8-cell and morula-stage human embryos, and in K562 cells (Tables S4, S6), as expected. Remarkable heterogeneity of expression of lncRNAs was in a stark contrast to the much lower heterogeneity of expression of mRNAs with comparable expression levels (3–30 FPKM), of which 40%, 43%, 19%, 27%, and 20% were associated with low or uncertain heterogeneity of expression in human totipotent blastomeres, hESCs, K562 cells, 7W hPGCs, and 19W hPGCs, respectively (Fig. 5F–J; Table S9). Overall, lncRNAs analyzed here (max expression 3–30 FPKM) and assigned the high heterogeneity flag (H) constituted on average 74% of all expressed lncRNAs (>3 FPKM), while for mRNAs this fraction was only 35% (Table S8).