Neuronal leucine-rich repeat 1 negatively regulates anaplastic lymphoma kinase in neuroblastoma
ABSTRACT
---
In neuroblastoma (NB), one of the most common paediatric solid tumours, activation of anaplastic lymphoma kinase (ALK) is often associated with poor outcomes. Although genetic studies have identified copy number alteration and nonsynonymous mutations of ALK, the regulatory mechanism of ALK signalling at protein levels is largely elusive. Neuronal leucine-rich repeat 1 (NLRR1) is a type 1 transmembrane protein that is highly expressed in unfavourable NB and potentially influences receptor tyrosine kinase signalling. Here, we showed that NLRR1 and ALK exhibited a mutually exclusive expression pattern in primary NB tissues by immunohistochemistry. Moreover, dorsal root ganglia of Nlrr1+/+ and Nlrr1−/− mice displayed the opposite expression patterns of Nlrr1 and Alk. Of interest, NLRR1 physically interacted with ALK in vitro through its extracellular region. Notably, the NLRR1 ectodomain impaired ALK phosphorylation and proliferation of ALK-mutated NB cells. A newly identified cleavage of the NLRR1 ectodomain also supported NLRR1-mediated ALK signal regulation in trans. Thus, we conclude that NLRR1 appears to be an extracellular negative regulator of ALK signalling in NB and neuronal development. Our findings may be beneficial to comprehend NB heterogeneity and to develop a novel therapy against unfavourable NB.
No MeSH data available.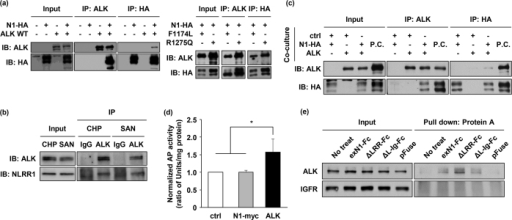 © Copyright Policy - open-access
License
getmorefigures.php?uid=PMC5015029&req=5
Mentions: The mutually exclusive expression of NLRR1 and ALK in human NB and murine DRGs encouraged us to investigate their extracellular interaction. First, we transiently expressed NLRR1 tagged with HA (NLRR1-HA or N1-HA) and wild-type (WT) ALK in HEK293 cells and then performed immunoprecipitation followed by western blotting. The results indicated a physical interaction between these membrane proteins (Fig. 3a, left panel). NLRR1 also directly bound to oncogenic ALK mutants F1174L and R1275Q in the transiently co-expressing cells (Fig. 3a, right panel). Treatment of the cells with tunicamycin, an N-liked glycosylation inhibitor, showed no influence on the interaction, suggesting that NLRR1 physically interacts with ALK regardless of its N-glycosylation (Supplementary Figure 2a). The endogenous interaction between NLRR1 and ALKs was confirmed in CHP134 and SMS-SAN cells, both of which endogenously harboured detectable levels of NLRR1 and ALK in western blot analyses (Fig. 3b and Supplementary Figure 1b). Next, we transfected Cos7 cells with NLRR1-HA or WT ALK independently, and then co-cultured them. In the post co-cultured sample, ALK was co-precipitated with NLRR1, suggesting that NLRR1 interacts with ALK through its extracellular region among neighbouring cells (Fig. 3c). To confirm binding of the NLRR1 extracellular domain to ALK, we generated an intact extracellular domain of NLRR1 (exN1) fused with human placental alkaline phosphatase (AP) at the C-terminal (exN1-AP) using a pSecTag2 template vector. Then, Cos7 cells transiently expressing ALK were treated with conditioned medium containing exN1-AP, followed by measurement of AP activities in the lysates. Significantly higher AP activity in ALK-expressing cells compared with control cells indicated binding of the NLRR1 ectodomain to ALK (Fig. 3d). We also investigated potential binding of the NLRR1 ectodomain to NLRR1-expressing cells, because LRR domain has been reported to be responsible for protein dimerlisation39. However, the AP activity of NLRR1-expressing cells was comparable to that of the control (Fig. 3d). Additionally, to examine the direct interaction between the NLRR1 ectodomain and ALK, and to determine the domain of NLRR1 responsible for the binding, we newly generated exN1 and its deletion mutants conjugated with human IgG1 Fc at the C-terminus using a pFUSE-hIgG1-Fc2 template vector. Because NLRR1 has three domains in the extracellular region, LRR, immunoglobulin-like (Ig-like), and fibronectin type III (FNIII) domains, the following three chimeric proteins were established: exN1-Fc, ΔLRR-FC encompassing Ig-like and FNIII domains, and ΔL-Ig-FC encompassing only the FNIII domain (Supplementary Figure 2b). Human IgG1 Fc was used as a negative control. NB-39-nu cells were treated with conditioned medium containing the Fc chimeric proteins, and the lysates were subjected to protein A pull-down. As a result, ALK was co-precipitated with all of the Fc-fused mutants, but not with the Fc control (Fig. 3e), implying that the NLRR1 ectodomain certainly binds to ALK and that the FNIII domain is responsible for the physical interaction between NLRR1 and ALK. No positive band of IGFR in the protein A pull-down indicated specific binding of the NLRR1 ectodomain to ALK (Fig. 3e).