Can S-1 replace fluorouracil for advanced gastric cancer? A PRISMA-compliant systematic review and meta-analysis
ABSTRACT
---
It remains to be seen whether S-1 can be a replacement for infusional fluorouracil (5-FU) for advanced gastric cancer (AGC). The aim of this study was to compare the efficacy and safety of S-1 with 5-FU in AGC.
PubMed and Cochrane Library were searched. Randomized controlled trials and meta-analyses comparing S-1 with 5-FU for AGC were eligible. Meta-analysis was performed using RevMan 5.2.
Seven trials involving 2443 patients were included. Compared with 5-FU, S-1 showed no significant prolongation of overall survival (OS) (hazard ratio [HR] = 0.91, 95% confidence interval [CI] [0.83–1.01], P = 0.07) and progression-free survival (HR = 0.89, 95% CI [0.70–1.13], P = 0.35), but longer time to treatment failure (HR = 0.74, 95% CI [0.56–0.97], P = 0.03). The objective response rates were comparable (risk ratio [RR] = 1.36, 95% CI [0.95, 1.96], P = 0.10). Regarding treatment-related deaths and hematological toxicities, there was significant heterogeneity between Asian and non-Asian trials, and subgroup analysis was applied. In Asian patients, there was a significant increase in hematological toxicities such as leukopenia (grade 1–4: RR = 1.22, 95% CI [1.08, 1.37], P = 0.001; grade 3–4: RR = 2.21, 95% CI [1.52, 3.21], P < 0.0001), neutropenia (grade 1–4: RR = 1.29, 95% CI [1.11, 1.48], P = 0.0005; grade 3–4: RR = 1.87, 95% CI [1.11, 3.17], P = 0.02), and thrombocytopenia (grade 1–4: RR = 1.71, 95% CI [1.22, 2.41], P = 0.002) in S-1-containing regimens compared with 5-FU-containing regimens, but without significant difference in treatment-related mortality rate (risk difference [RD] = 0.00, 95% CI [−0.01, 0.01], P = 0.68). In non-Asian patients, S-1-containing regimens were, however, associated with significantly fewer treatment-related deaths (RD = −0.02, 95% CI [−0.05, −0.00], P = 0.04), as well as less all grade 1–4 and grade 3–4 hematological toxicities except anemia. There was no significant heterogeneity in nonhematologic toxicities between Asian and non-Asian trials. Lower incidence of grade 1–4 nausea, diarrhea, mucositis, grade 3–4 mucositis, increased creatinine, and decreased calculated creatinine clearance was observed in S-1-containing regimens.
S-1 could not improve OS, but increase some hematological toxicities in Asian patients. Therefore, special attention on hematological toxicities should be paid to Asian patients because S-1 is administered on an outpatient basis.
No MeSH data available.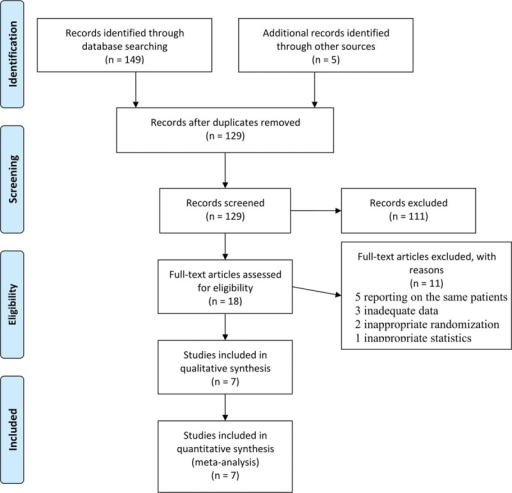 © Copyright Policy - open-access
License
getmorefigures.php?uid=PMC4998483&req=5
Mentions: The literature search and selection procedure are shown in Figure 1. A total of 7 RCTs were eligible for analysis, including 5 full texts,[11–15] 1 abstract from ASCO Annual Meeting,[16] and 1 abstract from the ECCO/ESMO Congress.[17] The main characteristics of the included trials were shown in Table 1. Six studies were performed in East Asia (3 in Japan[12,14,17] and 3 in China[11,15,16]), and the remaining study was a non-Asian global phase III trial performed in 24 countries.[13] All studies were multicenter in nature, involving 8 to 146 centers. Of the 2443 patients in those studies, 1236 patients received S-1-containing chemotherapy and 1207 patients received 5-FU-containing chemotherapy. The sample size of individual trials ranged from 147 to 1029 patients. Two studies compared S-1 alone with 5-FU alone (S-1 vs 5-FU),[14,17] 3 compared S-1 plus cisplatin with 5-FU plus cisplatin (SP vs FP),[13,15,16] and 2 compared S-1 plus paclitaxel with 5-FU plus paclitaxel (SPtx vs FPtx).[11,12] Regimens were similar with respect to doses and schedules in every trial. There were no significant differences in the baselines between S-1-containing and 5-FU-containing groups in these studies as reported.