An observational study of the association among interatrial adiposity by computed tomography measure, insulin resistance, and left atrial electromechanical disturbances in heart failure
ABSTRACT
---
Excessive visceral adiposity, hypothesized to be a key mediator in metabolic derangements, has recently been shown to exert toxic effects on cardiac structure and function. Data regarding the mechanistic link between regional adiposity, left atrial (LA) electromechanical remodeling, and heart failure with preserved ejection fraction (HFpEF) have been lacking.
Various visceral adiposity measures, including pericardial fat (PCF), thoracic periaortic (TAT) fat, regional inter-atrial fat (IAF), and atrioventricular groove fat (AV Groove Fat), were assessed by multidetector computed tomography in 2 study cohorts (an annual health survey cohort and an outpatient cohort). We related such measures to cardiometabolic profiles in health survey cohort and LA electromechanical indices in our outpatient cohort, with Cox proportional hazards performed to examine the temporal trends of heart failure (HF).
In our annual health survey cohort (n = 362), all 4 adiposity measures were positively related to unfavorable anthropometrics and systemic inflammation (high-sensitivity C-reactive protein) (all P < 0.05). In addition, both greater IAF and AV Groove Fat were positively associated with higher fasting glucose, HbA1c levels, and insulin resistance (all P < 0.05). In the outpatient cohort, the HFpEF group demonstrated the greatest adiposity measures, with greater IAF (≥8.2 mm, hazard ratio: 4.11, 95% confidence interval: 1.50–11.32) associated with reduced LA strain (ß-coef: –0.28), higher LA stiffness (ß-coef: 0.23), and longer P wave duration (ß-coef: 0.23) in multivariate models (all P < 0.05), and further related to higher HF hospitalization during follow-up.
We therefore propose a possible pathophysiologic link among greater visceral adiposity, systemic inflammation, cardiometabolic risks, and HFpEF. Regional adiposity, especially IAF, was tightly linked to altered LA electromechanical properties and likely plays a key role in HF prognosis.
No MeSH data available.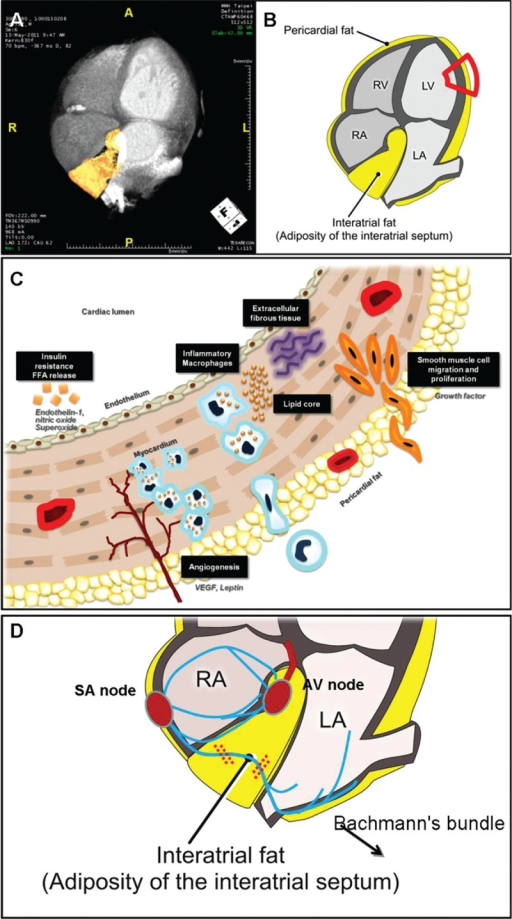 © Copyright Policy - open-access
License
getmorefigures.php?uid=PMC4998482&req=5
Mentions: Central obesity or visceral adiposity, rather than subcutaneous or peripheral fat deposits, shows a consistent correlation with systemic inflammation and metabolic derangements, and had recently been regarded as the "key" biological sources of proinflammatory pathways and related adverse effects.[13–15] So far, a variety of biomarkers, including brain natriuretic peptide family and insulin-like growth factor-I, have all been reported for HF risk stratification.[30] Furthermore, circulating blood glucose, insulin resistance,[31,32] and elevated inflammatory markers (e.g., interleukin-6 or hs-CRP) from systemic metabolic derangements were proposed to be associated with cardiac remodeling and redundant LV mass (Supplemental Material, Figure 2).[23] The term "cardiac steatosis" has recently been proposed to describe excessive myocardial triglyceride uptake, overflow of intramyocardial free fatty acids, enhanced beta oxidation, and a higher degree free radical accumulation within cardiomyocytes in diabetic subjects with HF,[33–35] and further enhance oxidative stress and cardiac fibrosis (Fig. 3 A–C). Previous0 studies revealed that microvascular endothelial inflammation in metabolic derangements, rather than hemodynamic load, may further aggravate pathologic interstitial fibrosis and HF.[36] Based on these findings, it has been proposed that visceral fat deposits could be biologically active and may exert cardiotoxic effects on adjacent cardiac structures, leading to cardiac functional deterioration.[37,38] In this regard, HFpEF as a clinically distinct phenotype from reduced ejection fraction HF had been shown to be more relevant to such metabolic derangements and molecular proinflammatory signaling pathways.[31–36] In accordance to previous data, our HFpEF group in the second-phase study indeed presented greater BMI and higher insulin resistance, as well as excessive visceral adiposity and more exaggerated systemic inflammation.