Mastocytosis among elderly patients
ABSTRACT
---
Mastocytosis is a heterogeneous group of diseases with a young median age at diagnosis. Usually indolent and self-limited in childhood, the disease can exhibit aggressive progression in mid-adulthood. Our objectives were to describe the characteristics of the disease when diagnosed among elderly patients, for which rare data are available.
The French Reference Center conducted a retrospective multicenter study on 53 patients with mastocytosis >69 years of age, to describe their clinical, biological, and genetic features.
The median age of our cohort of patients was 75 years. Mastocytosis variants included were cutaneous (n = 1), indolent systemic (n = 5), aggressive systemic (n = 11), associated with a hematological non-mast cell disease (n = 34), and mast cell leukemia (n = 2). Clinical manifestations were predominantly mast cell activation symptoms (75.5%), poor performance status (50.9%), hepatosplenomegaly (50.9%), skin involvement (49.1%), osteoporosis (47.2%), and portal hypertension and ascites (26.4%). The main biological features were anemia (79.2%), thrombocytopenia (50.9%), leucopenia (20.8%), and liver enzyme abnormalities (32.1%). Of the 40 patients tested, 34 (85%), 2 (5%), and 4 (10%) exhibited the KIT D816V mutant, other KIT mutations and the wild-type form of the KIT gene, respectively. Additional sequencing detected significant genetic defects in 17 of 26 (65.3%) of the patients with associated hematological non-mast cell disease, including TET2, SRSF2, IDH2, and ASLX1 mutations. Death occurred in 19 (35.8%) patients, within a median delay of 9 months, despite the different treatment options available.
Mastocytosis among elderly patients has a challenging early detection, rare skin involvement, and/or limited skin disease; it is heterogeneous and has often an aggressive presentation with nonfortuitous associated myeloid lineage malignant clones, and thus a poor overall prognosis.
No MeSH data available.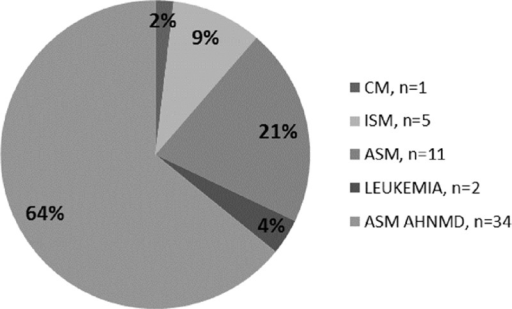 © Copyright Policy - open-access
License
getmorefigures.php?uid=PMC4998476&req=5
Mentions: Among the 53 elderly patients, the variants of mastocytosis were indolent SM (ISM, n = 5; 9.4%), aggressive SM (ASM, n = 11; 20.8%), ASM with associated hematologic non-MC lineage disease (ASM-AHNMD, n = 34; 64.2%), cutaneous mastocytosis (CM, n = 1; 1.9%), and mast cell leukemia (MCL, n = 2; 3.8%) (Fig. 1). The main clinical and biological features of the elderly patients are depicted in Table 1. The clinical presentation was very heterogeneous. A total of 50.9% (n = 27) of the patients displayed poor performance status, 75.5% (n = 40) presented with mast cell activation symptoms (flush n = 17, pruritus n = 19, diarrhea n = 12, abdominal pain n = 14); 24.5% (n = 13) had lymphadenopathy, 50.9% (n = 27) had hepatosplenomegaly, including 4 patients with only hepatomegaly and 6 patients with only splenomegaly. Ascites or other signs of portal hypertension-related disturbances were observed in 26.4% of patients (n = 14). Skin involvement was observed among 49% (n = 26) patients, mostly urticaria pigmentosa (UP) (n = 24) or less frequently telangiectasia macularis eruptiva persistans (TMEP) (n = 2). Forty-seven percent (n = 25) of patients displayed osteoporosis, including 12 of 25 (48%) patients with fractures (mostly at vertebral sites). Few patients (11.3%) displayed B findings as defined by the WHO classification, whereas C findings were documented in almost all patients (88.7%). Two patients affected by chronic eosinophilia (>1.7 × 109/L) exhibited specific patterns of cardiac and pulmonary involvement, respectively. Considering the clinical history and the onset of characteristic signs displayed by patients, the median time to diagnosis was estimated at 9 months, with extremes ranging from 3 to 12 months from the beginning of systemic signs, because some patients displayed cutaneous lesions for many years that were not linked to mastocytosis.