Clinical outcome of transthoracic esophagectomy with thoracic duct resection
ABSTRACT
---
The number of dissected lymph nodes (LNs), surgical outcomes, and postoperative recurrence-free survival (RFS) were compared between thoracic duct (TD)-preserved and TD-resected groups. The distribution of metastasis in LNs around TD (TDLN) was reviewed. Transthoracic esophagectomy (TTE) with TD resection for esophageal cancer patients has been one of the standard procedures. Because the adipose tissue surrounding the TD contains LNs, TD resection might be necessary for radical LN dissection. However, few studies have investigated the oncological outcome of TTE with TD resection. Two hundred fifty-six consecutive patients who underwent TTE between 2004 and 2015 were retrospectively reviewed and classified into TD-preserved or TD-resected groups. The number of dissected LNs for each LN station and surgical outcomes were compared. RFS was analyzed in 155 patients who underwent TTE before December 2012. Since 2013, the TDLN number was prospectively examined, independent of the regional LNs (n = 72). Of these, the TDLN number for each location (TDLN-Ut/Mt/Lt) was investigated and the correlation between TDLN metastasis and clinicopathological factors was analyzed. The TD was preserved in 89 patients and resected in 167 patients. Patients with TD resection showed significant advanced stage. There was no significant difference in the incidence of postoperative complications, including pneumonia, anastomotic leakage, and chylothorax. The number of dissected mediastinal LNs was significantly increased in the TD-resected group. The 5-year RFS rate of cStage I patients was 67.3% in the TD-preserved group against 90.3% in the TD-resected group, showing a tendency towards RFS extension that did not quite reach statistical significance (P = 0.055). The mean TDLN-Ut/Mt/Lt numbers were 0.89/0.56/0.44, respectively. Eight of 72 (11%) patients displayed TDLN metastasis. Metastatic TDLNs were observed on the same or cranial level of the primary lesion in 7 of 8 patients. Transthoracic esophagectomy with TD resection could increase the number of dissected mediastinal LNs without increase of postoperative complication. TDLN metastasis was observed in patients with advanced disease. A prospective trial, investigating the survival between TD-preserved and TD-resected groups, should be conducted to clarify if TD should be resected in TTE.
No MeSH data available.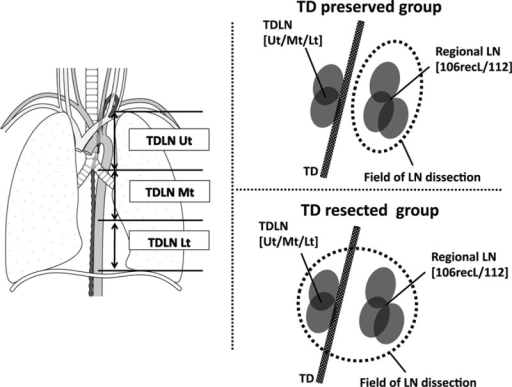 © Copyright Policy - open-access
License
getmorefigures.php?uid=PMC4998447&req=5
Mentions: As a curative surgery, TTE with right thoracotomy and gastric tube reconstruction in the posterior mediastinal or presternal route was performed as a standard surgical procedure at our institution. When gastric tube could not be used because of synchronous double cancer of the stomach or previous history of gastrectomy, reconstruction using the terminal ileum and right colon was performed. Regarding LN dissection, mediastinal LNs with bilateral recurrent nerve LNs and abdominal LNs, including pericardial LNs, and LNs along the lesser curvature and the left gastric artery were routinely dissected. If the primary tumor was located between the upper and mid-thoracic esophagus, supraclavicular LNs were also dissected. In the TD-resected group, when LN around the left recurrent nerve was dissected from the aortic arch to the cervical level, TD and surrounding adipose tissue containing TDLNs was dissected en bloc together. TD was clipped and divided at the level of the thoracic inlet. In the middle and lower mediastinal approach, after dividing the esophagus and para-esophageal LNs, TD and the surrounding adipose tissue were divided from the descending aorta with posterior mediastinal LNs. TD was then clipped behind the lower thoracic esophagus and resected above the diaphragm. According to the Japanese Classification of Esophageal Cancer, 10th Edition of the Japan Esophageal Society,[11] the LN station numbers were described as follows: 105, upper thoracic para-esophageal LN; 106recL, left recurrent laryngeal nerve LN; 106recR, right recurrent laryngeal nerve LN; 107, subcarinal LN; 108, middle thoracic para-esophageal LN; 109, main bronchus LN; 110, lower thoracic para-esophageal LN; 111, supradiaphragmatic LN; and 112, posterior mediastinal LN. In this study, based on the location in the mediastinum, TDLNs were classified into the following 3 parts: TDLN-Ut, TDLN in the upper mediastinum, which is dissected with 106recL; TDLN-Mt, TDLN in the middle mediastinum, which is dissected with 112; TDLN-Lt, and TDLN in the lower mediastinum, which is dissected with 112. In our study, TDLN-Ut was added to 106recL and TDLN-Mt and TDLN-Lt were added to 112 (Fig. 1).