Association Between Change in Serum Aminotransferase and Mortality
ABSTRACT
---
There is little information on how the change in serum aminotransferase affects mortality. We investigated the association between changes in serum aminotransferase levels and mortality from all causes, cardiovascular disease (CVD), and liver disease.
Three percent of men from the Korean National Health Insurance database were sampled randomly at the end of 2002. After excluding patients with cancer, CVD, CVD risk factors, or liver disease, those who participated in 2 consecutive rounds of the national health screening examination were included (n = 68,431). The primary outcome was CVD mortality. Secondary outcomes were liver disease mortality and all-cause mortality. Change in metabolic profiles was analyzed based on changes in liver enzyme levels. Elevated levels of serum aminotransferase were associated with CVD, liver disease, and all-cause mortality. Men who had sustained elevation of serum aminotransferase during 2 subsequent liver enzyme tests showed a significantly higher risk of CVD mortality (adjusted hazard ratio [aHR] 1.95; 95% confidence interval [CI] 1.07–3.56, 2.29; 1.27–4.12) than the sustained normal group. In contrast, the normalization group (aHR 1.52, 95% CI 0.82–2.81 for aspartate aminotransferase [AST]; aHR 1.35, 95% CI 0.70–2.61 for alanine aminotransferase [ALT]) and the new elevation group (aHR 1.27, 0.66–2.44 for AST; aHR 0.99, 95% CI 0.49–2.20 for ALT) were not different from the sustained normal group in CVD mortality.
Individuals with serum aminotransferase elevation, particularly when sustained, are at higher risk of mortality, and should receive appropriate medical attention.
No MeSH data available.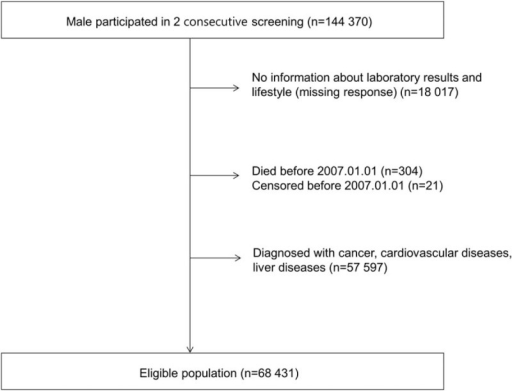 © Copyright Policy - open-access
License
getmorefigures.php?uid=PMC4998394&req=5
Mentions: We randomly selected a 3% sample of all male KNHI members as of December 31, 2002. We did not include women in this study because of lower mortality rates for women. As the screening was conducted biennially, we used 2-year windows (e.g., 2003–2004 and 2005–2006) to define participation in screening programs. Men who participated twice in the health screening program during these periods were selected (n = 144,370). We excluded participants who died (n = 304) or were lost to follow-up (n = 21) before 1 year after the second screening. Past medical history was ascertained using diagnoses in KNHI medical service claims data, which is coded according to the International Classification of Diseases, 10th revision (ICD-10). Participants with history of cancer (C00-C99, D00-D09), CVD and CVD related diseases such as hypertension, diabetes, and dyslipidemia (I10-15, I20-25, I34-37, I50, I60-66, I69-I74, E10-14, E78, N18-N19, G590, G632, H280, H360, M142, N083), or liver diseases (K70-K77) (n = 57,597) and missing information on laboratory results or lifestyle at baseline (n = 18,017) were also excluded. Participants with lifestyle risk factors of CVD (smoking, alcohol intake, obesity) were not excluded. The final sample size was 68,431 participants (Figure 1).