The association of chronic kidney disease and waist circumference and waist-to-height ratio in Chinese urban adults
ABSTRACT
---
This study aims to investigate the association of body mass index (BMI), waist circumference (WC), and waist-to-height ratio (WHtR) with chronic kidney disease (CKD).
A cross-sectional survey was conducted in a nationally representative sample of 123,629 Chinese urban adults who participated in health examinations between 2008 and 2009. BMI, WC, and WHtR were measured, as well as serum and urine biochemical tests. CKD was defined as an estimated glomerular filtration rate (eGFR) <60 mL/min/1.73 m2 or urine protein positivity (proteinuria)≥1+ with dipstick testing.
WHtR had the largest areas under ROC curve for CKD in men and women, followed by WC and BMI. Higher levels of BMI, WC, and WHtR were each associated with an increased odds for CKD among men. For per unit size change, the multivariable-adjusted odds ratios (ORs) and 95% confidence intervals (CIs) of CKD were 1.19 (95% CI, 1.13–1.25) for BMI, 1.12 (95% CI, 1.08–1.16) for WC, and 1.13 (95% CI, 1.10–1.17) for WHtR. The corresponding values were significant in multivariable models among women aged 40 years and above. Using Chinese-recommended cutoffs for BMI (≥24 kg/m2), WC (≥85 cm for men, and ≥80 cm for women), and WHtR (≥0.05), WHtR was superior in the association with CKD than BMI for men, whereas WC was superior for women.
Increased obesity indices were positively associated with the odds of CKD. Central obesity, defined by WC and WHtR, may be more closely correlated with CKD for Chinese urban adults.
No MeSH data available.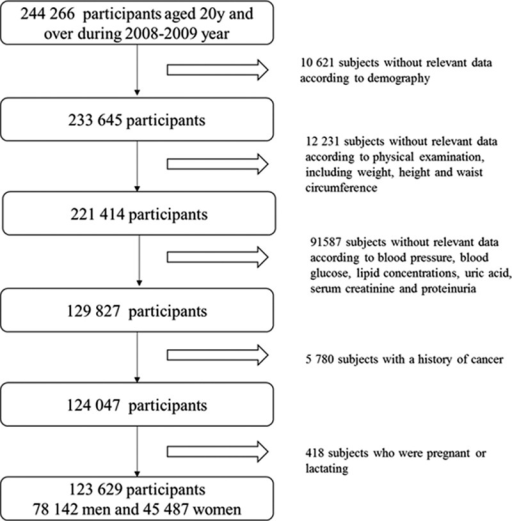 © Copyright Policy - open-access
License
getmorefigures.php?uid=PMC4998302&req=5
Mentions: This cross-sectional study was conducted in 7 health examination centers, a completed national health survey aimed to determine the prevalence and related risk factors of chronic diseases in Chinese urban adults. The design, methods, and results of the study have been described in a previous study.[20] The 2-stage cluster sampling method was used to, first selected 7 cities according to geographical region and economic development (North: Beijing, Shijiazhuang, and Changchun; South: Chongqing, Changsha, Hangzhou, and Chengdu), and then randomly selected 1 local representative health examination center from each city. A total of 123,629 subjects (78,142 men and 45,487 women) who participated in annual health check programs between 2008 and 2009 were included in this study. Participants were excluded if they did not have information on participant demographics; personal characteristics, including weight, height, and WC; clinical characteristics, including blood pressure, blood glucose, lipid concentrations, uric acid, serum creatinine, and proteinuria. Subjects who reported a history of cancer or pregnancy or lactating were also excluded (details in Fig. 1). The Ethical Committee of the Chinese People's Liberation Army General Hospital and National Research Institute for Family Planning approved the proposal of this study and all participants gave informed written consents.