Lovastatin exerts protective effects on endothelial cells via upregulation of PTK2B
ABSTRACT
---
Statins are HMG-CoA reductase inhibitors that are used to decrease the blood levels of low-density lipoprotein (LDL). In addition, they have been shown to exert pleiotropic protective effects in the absence of LDL-lowering activity. The present study investigated the effects of lovastatin on global gene expression in human umbilical vein endothelial cells (HUVECs), in order to further explore its ability to protect against oxidized (ox)-LDL-induced cytotoxicity. HUVECs were treated with lovastatin for 2–24 h, and gene expression patterns were analyzed using cDNA microarrays. The results suggested that numerous genes were regulated by lovastatin, including certain genes associated with cell survival, such as PTK2B, BCL2 and MAP3K3. In particular, PTK2B, which has been shown to exert anti-apoptotic effects against ox-LDL-induced cell injury, was upregulated by lovastatin. Knockdown of PTK2B was able to attenuate ox-LDL-induced cell injury, and this was associated with decreased levels of phosphorylated-AKT and eNOS, and inhibition of mitochondrial-dependent apoptosis. In conclusion, the results of the present study suggested that lovastatin protects against ox-LDL-induced cell injury, potentially via the upregulation of PTK2B, which regulates the anti-apoptosis signaling pathway.
No MeSH data available.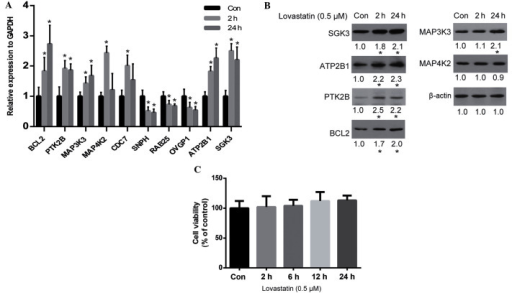 © Copyright Policy - open-access
License
getmorefigures.php?uid=PMC4998215&req=5
Mentions: The results of the cDNA microarray analysis were verified by qPCR. As is shown in Fig. 2A, the qPCR results for the majority of genes were consistent with the microarray results, including the upregulation of BCL2, PTK2B, MAP3K3, MAP4K2, ATP2B1 and SGK3, and the downregulation of SNPH, RAB25 and OVGP1. Whether alterations in the expression levels of these genes resulted in alterations in protein expression was unclear. Therefore, the protein expression levels of certain important genes (according to their known function) were analyzed by western blot analysis. The results demonstrated that SGK3, ATP2B1, PTK2B, BCL2 and MAP3K3 were all upregulated by lovastatin, which was consistent with the alteration of their gene expression levels, with the exception of MAP4K2 (Fig. 2B). Since SGK2, ATP2B1, PTK2B and MAP3K3 are associated with cell proliferation and survival (29–32), and BCL2 is an anti-apoptosis protein (33), it may be hypothesized that lovastatin may affect cell proliferation. However, the viability of HUVECs was not significantly altered by lovastatin following 24 h of treatment (P>0.05; Fig. 2C).