Pulmonary chondroma: A clinicopathological study of 29 cases and a review of the literature
ABSTRACT
---
The present retrospective study was designed to review the clinicopathological features and outcome of surgical treatment of pulmonary chondroma, and to accumulate data for the clinical diagnosis and therapy. The clinicopathological data from 29 patients, aged between 38- and 78-years-old, with pulmonary chondroma who underwent surgical operation between July 2003 and June 2015 were reviewed. Of these patients, 18 exhibited no clinical symptoms, 7 were characterized by coughing, hemoptysis, shortness of breath and other symptoms and only 3 patients exhibited chest pain as the predominant symptom. The average size of the neoplasms was 3.6 cm. All patients were pathologically diagnosed. Operative time was 126±22 min, the mean intraoperative blood loss was 82±23 ml and the drainage duration was 3.1±1.8 days. A total of 6 postoperative complications were noted. The patients were followed-up for 2–135 months. A total of 23 patients were alive without recurrence, 4 patients succumbed to mortality, 2 patients were lost at follow-up. Pulmonary chondroma is a rare benign tumor of the lung. The clinical symptoms were concealed and often misdiagnosed as a tuberculosis tumor, hamartoma, peripheral lung cancer or a single metastatic tumor. Complete resection was the best treatment providing patients with a good prognosis. After definite diagnosis, it is necessary to exclude Carney's triad.
No MeSH data available.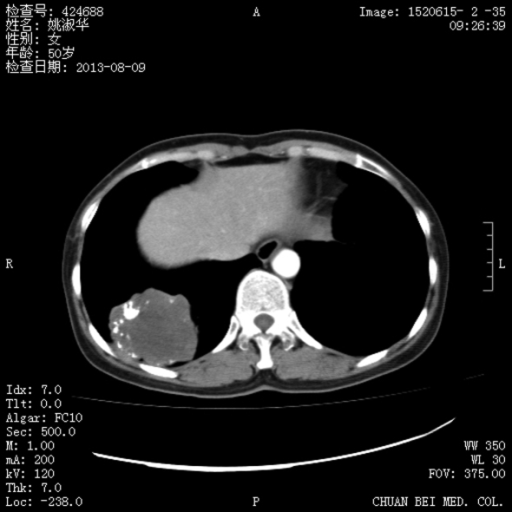 © Copyright Policy - open-access
License
getmorefigures.php?uid=PMC4998203&req=5
Mentions: The present study was approved by the Ethics Committee of North Sichuan Medical College (Nanchong, China). All patients provided written informed consent. The clinical data for each of the 29 patients is shown in Table I. A total of 29 patients were pathologically diagnosed pulmonary chondroma, including 16 males and 13 females, with an average age of 57 years (range, 39–78-years-old). Of these patients, 18 exhibited no clinical symptoms and the pulmonary chondroma was detected by routine medical examination, 7 patients were characterized by coughing, hemoptysis, shortness of breath and other symptoms, only 3 patients presented with chest pain as the predominant symptom and 1 patient with esophageal cancer was identified by preoperative examination. Physical examination revealed only 3 patients with low breath sounds and others without obvious abnormalities. Lung tumor-like lesions, nodules and varying degrees of calcification was demonstrated by chest computed tomography (CT) scan (Fig. 1). No significant enlargement of the lymph nodes and pulmonary cavity was observed. Pulmonary masses of 9 patients were in the right lower lobe, 2 were in the right upper lobe, 3 were in the right middle lobe, 11 were in the left upper lobe and 4 were in the left lower lobe. The mean tumor diameter was 3.6 cm, ranging between 1.0 cm and 8.5 cm. The edge of the 8 cases were rough and the rest were smooth. No obvious abnormalities were revealed by other routine preoperative examinations, including head CT scan, radionuclide bone scan and abdominal ultrasound. Preoperatively, 13 patients were considered hamartoma, 14 patients were considered benign nodules, only 2 patients with chest wall adhesion were suspected of malignant infiltration and no patient was diagnosed pulmonary chondroma.