Interstitial collagen turnover during airway remodeling in acute and chronic experimental asthma
ABSTRACT
---
Asthma airway remodeling is characterized by the thickening of the basement membrane (BM) due to an increase in extracellular matrix (ECM) deposition, which contributes to the irreversibility of airflow obstruction. Interstitial collagens are the primary ECM components to be increased during the fibrotic process. The aim of the present study was to examine the interstitial collagen turnover during the course of acute and chronic asthma, and 1 month after the last exposure to the allergen. Guinea pigs sensitized to ovalbumin (OVA) and exposed to 3 further OVA challenges (acute model) or 12 OVA challenges (chronic model) were used as asthma experimental models. A group of animals from either model was sacrificed 1 h or 1 month after the last OVA challenge. Collagen distribution, collagen content, interstitial collagenase activity and matrix metalloproteinase (MMP)-1, MMP-13 and tissue inhibitor of metalloproteinase (TIMP)-1 protein expression levels were measured in the lung tissue samples from both experimental models. The results revealed that collagen deposit in bronchiole BM, adventitial and airway smooth muscle layers was increased in both experimental models as well as lung tissue collagen concentration. These structural changes persisted 1 month after the last OVA challenge. In the acute model, a decrease in collagenase activity and in MMP-1 concentration was observed. Collagenase activity returned to basal levels, and an increase in MMP-1 and MMP-13 expression levels along with a decrease in TIMP-1 expression levels were observed in animals sacrificed 1 month after the last OVA challenge. In the chronic model, there were no changes in collagenase activity or in MMP-13 concentration, although MMP-1 expression levels increased. One month later, an increase in collagenase activity was observed, although MMP-1 and TIMP-1 levels were not altered. The results of the present study suggest that even when the allergen challenges were discontinued, and collagenase activity and MMP-1 expression increased, fibrosis remained, contributing to the irreversibility of bronchoconstriction.
No MeSH data available.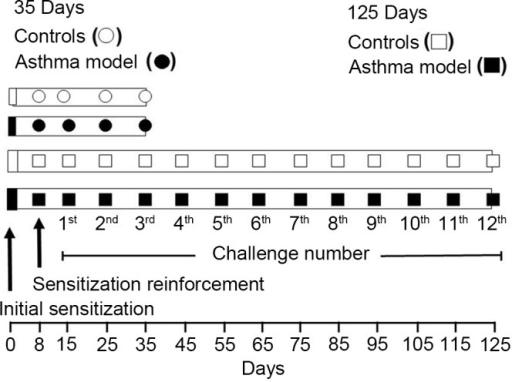 © Copyright Policy - open-access
License
getmorefigures.php?uid=PMC4998200&req=5
Mentions: On the first day, guinea pigs in the experimental groups (n=24) received a single intraperitoneal injection of 60 µg/ml OVA (Sigma-Aldrich, St. Louis, MO, USA) with aluminum hydroxide (1 mg/ml; Sigma-Aldrich) dispersed in saline solution. Sensitization was reinforced 8 days later with nebulized OVA (3 mg/ml saline) delivered for 5 min. Aerosols were produced by a US-1 Bennett nebulizer (Multistage Liquid Impinger; Burkard Manufacturing Co., Ltd., Rickmansworth, UK; flow, 2 ml/min); 44% of the released mixed particles were <4 µm in size, 38% were 4–10 µm and 18% were >10 µm. On day 15, sensitized animals were challenged with nebulized OVA (1 mg/ml for 1 min). From then on, they were challenged every 10 days with nebulized OVA (1 mg/ml in the first challenge, and 0.5 mg/ml in the subsequent challenges, for 1 min); the acute model animals (35 days, n=12) received 3 OVA challenges and the chronic model guinea pigs (125 days, n=12) were subjected to 12 OVA challenges (Fig. 1). Control guinea pigs (n=12) with the same features as the experimental guinea pigs received saline solution instead of OVA challenges. All challenges were carried out while the guinea pig was inside a barometric plethysmograph, allowing us to record the acute bronchoobstructive response to the antigenic challenge immediately following OVA delivery, as described below.