High-dose-rate intraluminal brachytherapy for paraneoplastic autoimmune multiorgan syndrome
ABSTRACT
---
Paraneoplastic autoimmune multiorgan syndrome (PAMS), also known as paraneoplasic pemphigus, involves the skin, internal organs and mucosa. PAMS-associated mortality may occur as a result of autoantibody formation against internal tumors and their infiltration into organs other than the skin lesions that characterize PAMS. The most common symptoms of PAMS include pain associated with continuous oral ulceration and resistance to pharmacological treatment. The present study reports the case of a 42-year-old female patient who was admitted with an 8-month history of erosive skin lesions within the trunk region, oral mucosa and vaginal mucosa. The patient was diagnosed with PAMS based on computed tomography scans and histological analyses of the lesions. The lymphoid hyperplasia in the retroperitoneum and lesions in the vaginal mucosa and trunk area were improved following pharmacological treatment and resection of the lymph node showing hyperplasia. However, the oral lesion was treated with intraluminal brachytherapy due to its resistance to long-term pharmacological treatment. The majority of the lesions were improved following treatment, in the absence of any severe side effects. In addition, neither worsening nor progression of the oral lesion was observed during the 4-year follow-up period.
No MeSH data available.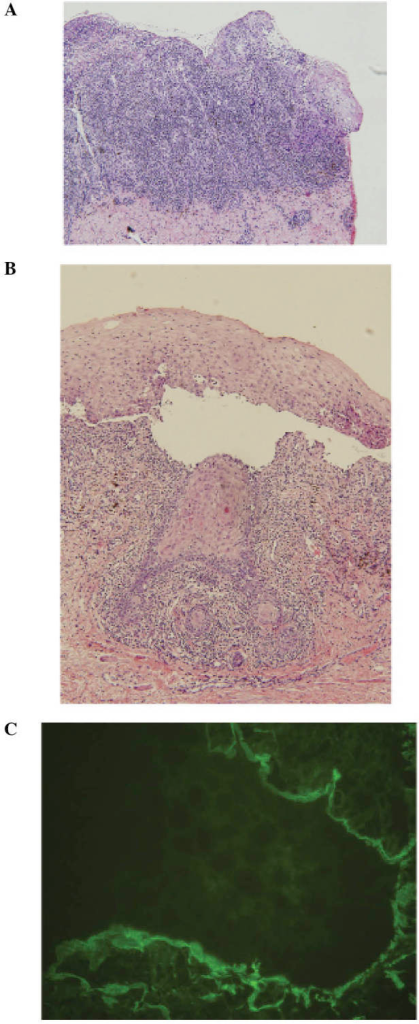 © Copyright Policy - open-access
License
getmorefigures.php?uid=PMC4998192&req=5
Mentions: Biopsies of the skin lesions were performed, and hematoxylin and eosin-stained pathology sections were classified according to their histological features, analyzed under a microscope (BX50; Olympus Corporation, Tokyo, Japan). The trunk lesions showed non-caseating granulomous features and positive lichen planus under low magnification, and chronic inflammatory cell infiltration, numerous blood vessels, lymphohistiocytic granuloma infiltrate and multicentric giant cells under high magnification (Fig. 2A). In the skin lesions from the vaginal mucosa, epidermal labia majora-acanthosis, separation of the dermoepidermal junction, destruction of the basal layer and deposition of lymphoid cells and neutrophils in the dermis were observed under low magnification, and dyskeratosis, exocytosis, acantholysis and squamous metaplasia of the epidermis and keratinocytes were observed under high magnification (Fig. 2B). The tongue was ulcerated and lacked the epithelium, and dense lymphoid cell infiltration into the tongue was observed under low magnification. In addition, acanthosis and dense lymphoid cell infiltration were observed under high magnification. Immunofluorescence (date, 7/8/2008) revealed fibrinogen deposition along the basement membrane (Fig. 2C). For the immunofluorescence assay, the tissue specimen was incubated for 1 h at room temperature using a human IgG fluorescence-labeled antibody (cat. no. 23310; Pierce Biotechnology; Thermo Fisher Scientific, Inc., Waltham, MA, USA; dilution, 1:200).