Plasmalemma vesicle-associated protein: A crucial component of vascular homeostasis
ABSTRACT
---
Endothelial subcellular structures, including caveolae, fenestrae and transendothelial channels, are crucial for regulating microvascular function. Plasmalemma vesicle-associated protein (PLVAP) is an endothelial cell-specific protein that forms the stomatal and fenestral diaphragms of blood vessels and regulates basal permeability, leukocyte migration and angiogenesis. Loss of PLVAP in mice leads to premature mortality due to disrupted homeostasis. Evidence from previous studies suggested that PLVAP is involved in cancer, traumatic spinal cord injury, acute ischemic brain disease, transplant glomerulopathy, Norrie disease and diabetic retinopathy. Specifically, PLVAP expression has been demonstrated to be upregulated in these diseases, accompanied by pro-angiogenic or pro-inflammatory responses. Therefore, PLVAP is considered a novel therapeutic target, in addition to an endothelial cell marker. The present review summarizes the structure and functions of PLVAP, and its roles in pathophysiological processes.
No MeSH data available.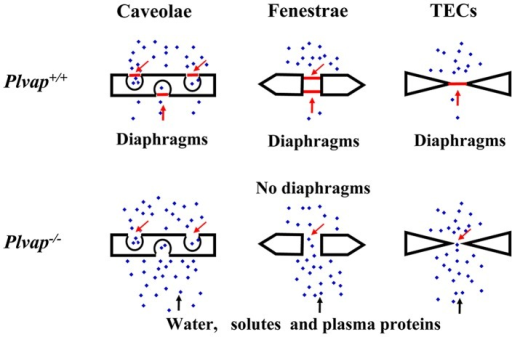 © Copyright Policy - open-access
License
getmorefigures.php?uid=PMC4998186&req=5
Mentions: Similarly, Stan et al (10) demonstrated that the deletion of the PLVAP gene in mice of a mixed BALB/c-C57Bl/6J-129Sv/J background resulted in decreased survival due to the absence of diaphragms. In particular, the loss of diaphragms disrupted the barrier function of fenestrated capillaries, causing a major leak of plasma proteins, and leading to hypoproteinemia, hypertriglyceridemia, and an increased plasma concentration of chylomicron remnants (10). As a result, PLVAP- mice suffered from premature death due to severe enteropathy and edema of the intestine, kidneys, and pancreas (10). In addition, the results of an Evans Blue dye extravasation assay indicated that the intestinal capillaries displayed the highest rate of protein leakage (10). Conversely, endothelial reconstitution of PLVAP by breeding with PLVAP transgenic mice rescued the PLVAP- phenotype and restored the diaphragms of fenestrae and caveolae (10). As human influenza hemagglutinin (HA)-tagging of PLVAP did not alter its behavior in cultured cells, VEC-PV1HA-HA transgenic mice were generated that expressed PV1-HA under the control of the vascular endothelial-cadherin promoter and a 5′-intronic enhancer element (10,37). These mice demonstrated ~30–50% reconstitution of PLVAP expression, in addition to the restoration of FDs/SDs in the lungs, adrenal glands, kidneys, pancreas, thyroid and intestine, which led to improved survival (10). Therefore, PLVAP is crucial for the regulation of vascular permeability (Fig. 3).