Successful allogeneic hematopoietic stem cell transplantation in a boy with X-linked inhibitor of apoptosis deficiency presenting with hemophagocytic lymphohistiocytosis: A case report
ABSTRACT
---
X-linked inhibitor of apoptosis (XIAP) deficiency, also known as X-linked lymphoproliferative syndrome type 2 (XLP2), is a rare inherited primary immunodeficiency resulting from the XIAP (also known as BIRC4) mutation. XIAP deficiency is mainly associated with familial hemophagocytic lymphohistiocytosis (HLH) phenotypes, and genetic testing is crucial in diagnosing this syndrome. Allogeneic hematopoietic stem cell transplantation (HSCT) is currently the only successful strategy for the treatment of this disease; however, a limited number of studies has been published concerning the outcomes of allogeneic HSCT in patients with XIAP deficiency. The present study reported a successful allogeneic HSCT performed to treat XIAP deficiency in a Chinese boy presenting with HLH. Polymerase chain reaction and DNA sequencing were performed to confirm the diagnosis of XIAP deficiency, and allogeneic HSCT was performed. Genetic tests revealed a two-nucleotide deletion (c.1021_1022delAA) in the patient, which was inherited from his mother, and resulted in frameshift mutation and premature stop codon (p.N341fsX348); this is considered to be a disease-causing mutation. The XIAP deficiency patient underwent allogeneic HSCT, receiving busulfan-containing reduced intensity myeloablative conditioning regimen, with a good intermediate follow-up result obtained. Therefore, genetic testing is essential to confirm the diagnosis of XIAP deficiency and detect the carrier of mutation. The present case study may promote the investigation of allogeneic HSCT in patients with XIAP deficiency.
No MeSH data available.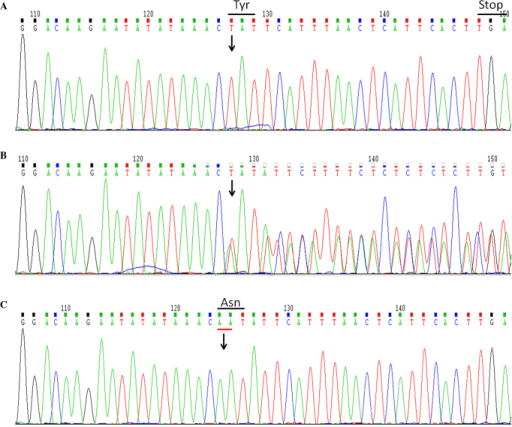 © Copyright Policy - open-access
License
getmorefigures.php?uid=PMC4998177&req=5
Mentions: Familial HLH associated genetic testing (including the following genes: PRF1, UNC13D, STX11, STXBP2, XIAP, SH2D1A, Rab27a, AP3B1 and LYST) was performed on the patient subsequent to obtaining written informed consent from his parents and the approbation of the Ethics Committee of West China Second University Hospital. Genomic DNA was extracted from peripheral blood using a commercially available kit according to the manufacturer's protocol (Tiangen Biotech, Co., Ltd., China). The quality and quantity of the extracted DNA samples were determined by UV spectrophotometry. Mutation of XIAP was detected by polymerase chain reaction (PCR) analysis. Specific primers were used for exon 3 of XIAP: Forward, 5′-ACTGAAAAGCAAGTTAATGG-3′ and reverse, 5′-ACTGTGAATATCACATGAAG-3′. The total reaction volume of 25 µl contained 150 ng DNA, 12.5 µl PCR buffer (2X; Tiangen Biotech Co., Ltd.) and 1 µl of specific primers (final PCR concentration 0.4 µM). Amplifications were performed using a programmable PCR thermal cycler (Bio-Rad Laboratories, Inc., Hercules, CA, USA) using the following thermal cycling parameters: 5 min at 94°C, 30 cycles of 30 sec at 94°C, 30 sec at 60°C, 1° min at 72°C, followed by final extension for 7 min at 72°C. Each PCR included a negative and positive control. The 309 bp PCR products were separated by 2.5% agarose gel electrophoresis and subsequently sequenced to investigate the mutation of XIAP. The results indicated a two-nucleotide deletion in BIRC4 gene (c.1021_1022delAA), which resulted in a frameshift mutation and premature stop codon (p.N341fsX348), while the XIAP protein lost 156 amino acids (Fig. 1). Subsequently, BIRC4 genetic testing was performed on the patient's parents following informed consent. The mother was found to be a heterozygote carrier of the mutation; thus, the mutation was considered to be disease causing, and the patient was confirmed with XIAP deficiency. Next, the patient was treated with dexamethasone alone (initial dose of 10 mg/m2, which was subsequently tapered) for 3 months. The treatment improved the general condition of the patient, and resulted in a decreased spleen size and complete remission of HLH, which was demonstrated by a reduction in ferritin levels to within the normal range, and the recovery of blood cell count and fibrinogen levels to within the normal range.