Magnetic resonance imaging in interventional therapy of patients with acute myocardial infarction prior to and after treatment
ABSTRACT
---
The aim of the study was to investigate the cardiac magnetic resonance (CMR) imaging in interventional therapy of patients with acute myocardial infarction prior to and after treatment. Fifty-six cases of AMI patients with elective treatment by percutaneous coronary intervention (PCI) were continuously selected. Patients with an incidence of 7–10 days were treated with CMR and echocardiography to evaluate the quality of myocardial infarction, visual score method (VSM), wall motion score abnormality, left ventricular end-diastolic diameter (LVEDD), left ventricular end-systolic diameter (LVESD) and left ventricular ejection fraction (LVEF). Patients with an incidence of 10–14 days were treated with PCI, and CMR and echocardiography were evaluated after 6 months, after which the occurrence of major adverse cardiac events (MACE) were compared. The infarction quality, VSM score and wall motion abnormality (WMA) score were significantly reduced following surgery, and the difference was statistically significant (P<0.05). Ultrasound evaluation of LVEDD, LVESD, and LVEF prior to and after surgery was compared, and the difference was not statistically significant (P>0.05). Evaluation of the magnetic resonance imaging (MRI) in LVEDD prior to surgery was increased compared with that of the ultrasound in LVEDD, whereas MRI in LVESD and LVEF was decreased compared to that of the ultrasound obtained for LVESD and LVEF. Additionally, postoperative LVEDD was reduced compared with preoperative LVEDD, whereas LVEF was increased, and the difference was statistically significant (P<0.05). However, the evaluation of LVESD using the two methods exhibited no significant change. MACE occurred in 7 (12.5%) of 56 cases. The infarction quality of patients in the MACE group following surgery indicated that VSM and WMA scores were significantly higher than the group without MACE, while LVEF was lower than the MACE group following surgery, and the difference was statistically significant (P<0.05), albeit the ultrasound results of LVEF indicated no difference. In conclusion, CMR evaluation of AMI patients with elective PCI treatment in myocardial remodeling and cardiac function were more sensitive and accurate than with cardiac ultrasound.
No MeSH data available.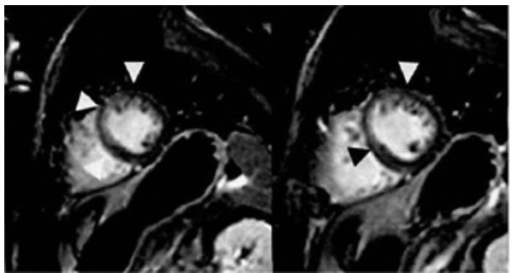 © Copyright Policy - open-access
License
getmorefigures.php?uid=PMC4998127&req=5
Mentions: A 3.0T superconductive magnetic resonance imager (Avanto; Siemens, Erlangen, Germany) was utilized, with a maximum gradient field of 45 mT/m, maximum gradient slew rate of 200 mT/m·msec. In addition, an 8 channel body surface coil and 6 channel spinal coil, wireless echocardiography vector template, with high-pressure syringe (Ulrich Medical, Berlin, Germany) were used. The gadopentetate dimeglumine of Schering AG (Berlin, Germany) was employed as the contrast agent. For conventional scanning, fast spin echo sequence was utilized to observe the morphology of the heart and large blood vessel, cardiovascular film was utilized for retrospective echocardiography gated to enter procession gradient echo sequence. Left ventricular two-chamber heart long axis, four-chamber heart long axis, left ventricular inflow and outflow tract, left ventricular outflow tract section, six-layer fractional movie, and cardiac function analysis were carried out using scanning and cardiovascular film, respectively. Argus 4D software (Siemens Healthcare, Eresing, Germany) was utilized to analyze the data. Multimodality workplace (MMWP) workstation was to measure LVEDD, LVESD, and LVED. The contrast agent enhanced the first-pass myocardial perfusion with a 4–5 ml/sec 0.1 mmol/kg flow rate, which was initiated at the same time as the scanning. TSENSE EPIGER sequence was used to conduct T1WI scanning (8), which constituted the contrast agent phase-sensitive with inversion recovery, including 6 layers of left ventricular short axis view, 1 layer of left ventricular two-chamber view, and four-chamber view. WMA involves semi-quantitative scoring in the sequence of grade 0–4 (0, normal; 1, reduced movement; 2, non-movement; 3, contradictory movement; and 4, the formation of ventricular aneurysm). Three standard short axes were selected (base, middle, apical) when the transmembrane extent with delayed enhancement was evaluated by VSM, and each segment was scored in accordance with the transmural extent: 0, no enhancement; 1, 0–25% enhancement; 2, 26–50% enhancement; 3, 51–75% enhancement; and 4, 76–100% enhancement (Fig. 1). The scores of all the stages were added, yielding a total score of VSM. The result was independently analyzed by two experienced physicians. If the result was inconsistent, it would be analyzed by the third physician.