Pulmonary infiltration with eosinophilia complicated with mucosa-associated lymphoid tissue lymphoma: A case report
ABSTRACT
---
Tissue eosinophilia is rarely observed in cases of non-Hodgkin's lymphoma of B cell origin. The present study describes a rare case of mucosa-associated lymphoid tissue (MALT) lymphoma, which was initially misdiagnosed as eosinophilic pneumonia. The initial diagnosis was formed based on the results of chest radiography, peripheral eosinophilia tests and bronchoalveolar lavage, and the clinical course of the patient. Following administration of methylprednisolone (40 mg/day) for 4 days and oral administration of prednisolone (30 mg/day), the clinical course rapidly improved and the eosinophil count immediately decreased a to normal level. However, abnormal shadows observed on computed tomography (CT) scans of the chest did not diminish. At 6 months after the initiation of treatment, CT-guided percutaneous lung biopsy was performed, and a final diagnosis of primary pulmonary mucosa-associated lymphoid tissue lymphoma was made based on immunohistochemical examination. Primary lung MALT lymphoma remains a rare entity, with an indolent course and a reasonably favorable prognosis, whose diagnosis may be challenging.
No MeSH data available.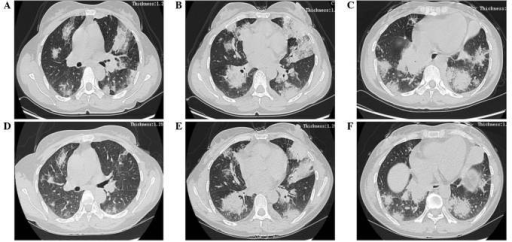 © Copyright Policy - open-access
License
getmorefigures.php?uid=PMC4998093&req=5
Mentions: A 49-year-old woman was referred to Drum Tower Hospital (Nanjing, China) in December 2012, presenting with a 2-month history of low-grade fever and a non-productive cough. The patient was a non-smoker, had not recently travelled abroad and did not own any domestic pets. The patient also denied any history of allergic conditions. Her vital signs were stable at initial examination; the patient was afebrile and oxygen saturation was 95% in ambient air. On physical examination, auscultation of the lungs detected slight coarse crackles at the right base. The remainder of the examination was unremarkable. Laboratory tests identified hypereosinophilia [white cell count: 7,200 cells/µl (normal range, 4,000–10,000 cells/µl), comprising 44.1% eosinophils (normal range, 0.5–5.0%), 33.3% neutrophils (normal range, 51.0–75.0%) and 15.6% lymphocytes (normal range, 20.0–40.0%)]. Blood chemistry analysis did not provide any remarkable data. The patient was negative for antinuclear, antineutrophil cytoplasmic and antiparasitic antibodies in immunofluorescence assays. A comprehensive metabolic profile was normal and urine analysis did not identify any sediment. Arterial blood gas analysis was as follows: pH, 7.444 (normal range, 7.350–7.450); PaO2, 73 mmHg (normal range, 80–100 mmHg); and PaCO2, 37.1 mmHg (normal range, 35.0–45.0 mmHg) in room air. High-resolution chest computed tomography (CT; LightSpeed; GE Healthcare Life Sciences, Chalfont, UK) revealed no pleural effusion or pulmonary edema, but did identify diffuse, non-segmental areas of patchy (or airspace) consolidation with peripheral predominance (Fig. 1A-C). Lung spirometry was performed and the forced expiratory volume of 1 sec (FEV1), forced vital capacity (FVC) and their ratio (FEV1/FVC) were determined to be 81.3, 84.3 and 96.9% of the predicted values, respectively. In addition, carbon monoxide diffusion was 57.7% of the predicted value.