Image based detection and targeting of therapy resistance in pancreatic adenocarcinoma
ABSTRACT
---
Pancreatic intraepithelial neoplasia (PanIN) is a premalignant lesion that can progress to pancreatic ductal adenocarcinoma, a highly lethal malignancy marked by its late stage at clinical presentation and profound drug resistance1. The genomic alterations that commonly occur in pancreatic cancer include activation of KRAS2 and inactivation of p53, and SMAD42-4. To date, however, it has been challenging to target these pathways therapeutically; thus the search for other key mediators of pancreatic cancer growth remains an important endeavor. Here we show that the stem cell determinant Musashi (Msi) is a critical element of pancreatic cancer progression in both genetic models and patient derived xenografts. Specifically, we developed Msi reporter mice that allowed image based tracking of stem cell signals within cancers, revealing that Msi expression rises as PanIN progresses to adenocarcinoma, and that Msi-expressing cells are key drivers of pancreatic cancer: they preferentially harbor the capacity to propagate adenocarcinoma, are enriched in circulating tumor cells, and are markedly drug resistant. This population could be effectively targeted by deletion of either Msi1 or Msi2, which led to a striking defect in PanIN progression to adenocarcinoma and an improvement in overall survival. Msi inhibition also blocked the growth of primary patient-derived tumors, suggesting that this signal is required for human disease. To define the translational potential of this work we developed antisense oligonucleotides against Msi; these showed reliable tumor penetration, uptake and target inhibition, and effectively blocked pancreatic cancer growth. Collectively, these studies highlight Msi reporters as a unique tool to identify therapy resistance, and define Msi signaling as a central regulator of pancreatic cancer.
No MeSH data available.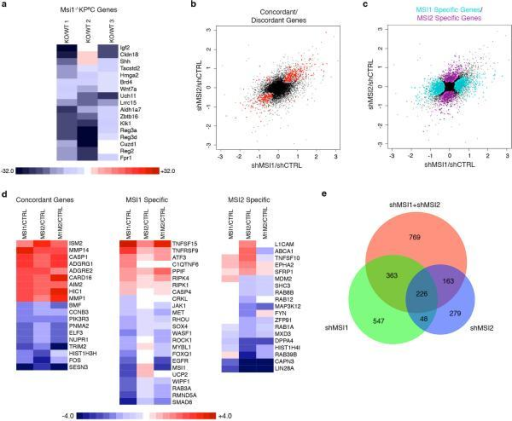 © Copyright Policy
getmorefigures.php?uid=PMC4998062&req=5
Mentions: To understand the molecular basis of the effects of Msi loss, we genomically profiled Msi deficient tumor cells (Extended Data Fig. 6, 7a-d). Msi loss led to down-regulation of many key genes, including regulators of stem cell function (Wnt7a, Aldh, Lin28), proto-oncogenes (c-Met, Fos, Fyn) and Regenerating (Reg) family genes, linked to gastrointestinal cancers. Among these, analysis of 3'UTRs for Msi binding-sites and RIP-PCR identified BRD4, c-MET and HMGA2 as potential direct targets (Extended Data Fig. 7e, Fig. 3a). We focused on c-MET22, which was diminished in Msi pancreatic cancer and also bound MSI1 in CLIP-seq experiments (Fig. 3b-d, Extended Data 7f, g). c-Met could not only be activated molecularly by MSI but also effectively complemented MSI loss (Fig. 3e, f; Extended Data Fig. 7h). While these suggest that c-Met is a direct functional target of Msi, it is almost certainly one of many. In fact, Msi's powerful impact on cancer is probably because of its ability to control a broad range of programs (Extended Data Fig. 6). In this context, BRD4 and HMGA2 may be particularly attractive targets23,24, as they could act at an epigenetic level with c-Met to collectively mediate Msi function. Underscoring such a potential convergence of epigenetic and oncogenic pathways, inhibitors of both Brd4 and c-Met effectively targeted gemcitabine-resistant Msi2+ cells (Fig. 3g-h).