Combination of hydrotropic nicotinamide with nanoparticles for enhancing tacrolimus percutaneous delivery
ABSTRACT
---
Tacrolimus (FK506), an effective immunosuppressant for treating inflammatory skin diseases, hardly penetrates into and through the skin owing to its high hydrophobicity and molecular weight. The aim of this study was to develop a hybrid system based on nicotinamide (NIC) and nanoparticles (NPs) encapsulating FK506, such as FK506–NPs–NIC, for facilitating percutaneous delivery, which exploited virtues of both NIC and NPs to obtain the synergetic effect. Solubility and percutaneous permeation studies were carried out. The results showed that NIC could increase the solubility and permeability of FK506 and that 20% (w/v) NIC presented higher FK506 permeability and was thus chosen as the hydrotropic solution to solubilize FK506 and prepare FK506–NPs–NIC. Hyaluronic acid (HA) was chemically conjugated with cholesterol (Chol) to obtain amphiphilic conjugate of HA–Chol, which self-assembled NPs in 20% NIC solution containing FK506. The particle size, zeta potential, and morphology of NPs were characterized. The encapsulation efficiency and in vitro percutaneous permeation of NPs were evaluated in the presence and absence of NIC. The results demonstrated that hydrotropic solubilizing FK506 was readily encapsulated into NPs with a higher encapsulation efficiency of 79.2%±4.2%, and the combination of NPs with NIC exhibited a significantly synergistic effect on FK506 deposition within the skin (2.39±0.53 μg/cm2) and penetration through the skin (13.38±2.26 μg/cm2). The effect of the combination of NPs with NIC on drug permeation was further visualized by confocal laser scanning microscope through in vivo permeation studies, and the results confirmed that NPs–NIC synergistically enhanced the permeation of the drug into the skin. The cellular uptake performed in HaCaT cells presented a promoting effect of NPs on cellular uptake. These overall results demonstrated that HA–Chol–NPs–NIC can synergistically improve the percutaneous delivery of FK506, and it is a novel potential strategy based on a nano-sized carrier for FK506 to treat skin diseases.
No MeSH data available.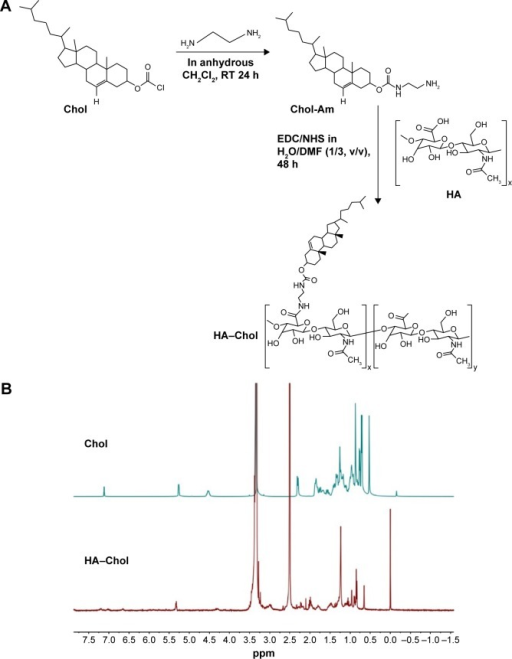 © Copyright Policy
License 1 - License 2


getmorefigures.php?uid=PMC4998035&req=5

Mentions: HA–Chol conjugates were prepared as shown in the schematic of Figure 1. In brief, anhydrous ethylenediamine (3.34 mL) and trimethylamine (300 μL) were mixed with anhydrous methylene chloride (CH2Cl2; 30 mL), and cholesteryl chloroformate dissolved in anhydrous CH2Cl2 (10 mL) was added drop wise to this solution under nitrogen stream. After stirring for 24 hours under nitrogen stream at room temperature, the solution was washed with distilled water for three times. After rotary evaporation, crude products were obtained. The crude products were dissolved in CH2Cl2: methanol (1:1, v/v) and filtered with 0.22 μm microporous nylon membrane to remove biscarbamate, and the filtrate was rotary evaporated to obtain cholesteryl amine (Chol-Am). To chemically modify HA with Chol-Am, HA (1 g), EDC (0.5 g), and N-hydroxysuccinimide (0.3 g) were dissolved in distilled water:N,N-dimethylformamide (1:3, v/v) and stirred for 2.5 hours to activate the carboxyl group of HA. After activation, Chol-Am (0.2–0.8 g) dissolved in N,N-dimethylformamide (80 mL) was added drop wise to the activated HA solution. After stirring for 48 hours, the solution was dialyzed against distilled water:tetrahydrofuran (1:1, v/v) solution and water, respectively. HA–Chol conjugates with different degrees of substitution (DSs) were obtained following freeze-drying. DS was the number of Chol molecule per 100 sugar residues of HA determined by 1H nuclear magnetic resonance (NMR). HA–Chol was dissolved in dimethyl sulfoxide-d6 and analyzed by 1H NMR (400 MHz, Avance III; Bruker Optik GmbH, Ettlingen, Germany).