Transforming Growth Factor β Drives Hemogenic Endothelium Programming and the Transition to Hematopoietic Stem Cells
ABSTRACT
---
Hematopoietic stem cells (HSCs) are self-renewing multipotent stem cells that generate mature blood lineages throughout life. They, together with hematopoietic progenitor cells (collectively known as HSPCs), emerge from hemogenic endothelium in the floor of the embryonic dorsal aorta by an endothelial-to-hematopoietic transition (EHT). Here we demonstrate that transforming growth factor β (TGFβ) is required for HSPC specification and that it regulates the expression of the Notch ligand Jagged1a in endothelial cells prior to EHT, in a striking parallel with the epithelial-to-mesenchymal transition (EMT). The requirement for TGFβ is two fold and sequential: autocrine via Tgfβ1a and Tgfβ1b produced in the endothelial cells themselves, followed by a paracrine input of Tgfβ3 from the notochord, suggesting that the former programs the hemogenic endothelium and the latter drives EHT. Our findings have important implications for the generation of HSPCs from pluripotent cells in vitro.
No MeSH data available.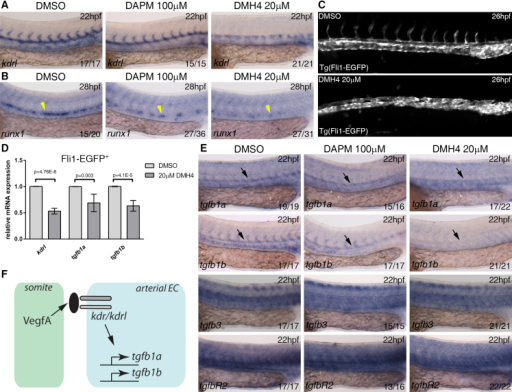 © Copyright Policy - CC BY
License
getmorefigures.php?uid=PMC4998007&req=5
Mentions: The sequential activity of VegfA and Notch is required for programming the DA endothelium to become arterial and give rise to HSPCs (Burns et al., 2005, Gering and Patient, 2005, Leung et al., 2013). Because our data suggest that the requirement for TGFβ lies downstream or parallel to arterial programming by Notch signaling (Figures 1, 2, and 3), we asked whether Vegf or Notch signaling might act as upstream transcriptional regulators of TGFβ ligands. To address this, we treated wild-type embryos after gastrulation with selective inhibitors for Vegf (DMH4, 20 μM) and Notch signaling (DAPM, 100 μM) (Hao et al., 2010, Walsh et al., 2002) and examined the expression of tgfb1a, tgfb1b, tgfb3, and tgfbR2 (Figure 4). DMH4-treated embryos failed to form intersomitic vessels as expected (Bahary et al., 2007) and showed diminished kdrl expression in the trunk vasculature when compared with DMSO-treated controls (Figure 4A). The DAPM treatment had no effect on kdrl expression (Figure 4A). Blocking either Vegf or Notch signaling led to loss of runx1 from the floor of the DA by 28 hpf, as described (Burns et al., 2005, Gering and Patient, 2005, Lam et al., 2010) (Figure 4B). To ask whether the loss of kdrl expression upon inhibition by DMH4 was due to transcriptional regulation by Vegf, we repeated the experiment in Tg(Fli1:EGFP) embryos. We confirmed that intersomitic vessels were absent but trunk ECs were still present in DMH4-treated embryos (Figure 4C). Analysis by qPCR showed that kdrl was decreased in DMH4-treated Fli-EGFP+ ECs (Figure 4D). Strikingly, inhibition by DMH4 led to decreased tgfb1a and tgfb1b in the endothelium, whereas DAPM treatment had no obvious effect (Figures 4D and 4E). Tgfb3 and tgfbR2 were unaffected by either treatment, suggesting that only tgfb1a and tgfb1b are Vegf-dependent. These results were confirmed by morpholino knockdown of the Vegf receptors, kdr and kdrl (Figure S4A). Next we asked whether Wnt16 and BMP4, which are required for HSPC formation independently of Vegf or Notch signaling in the endothelium (Clements et al., 2011, Wilkinson et al., 2009), could be upstream regulators of TGFβ. Knocking down either Wnt16 or BMP4 had no effect on TGFβ ligand or receptor expression (Figure S4B). Thus, we conclude that Vegf signaling is an upstream regulator of TGFβ signaling by positively regulating expression of tgfb1a and tgfb1b in ECs (Figure 4F) before HSPC specification.