Transforming Growth Factor β Drives Hemogenic Endothelium Programming and the Transition to Hematopoietic Stem Cells
ABSTRACT
---
Hematopoietic stem cells (HSCs) are self-renewing multipotent stem cells that generate mature blood lineages throughout life. They, together with hematopoietic progenitor cells (collectively known as HSPCs), emerge from hemogenic endothelium in the floor of the embryonic dorsal aorta by an endothelial-to-hematopoietic transition (EHT). Here we demonstrate that transforming growth factor β (TGFβ) is required for HSPC specification and that it regulates the expression of the Notch ligand Jagged1a in endothelial cells prior to EHT, in a striking parallel with the epithelial-to-mesenchymal transition (EMT). The requirement for TGFβ is two fold and sequential: autocrine via Tgfβ1a and Tgfβ1b produced in the endothelial cells themselves, followed by a paracrine input of Tgfβ3 from the notochord, suggesting that the former programs the hemogenic endothelium and the latter drives EHT. Our findings have important implications for the generation of HSPCs from pluripotent cells in vitro.
No MeSH data available.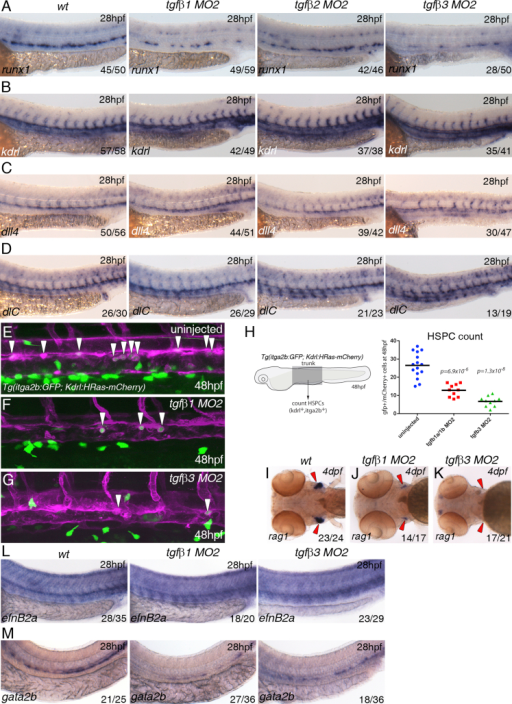 © Copyright Policy - CC BY
License
getmorefigures.php?uid=PMC4998007&req=5
Mentions: Tgfβ1−/− and TgfβR2−/− mouse mutants share a similar vasculogenic phenotype in the yolk sac (Dickson et al., 1995, Oshima et al., 1996); thus we reasoned that TGFβ1 was the likeliest ligand for TgfbR2 in HSPC emergence. To test this hypothesis, we knocked down tgfb1a or tgfb1b with at least two splice-blocking morpholinos for each (Figures S3A–S3F) and found partial loss of runx1 and cmyb in the DA without affecting expression of the arterial marker dll4 (Figure S3F and data not shown). Co-injection of half the amounts of tgfb1aMO2 and tgfb1bMO2 (7.5 + 10 ng, respectively, referred to as tgfb1MO2) induced a severe loss of runx1 and cmyb expression in a higher proportion of embryos at 28 hpf when compared with single tgfb1a or tgfb1b morphants (Figures 3A, S3E, and S3F; and results not shown), suggesting that, in single morphants, the TGFβ1 ligands can partially compensate for the other's absence and that both are required for HSPC emergence. Knocking down tgfb2 with a splice-blocking morpholino (tgfb2MO3; Figure S3G) had very little effect on runx1 expression (Figure 3A), whereas over half (28/50) of the tgfb3 morphants (tgfb3MO2, Figure S3H) showed a severe decrease in runx1 in the DA at 28 hpf (Figure 3A). Expression of kdrl in the endothelium and dll4 and dlC in the arterial endothelium was unaffected in tgfb1MO2, tgfb2MO3, or tgfb3MO2 morphant embryos (Figures 3B–3D), consistent with TGFβ signaling being required for HSPC specification but not for arterial programming. To quantitate the effect, we counted the number of Kdrl-mCherry+;itga2b-GFPlow HSPCs at 48 hpf (Figures 3E–3H). Both tgfb1MO2 and tgfb3MO2 morphants showed severely reduced numbers of HSPCs when compared with uninjected embryos. tgfb3MO2 morphants had fewer HSPCs than tgfb1MO2 morphants at 48 hpf (Figure 3H), which correlated with a stronger decrease in rag1 expression in the thymus of tgfb3MO2 morphants at 4 dpf (Figures 3I–3K). Further analysis revealed that expression of the arterial marker efnB2a was unaffected, whereas that of the HE marker gata2b was reduced in tgfb1MO2 and in half of the tgfb3MO2 embryos (Figures 3L and 3M). Next we investigated whether the milder phenotype in tgfb3 morphants was due to upregulation of Tgfb1. We found that tgfb3 was essentially absent in tgfb3MO2 morphants but tgfb1a or tgfb1b expression was unaffected (Figure S3I). Conversely, tgfb1 morphants showed increased tgfb3 expression in the notochord (Figure S3I). Knocking down tgfb1 in tgfb3 morphants increased the percentage of embryos with reduced runx1 expression from 50% to 85% (Figures S3J and S3K), suggesting that Tgfβ1 and Tgfβ3 have an additive effect on HSPC specification. Taken together, we conclude that Tgfβ1a/1b produced by the ECs of the DA are required for HSPC formation by programming the HE downstream or in parallel to arterial programming. In addition, there is a significant paracrine contribution by Tgfβ3, which becomes a more important regulator of HSPC generation between 28 and 48 hpf.