The Streptococcus pneumoniae pezAT Toxin – Antitoxin System Reduces β -Lactam Resistance and Genetic Competence
ABSTRACT
---
Chromosomally encoded Type II Toxin–Antitoxin operons are ubiquitous in bacteria and archaea. Antitoxins neutralize the toxic effect of cognate Toxins by protein–protein interactions and sequestering the active residues of the Toxin. Toxins target essential bacterial processes, mostly translation and replication. However, one class apart is constituted by the PezAT pair because the PezT toxin target cell wall biosynthesis. Here, we have examined the role of the pezAT toxin–antitoxin genes in its natural host, the pathogenic bacterium Streptococcus pneumoniae. The pezAT operon on Pneumococcal Pathogenicity Island 1 was deleted from strain R6 and its phenotypic traits were compared with those of the wild type. The mutant cells formed shorter chains during exponential phase, leading to increased colony-forming units. At stationary phase, the mutant was more resilient to lysis. Importantly, the mutant exhibited higher resistance to antibiotics targeting cell walls (β-lactams), but not to antibiotics acting at other levels. In addition, the mutants also showed enhanced genetic competence. We suggest that PezAT participates in a subtle equilibrium between loss of functions (resistance to β-lactams and genetic competence) and gain of other traits (virulence).
No MeSH data available.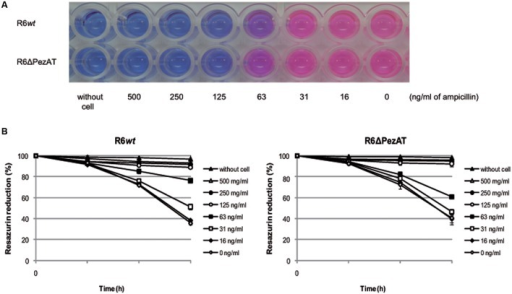 © Copyright Policy
License
getmorefigures.php?uid=PMC4997998&req=5
Mentions: The decreased response to lysis at stationary phase of the pezAT-deficient strain (Figure 2A), combined with the role of PezT on cell wall synthesis (Mutschler et al., 2011), prompted us to test whether deletion of the pezAT influenced the resistance/sensitivity of the pneumococcal cells only to β-lactam antibiotics or it was a more general stress response effect (Nieto et al., 2010). We used REMA plates and color change of resazurin (blue) to resorufin (pink) to compare the MICs of R6wt and R6ΔPezAT to antibiotics acting at different levels. The MICs are defined as the lowest concentration of the antibiotic that prevented color change, i.e., no bacterial growth (Andrews, 2001). By examining these changes, we found that the MICs of both strains to ampicillin was similar, 125 ng/ml (Figure 4A). However, at 63 ng/ml of ampicillin, the color changes from blue to pink was more prominent for the mutant than for the wt strain, indicating that the former strain was more resistant to ampicillin than the latter (Figure 4A). This observation was corroborated by measurement of the OD readings in which reduction of resazurin absorbance by the mutant strain (∼40%) was more prominent than the wt (∼24%) at 63 ng/ml of ampicillin after 3 h, and the differences were statistically significant (p-value < 0.05; Figure 4B). Similar results were observed when the MICs were estimated by the dilution method (Andrews, 2001; repeated four times and with a p-value < 0.05; not shown). Also similar results were observed for other β-lactam antibiotics, like benzetacil and penicillin G (not shown). No differences between wt and mutant strains were found when other antibiotics inhibiting gyrase (levofloxacin), or protein synthesis (streptomycin, tetracycline) were tested (not shown). Taken these results together, we conclude that lack of the pezAT operon does not induce a general stress response in S. pneumoniae, but that this response in focalized at the cell wall level.