The Streptococcus pneumoniae pezAT Toxin – Antitoxin System Reduces β -Lactam Resistance and Genetic Competence
ABSTRACT
---
Chromosomally encoded Type II Toxin–Antitoxin operons are ubiquitous in bacteria and archaea. Antitoxins neutralize the toxic effect of cognate Toxins by protein–protein interactions and sequestering the active residues of the Toxin. Toxins target essential bacterial processes, mostly translation and replication. However, one class apart is constituted by the PezAT pair because the PezT toxin target cell wall biosynthesis. Here, we have examined the role of the pezAT toxin–antitoxin genes in its natural host, the pathogenic bacterium Streptococcus pneumoniae. The pezAT operon on Pneumococcal Pathogenicity Island 1 was deleted from strain R6 and its phenotypic traits were compared with those of the wild type. The mutant cells formed shorter chains during exponential phase, leading to increased colony-forming units. At stationary phase, the mutant was more resilient to lysis. Importantly, the mutant exhibited higher resistance to antibiotics targeting cell walls (β-lactams), but not to antibiotics acting at other levels. In addition, the mutants also showed enhanced genetic competence. We suggest that PezAT participates in a subtle equilibrium between loss of functions (resistance to β-lactams and genetic competence) and gain of other traits (virulence).
No MeSH data available.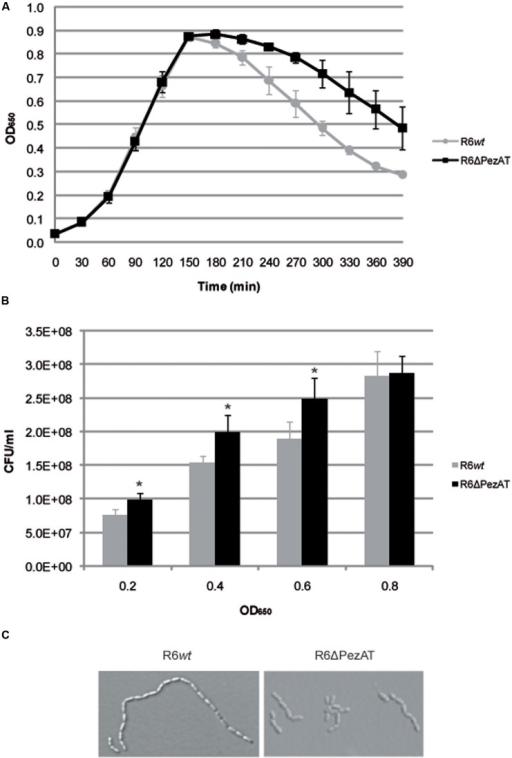 © Copyright Policy
License
getmorefigures.php?uid=PMC4997998&req=5
Mentions: When the R6wt and the R6ΔPezAT strains were tested for growth under normal growth condition (37°C, no aeration, AGCH medium pH7.7), no differences were found at the exponential phase (Figure 2A). These observations agree with a previous report (Brown et al., 2004) in which no differences were found in growth in laboratory broth, serum or blood when the pezT gene was deleted. In our conditions, however, differences between the two strains were evident when the cultures entered into the stationary phase: the R6ΔPezAT mutant showed a higher resilience to lysis compared to the R6wt (Figure 2A). We took this finding as a solid indication of the participation of the pezAT operon in the pneumococcal growth. Despite no differences in growth patterns during exponential phase for both strains were observed, the CFU counts were lower for the wt than for the mutant along the exponential phase, as determined by plating appropriate dilutions of cultures at various ODs and counting of the colony numbers (Figure 2B). Given that PezT targets polymerisation of pneumococcal cell walls, it was interesting to know whether this phenomenon was due to changes in the cell morphology. This postulation was assessed by examination of growing cells under phase-contrast microscopy (Figure 2C). Indeed, R6ΔPezAT mutant formed shorter chains than the R6wt strain at exponential phase. However, the effect was reduced at the beginning of stationary phase, and difficult to assess at prolonged incubation times (OD650∼0.8), due to lysis and appearance of 'ghosts': cell walls, cell debris, etc. Longer cell chains in the R6wt than in the mutant should lead to formation of less CFU in the former than in the latter strains as one colony would result from a string of cells. One possibility could be that the levels of one or more pneumococcal lytic enzymes were slightly increased in the mutant strain. If this were the case, a good candidate would be LytB because, contrary to LytA, it is a non-autolytic murein hydrolase that allows localized peptidoglycan hydrolysis and separates daughter cells (Rico-Lastres et al., 2015); inactivation of lytB led to formation of long chains integrated by more than 100 cells (De Las Rivas et al., 2002). Thus, increases in the levels of LytB by the deletion of pezT, would result to a reduced number of cells per chain (Johnston et al., 2016). This hypothesis, however, needs further experiments.