Fascin Regulates Nuclear Movement and Deformation in Migrating Cells
ABSTRACT
---
Fascin is an F-actin-bundling protein shown to stabilize filopodia and regulate adhesion dynamics in migrating cells, and its expression is correlated with poor prognosis and increased metastatic potential in a number of cancers. Here, we identified the nuclear envelope protein nesprin-2 as a binding partner for fascin in a range of cell types in vitro and in vivo. Nesprin-2 interacts with fascin through a direct, F-actin-independent interaction, and this binding is distinct and separable from a role for fascin within filopodia at the cell periphery. Moreover, disrupting the interaction between fascin and nesprin-2 C-terminal domain leads to specific defects in F-actin coupling to the nuclear envelope, nuclear movement, and the ability of cells to deform their nucleus to invade through confined spaces. Together, our results uncover a role for fascin that operates independently of filopodia assembly to promote efficient cell migration and invasion.
No MeSH data available.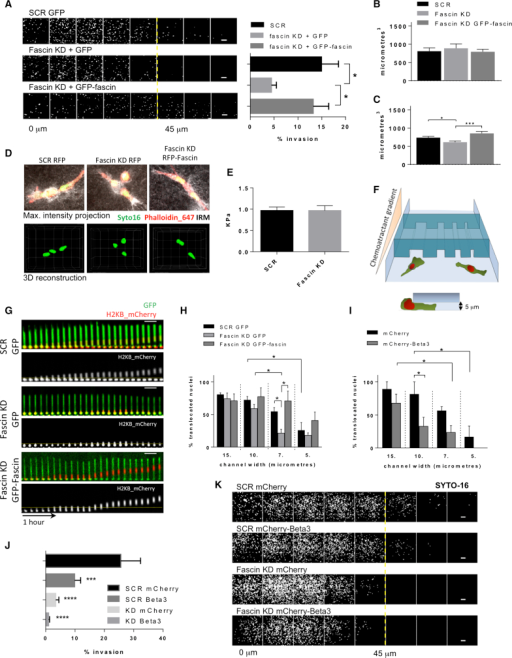 © Copyright Policy - CC BY-NC-ND
License
getmorefigures.php?uid=PMC4997957&req=5
Mentions: Work from our laboratory and others has previously shown that fascin contributes to invasion of human cancer cells (Li et al., 2010, Hashimoto et al., 2007, Schoumacher et al., 2010). We confirmed that KD of fascin leads to significantly reduced invasion of MDA MB 231 cells through 3D collagen gels, an effect that was restored upon re-expression of small hairpin RNA (shRNA)-resistant GFP-fascin (Figures 4A and S4A). Previous reports have suggested that this pro-invasive effect is due to fascin-dependent stabilization of filopodia and possibly invadopodia. However, a number of recent studies have shown that nuclear deformation and movement in tumor cells are required to enable efficient cell navigation through changing ECM environments (Davidson et al., 2014, Zwerger et al., 2011, Wolf et al., 2013). We therefore reasoned that our discovery of fascin-dependent nuclear movement could represent a new way for fascin to control cell invasion independently of F-actin bundling. To explore this further, we examined the morphology and volume of nuclei of control or fascin KD cells in stiff 2D surfaces and embedded in 3D collagen. Quantification revealed that in 3D matrices, but not on 2D surfaces, nuclear volume was significantly reduced in fascin-depleted cells, and that this was restored in cells rescued with shRNA-resistant GFP-fascin (Figures 4B–4D) suggesting that fascin is required to maintain nuclear architecture in 3D environments. Acto-myosin force generation and transmission are required to induce nuclear shape change in a range of migrating cells (Lammermann et al., 2008, Wolf et al., 2013), but intrinsic nuclear mechanical properties can modify cell responses to force, acting as a limiting factor of nuclear deformability and, thus, migration (Harada et al., 2014, Davidson et al., 2014). To determine whether fascin loss correlated with altered nuclear stiffness, we used atomic force microscopy (AFM). To avoid overall contribution from cytoplasmic dorsal actin fibers to nuclear stiffness, we averaged several local measurements performed with a quadratic pyramidal-tipped cantilever per nuclei instead of a broader spherical tip (Figures S4B–S4D, see Experimental Procedures). In MDA MB 231 cells plated on a rigid surface, KD of fascin did not change nuclear stiffness (Figure 4E). Spatial confinement on 2D matrices is known to modulate nuclear size and volume, but the contribution of the LINC complex and microfilaments to this process remain unclear at present (Khatau et al., 2009, Li et al., 2015). Our results show that fascin KD only affects nuclear volume in cells embedded in 3D matrices and indicates that fascin contributes to nuclear deformation under conditions of 3D spatial confinement. This suggests that fascin plays a role in the transduction of mechanical forces to nesprin-2 and NE without affecting bulk mechanical properties, and that this plays a more profound role in 3D environments.