Drug Delivery Systems and Combination Therapy by Using Vinca Alkaloids
ABSTRACT
---
Developing new methods for chemotherapy drug delivery has become a topic of great concern. Vinca alkaloids are among the most widely used chemotherapy reagents for tumor therapy; however, their side effects are particularly problematic for many medical doctors. To reduce the toxicity and enhance the therapeutic efficiency of vinca alkaloids, many researchers have developed strategies such as using liposome-entrapped drugs, chemical- or peptide-modified drugs, polymeric packaging drugs, and chemotherapy drug combinations. This review mainly focuses on the development of a vinca alkaloid drug delivery system and the combination therapy. Five vinca alkaloids (eg, vincristine, vinblastine, vinorelbine, vindesine, and vinflunine) are reviewed.
No MeSH data available.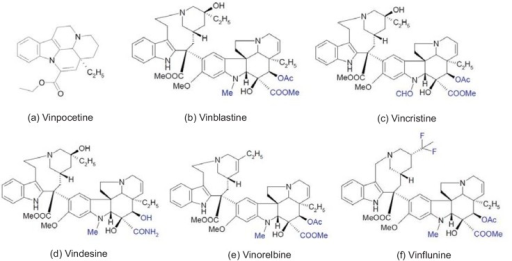 © Copyright Policy - open-access
License
getmorefigures.php?uid=PMC4997956&req=5
Mentions: Vinca alkaloids have exhibited significant antineoplastic activity against numerous cell types.[3, 4] Five major vinca alkaloids, vincristine, vinblastine, vinorelbine, vindesine, vinflunine, and one of the vincamine, vinpocetine (Fig. 2), have clinical uses (however, in the United States, only vincristine, vinblastine, and vinorelbine have been approved for clinical use [6]). Researchers have isolated vinblastine in 1958, [7] and later synthesized vincristine, vinorelbine, and vinpocetine, defining them as the vinca alkaloid derivatives.[8, 9] Vinflunine is a new synthetic vinca alkaloid that has been approved in Europe for treating second-line transitional cell urothelium carcinoma.[10] Vinca alkaloids are anticarcinogenic agents that act by binding to intracellular tubulin, which is used in many chemotherapeutic regimens for a wide variety of cancers. The alkaloids inhibit cell division by blocking mitosis, and also inhibit purine and RNA synthesis by killing rapidly dividing cells. Vinca alkaloids are available under the trade names Oncovin® (vincristine), Velban® (vinblastine), and Navelbine® (vinorelbine). Although vinca alkaloids are common drugs used to treat cancers, their side effects cause serious problems. Vinca alkaloids are cytotoxic drugs available by prescription only, and are usually administered through intravenous injection or infusion. Side effects include nausea, vomiting, fatigue, headaches, dizziness, peripheral neuropathy, hoarseness, ataxia, dysphagia, urinary retention, constipation, diarrhea, and bone marrow suppression. In addition, vinca alkaloids are susceptible to multidrug resistance. [11] The risk of side effects and multidrug resistance has limited the development of vinca alkaloids for clinical applications.