Drug Delivery Systems and Combination Therapy by Using Vinca Alkaloids
ABSTRACT
---
Developing new methods for chemotherapy drug delivery has become a topic of great concern. Vinca alkaloids are among the most widely used chemotherapy reagents for tumor therapy; however, their side effects are particularly problematic for many medical doctors. To reduce the toxicity and enhance the therapeutic efficiency of vinca alkaloids, many researchers have developed strategies such as using liposome-entrapped drugs, chemical- or peptide-modified drugs, polymeric packaging drugs, and chemotherapy drug combinations. This review mainly focuses on the development of a vinca alkaloid drug delivery system and the combination therapy. Five vinca alkaloids (eg, vincristine, vinblastine, vinorelbine, vindesine, and vinflunine) are reviewed.
No MeSH data available.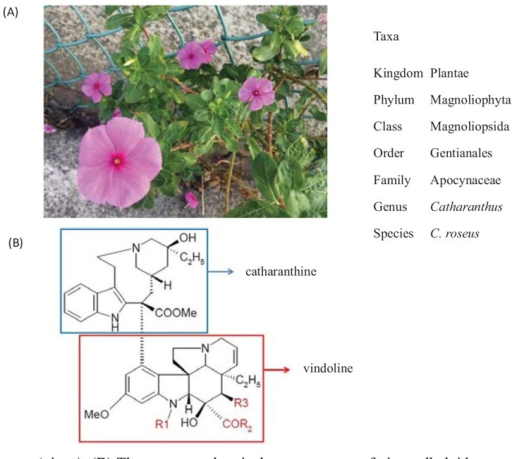 © Copyright Policy - open-access
License
getmorefigures.php?uid=PMC4997956&req=5
Mentions: Catharanthus roseus (C. roseus; Fig. 1), commonly known as the Madagascar rosy periwinkle or vinca, is a species of herbaceous, perennial tropical plant that grows approximately 1 m tall. Its leaves range from oval to oblong in shape, 2.5 cm to 9 cm long and 1 cm to 3.5 cm broad, and are glossy, green, and hairless, with a pale midrib and a short petiole 1 cm to 1.8 cm long. The flowers vary in color from white to dark pink with a dark red center, and have a basal tube 2.5 cm to 3 cm long and a corolla 2 cm to 5 cm in diameter with 5 petal-like lobes.[1] Vincas have long been cultivated for medicinal purposes. For example, practitioners of traditional Chinese medicine use its extracts to fight against numerous diseases, including diabetes, malaria, hypertension, empyrosis, sores, and Hodgkin's lymphoma.[2] European herbalists created folk remedies with vinca extract for use in conditions that varied from headaches to diabetes. Vincamine, the active compound, and its closely related semi-synthetic derivative widely used as a medicinal agent, ethylapovincaminate or vinpocetine, have vasodilating, blood thinning, hypoglycemic, and memory-enhancing properties.[3, 4] Ayurvedic physicians in India use vinca flowers to brew tea for the external treatment of skin problems such as dermatitis, eczema, and acne.[3, 4] In addition, the juice of the leaves can be applied externally to relieve wasp stings and hyperlipidemia.[5]