Disintegrins from Snake Venoms and their Applications in Cancer 
 Research and Therapy
ABSTRACT
---
Integrins regulate diverse functions in cancer pathology and in tumor cell development and contribute to important processes such as cell shape, survival, proliferation, transcription, angiogenesis, migration, and invasion. A number of snake venom proteins have the ability to interact with integrins. Among these are the disintegrins, a family of small, non-enzymatic, and cysteine-rich proteins found in the venom of numerous snake families. The venom proteins may have a potential role in terms of novel therapeutic leads for cancer treatment. Disintegrin can target specific integrins and as such it is conceivable that they could interfere in important processes involved in carcinogenesis, tumor growth, invasion and migration. Herein we present a survey of studies involving the use of snake venom disintegrins for cancer detection and treatment. The aim of this review is to highlight the relationship of integrins with cancer and to present examples as to how certain disintegrins can detect and affect biological processes related to cancer. This in turn will illustrate the great potential of these molecules for cancer research. Furthermore, we also outline several new approaches being created to address problems commonly associated with the clinical application of peptide-based drugs such as instability, immunogenicity, and availability.
No MeSH data available.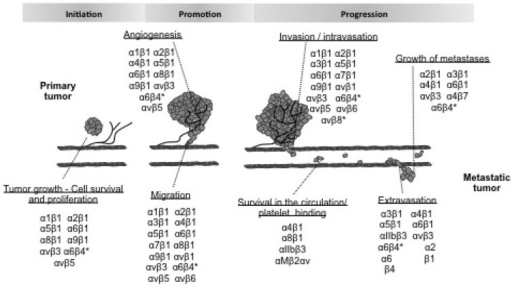 © Copyright Policy - open-access
License
getmorefigures.php?uid=PMC4997955&req=5
Mentions: Integrins regulate diverse functions in tumor cells; for example, it relays molecular cues from the cellular environment that influence cell shape, survival, proliferation, transcription, and migration (Fig. 2) [19]. Many integrins expressed by epithelial cells (including α6β4, α6β1, αvβ5, α2β1, and α3β1) have altered expression levels on cancer cells of epithelial origin. Normally these integrins mediate epithelial cell adhesion to the basement membrane, but in tumor cells they may contribute to proliferation, migration, invasion, and survival [20]. Furthermore, integrin expression can vary considerably between normal and tumor tissue. For example, integrins αvβ3, α5β1, and αvβ6 are usually expressed at low or undetectable levels in adult epithelia, but can be highly up regulated in some tumors [21]. Conversely, α2β1 integrin expression is diminished or absent in adenocarcinoma of the breast and in other epithelial malignancies [22], and its re-expression in breast cancer cells reversed some of the malignant properties of those cells, suggesting that it could function as a tumor suppressor [23].