MicroRNAs Used in Combination with Anti-Cancer Treatments Can Enhance Therapy Efficacy
ABSTRACT
---
MicroRNAs (miRNAs), a recently discovered class of small non-coding RNAs, constitute a promising approach to anti-cancer treatments when they are used in combination with other agents. MiRNAs are evolutionarily conserved non-coding RNAs that negatively regulate gene expression by binding to the complementary sequence in the 3'-untranslated region (UTR) of target genes. MiRNAs typically suppress gene expression by direct association with target transcripts, thus decreasing the expression levels of target proteins. The delivery to cells of synthetic miRNAs that mimic endogenous miRNA targeting genes involved in the DNA-Damage Response (DDR) can perturb the process, making cells more sensitive to chemotherapy or radiotherapy. This review examines how cells respond to combined therapy and it provides insights into the role of miRNAs in targeting the DDR repair pathway when they are used in combination with chemical compounds or ionizing radiation to enhance cellular sensitivity to treatments.
No MeSH data available.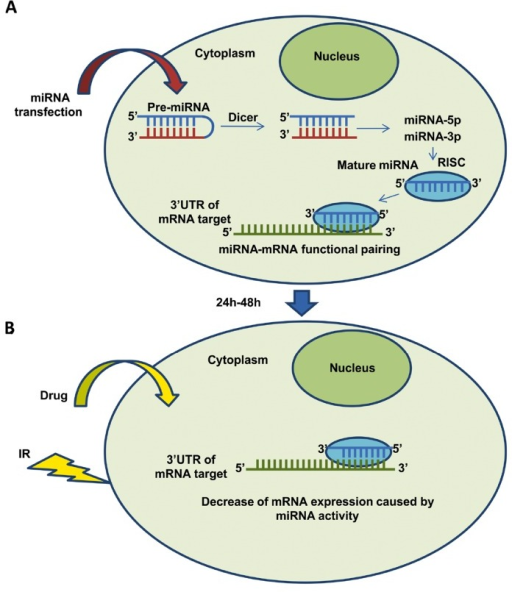 © Copyright Policy - open-access
License
getmorefigures.php?uid=PMC4997954&req=5
Mentions: The approach that several current research studies are attempting is that of combining normal chemotherapy and radiotherapy using the RNA interference (RNAi) technique to specifically knock-down the expression of the drug- or IR-resistance genes. During gene silencing the resistant cells transiently become sensitized to the anti-cancer treatment. The therapeutic delivery to cells of synthetic miRNAs that mimic endogenous miRNAs that modulate genes involved in the DDR pathway has, therefore, been considered an appropriate approach to treating resistant cancer cells. MiRNA mimics, called miRNA precursor molecules (pre-miR), are, thus small, chemically modified double-stranded RNA molecules designed to mimic endogenous mature miRNA molecules, and they enable miRNA functional analysis by up-regulation of miRNA activity. Pre-miR molecules are carefully designed and modified to ensure that the correct strand, representing the desired mature miRNA, is taken up into the RNA-induced silencing-like complex (RISC) responsible for miRNA activity (Fig. 1). The delivery into cells of synthetic miRNAs that mimic endogenous miRNAs targeting genes involved in DDR can impair the process, making cells more sensitive to IR. An interval of 24-48h represents the time that is necessary for miRNA-transfected cells to show alterations in the expression level of target genes as a consequence of miRNA action. This time interval after transfection has been calculated on the basis of experiments described in the literature and of our own previous data [28, 40]. Pre-miRNAs rather than mature miRNAs are usually employed for therapeutical purposes. MiRNA precursors are double-stranded RNA molecules composed of a guide strand that is identical to the mature miRNA and a passenger strand that is partially or fully complementary to the guide strand [105]. Chorn et al. [106] recently demonstrated that modified single-stranded miRNA mimics also exhibit significant miRNA seed-based activity in cultured cells. The efficacy of single-stranded miRNA mimics was, however, reduced with respect to that of double-stranded ones, suggesting that further chemical modifications could be developed to enhance the targeting activity of single-stranded miRNA mimics. The experimental methods to examine the interaction between the microRNA and its targeting site(s) in the mRNA are important for understanding microRNA functions. Their interaction should be validated by luciferase assay to ensure that miRNA targets the exact mRNA. Luciferase reporter vectors, including recently introduced ones, are designed to test miRNA-mediated gene silencing. Cells are co-transfected with luciferase constructs containing the 3'UTRs of target genes (wild type/mutant) and with pre-miRTM miRNA precursor molecules. Cell lysates are collected 24h after transfection and the effect of miRNA on the luciferase gene expression can be seen as changes in the relative luciferase activity. Importantly, this assay does not reveal whether an interaction occurs endogenously, and unless care is taken with the miRNA concentration and promoter selection for the reporter, it does not reveal whether it could happen under physiological conditions. The functional interaction between miRNA and target transcript should, therefore, be validated under physiological conditions in miRNA-transfected cells by measuring the expression level of miRNA target genes using quantitative real-time PCR (qRT-PCR) and western blotting.