New Imidazolidineiminothione, Imidazolidin-2-one and Imidazoquinoxaline 
 Derivatives: Synthesis and Evaluation of Antibacterial and Antifungal Activities
ABSTRACT
---
3334.3568331112,(11c)(3f): A series of new 5-imino-4-thioxo-2-imidazolidinone derivatives with various halogenated and alkylated aromatic substituents at N1 and N3 was synthesized. Imidazolidineiminothione derivatives were prepared from the reaction of N-arylcyanothioformamide derivatives with aryl isocyanates. These compounds were used as key synthons for the preparation of wide variety of new substituted imidazole compounds. Imine hydrolysis of with ethanolic HCl produced the corresponding 4-thioxo-2,5-imidazolidindiones Condensation of with benzophenonhydrazone furnished the corresponding 4-azine derivatives . Monohydrazono and dihydrazono derivatives and were obtained upon treatment of imidazolidinone derivatives with hydrazine hydrate. Finally, imidazolidinones were reacted with o-phenylenediamines or pyrazol-5(4H)-ones and afforded the corresponding imidazoquinoxaline and imidazolidin-4-ylidenepyrazolone-5(4H)-one derivatives and respectively. Evaluation of the antibacterial and antifungal activities for the synthesized compounds was carried out to probe their activities. Most of the tested compounds showed significant activities. The best antimicrobial activity was observed for 1-(3-ethoxyphenyl)-6-methyl-1-phenyl-1H-imidazo[4,5-b]quinoxalin-2(3H)-ones followed by 5-imino-3-(3-methoxy- phenyl)-1-phenyl-4-thioxoimidazolidin-2-one .
No MeSH data available.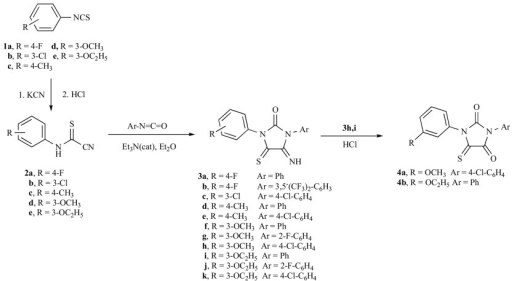 © Copyright Policy - open-access
License
getmorefigures.php?uid=PMC4997951&req=5
Mentions: The starting compounds, N-(4-fluoro, 3-chloro, 4-methyl)-cyanothioformanilides 2a-c were prepared according to the previously reported procedure [20]. The new compounds, N-(3-methoxy, 3-ethoxy)-cyanothioformanilides 2d,e were prepared from the reaction of N-aryl isothiocyanates with potassium cyanide. The elemental analysis and spectroscopic data of 2d,e are consistent with the assigned structure. IR measurement of 2e for example displayed absorption bands at: 3264 and 2227 cm-1 for NH and C≡N groups. 1H NMR spectrum revealed triplet and quartet signals at: δ = 1.23 and 4.14 ppm corresponding to CH3 and CH2, respectively and the presence of a D2O exchangeable broad singlet at: δ = 13.36 ppm attributable to the NH proton. In addition, 13C NMR spectrum of 2e showed two signals at 14.1 (CH3), 63.3 (CH2), also it showed a farthermost downfield signal for the thione group (C=S) at: 161.1 due to the tautomeric thione and thiole mixture and an upfield signal resulting from the nitrile group (107.9). The behavior of the cyanothioformanilides towards isocyanate derivatives was investigated. Thus, reaction of cyanothioformanilides with aryl isocyanates in ether and in the presence of triethylamine caused cyclization to furnish the corresponding 5-imino-4-thioxo-2-imidazoli-dinones 3a-k. The structure of 3 was assigned on the basis of analytical and spectral data. IR spectrum of 3f, as representative example, displayed absorption bands at: 3261 cm-1 due to NH and at 1777 cm-1 due to C=O functional group. 1H NMR spectrum exhibited two singlets at: δ = 3.80 and 9.66 ppm indicative of methoxy protons and NH proton, respectively. 13C NMR spectrum of 3f displayed four signals at: 183.3, 160.1, 154.5 and 65.3 for C=S, C=O, C=N and OCH3, respectively, whereas the aromatic signals ranged from 114.1 to 154.1 corresponding for 12C. Mass spectrum showed a molecular ion peak at m/z = 311, corresponding to a molecular formula C16H13N3O2S. Hydrolysis of 3h,i with dilute HCl in boiling ethanol afforded the corresponding dione derivatives 4a,b (Scheme 1). IR spectrum has no absorption band characteristic to an NH group.