New Imidazolidineiminothione, Imidazolidin-2-one and Imidazoquinoxaline 
 Derivatives: Synthesis and Evaluation of Antibacterial and Antifungal Activities
ABSTRACT
---
3334.3568331112,(11c)(3f): A series of new 5-imino-4-thioxo-2-imidazolidinone derivatives with various halogenated and alkylated aromatic substituents at N1 and N3 was synthesized. Imidazolidineiminothione derivatives were prepared from the reaction of N-arylcyanothioformamide derivatives with aryl isocyanates. These compounds were used as key synthons for the preparation of wide variety of new substituted imidazole compounds. Imine hydrolysis of with ethanolic HCl produced the corresponding 4-thioxo-2,5-imidazolidindiones Condensation of with benzophenonhydrazone furnished the corresponding 4-azine derivatives . Monohydrazono and dihydrazono derivatives and were obtained upon treatment of imidazolidinone derivatives with hydrazine hydrate. Finally, imidazolidinones were reacted with o-phenylenediamines or pyrazol-5(4H)-ones and afforded the corresponding imidazoquinoxaline and imidazolidin-4-ylidenepyrazolone-5(4H)-one derivatives and respectively. Evaluation of the antibacterial and antifungal activities for the synthesized compounds was carried out to probe their activities. Most of the tested compounds showed significant activities. The best antimicrobial activity was observed for 1-(3-ethoxyphenyl)-6-methyl-1-phenyl-1H-imidazo[4,5-b]quinoxalin-2(3H)-ones followed by 5-imino-3-(3-methoxy- phenyl)-1-phenyl-4-thioxoimidazolidin-2-one .
No MeSH data available.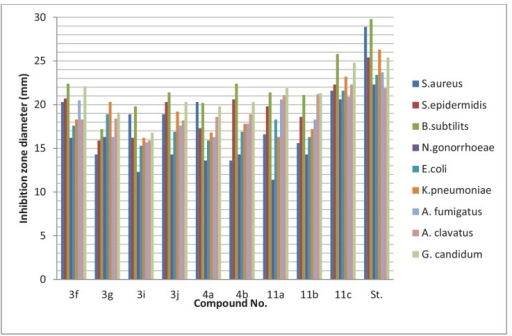 © Copyright Policy - open-access
License
getmorefigures.php?uid=PMC4997951&req=5
Mentions: A series of imidazolidineiminothione derivatives 3 which contain 4-fluorophenyl, 3-methoxyphenyl, 3-ethoxyphenyl moieties (Ar) at N1 and phenyl, 2-fluorophenyl, 4-chlorophenyl, 3,5-di(trifluoromethyl)-phenyl moieties (Ar') at N3, X = O, Y = S and Z = NH was synthesized and their biological activates were measured and studied. Regarding the effect of Ar and Ar' groups. The type of the substitutions on the benzene ring of aryl moiety is important. It was noticed that the presence of 3-methoxyphenyl and phenyl in 3f and 3-ethoxyphenyl and 4-chlorophenyl in 3j showed the maximum activities against most of the test organisms which showed near the reference drug. On the other hand, compounds 3b,g,h,i showed moderate to good activity against most of the tested organisms. Compound 3k with 4-fluorophenyl and 3,5-di(trifluoromethyl)-phenyl moieties has moderate activity the Gram +ve bacteria and no activity toward the Gram -ve bacteria. Regarding the effect of changing the substituents on N1 and N3, the results of screening demonstrated the presence of good correlation between the antifungal and antibacterial activities. Changing the substituent on C4 from imino to oxo (3h,i → 4a,b) was carried out to show the deference between imino and oxo on the effect of the antimicrobial activity. Compound 4a showed higher activity more than its imino analogues 3h while compound 4b has less activity than its imino analogues compound 3i. Y and Z substituents in imidazolidineiminothione derivatives 3 were changed to monohydrazono, dihydrazono and thiosemicarbazono moieties to do the same study. Compounds 6, 8, 9 with mono hydrazono, dihydrazono and thiosemicarbazono moieties have weak activity against Gram +ve bacteria and no activity against Gram -ve activity. Changing the substituent at C4 from imino to hydrazono (3h,i → 6a,b) showed lower activity than their imino analogues 3h,i. Also, changing the substituents on C4 and C5 from thioxo and imino to hydrazono (3h,i → 8a,b) showed lower activity than its analogues 3h,i. Moreover, changing the substituent on C4 from thioxo to thiosemicarbazono (3a,f,h → 9a,b,c) showed lower activity than their analogues. The authors also studied the effect of changing of the substituent at C4 and C5 to cyclic substituents at imidazolidine ring on the biological activities. Compounds 11a-c with quinoxaline moiety showed strong activity against all of the tested organisms, where compound 11c was equipotent to the reference drug. Finally, the vary substitution on C5 from thioxo to substituted pyrazolone moiety (3i → 12c,d) had slight effect on antibacterial activity. Compounds 12c,d with moiety showed moderate activity with all the tested Gram positive and negative bacteria. The comparison between the antimicrobial activity of our potent synthesized compounds and standard reference drug against the used Gram positive, Gram negative bacteria and fungi is represented graphically in Figure 2.